Every thing about Fatta fat Chutney – Raw Onion and Jaggery Chutney | Vahrehvah :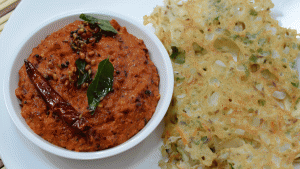 This South Indian Chutney is a great accompaniment to wada,idli, dosa, upma and even appams Raw Onion and Jaggery Chutney is a great accompaniment to Idli, Vada, Dosa and even appams. It's very common chutney prepared in most South Indian homes.
This chutney can also be used as an awesome delicious spread over sandwich. Raw Onion and jaggery chutney is a very fast to prepare side dish that has no cooking to do, has natural rustic pungent, sweet, tangy and spicy flavors amalgamated together.
This chutney taste extremely divine with jowari ki roti, bajra roti, phulkas etc. The piquancy of raw onion blended with sweetness of jaggery, sourness from tamarind and spiciness from green chillies makes this a super delectable dish giving a nice punch to the palate. It's extremely flavorful with extra zest that goes well with any type of rustic country made Indian rotis.
Recipe: Fatta fat Chutney – Raw Onion and Jaggery Chutney
Ingredients:
Onions - 3 nos
Tamarind - 70 gms
Jaggery - 2 tbsp
Green chillies - 6-7 nos
Coriander leaves - ½ bunch
Salt - to taste
Directions:
In a blender jar, add some tamarind, jaggery, onion pieces, gree chillies, coriander leaves and salt.
Run the blender and grind to coarse paste.
Serve this chutney with any type of Indian flat breads, idli, dosa, vada, pesarattu etc.
Chutney acts as an appetizer and sometimes good for digestion. They add their own flavour when served with other dishes. Chutney has a semi-liquid consistency and usually one ingredient (main ingredient) predominate the taste by which the name of the chutney is derived.
Other common ingredients that are included in the chutney are green chillies, asafoetida, tomato, cumin, coriander seeds, lime, peanut, sesame seeds, fried dal, ginger, garlic, coriander, mint, coconut etc. Chutney can be stored in the refrigerator for few days but it's always better to have it fresh.
Chutney plays a vital role in most Indian cuisine, especially in south Indian gastronomy. As Indian food is rich and vibrant in its taste and flavours, most cuisines are experimenting in intermingling a melange of spices, fresh herbs, vegetable and fruits to originate new variants of chutneys.
There are a variety of chutneys that are paired with the right dish to elevate and enhance to give a harmonious relish to the dish. Onions is a vital ingredient in most of the global recipes used in salads, stir fries, curries or gravy based dishes. They are extensively used in most veg and non-veg preparations.
They can be consumed either raw, pickled in vinegar, fried in oil, baked or boiled. Onion has endless health benefits and is powerful for its anti-septic and anti-bacterial properties. Onion is rich in vitamins A, B and C. It is a potent source of folic acid, calcium, phosphorus, magnesium, chromium, iron and dietary fiber. Just by eating half a medium raw onion daily can significantly lower cholesterol and help prevent heart attacks.
Whether you eat it raw or cooked, onions help to lower blood pressure naturally. It also thins the blood, dissolve blood clots and clear the blood of unhealthy fats. It's very simple fatta fat chutney that can be made in a jiffy and tastes excellent when made fresh. To try this recipe, do watch the video and enjoy preparing.
Hurry up and check out the making of this dish. Do prepare for your family and enjoy eating this awesome Fatta fat raw onion and jaggery chutney. If you wish to look out for many more yummy, appetizing and exotic recipes, feel free to click at: www.vahrehvah.com
My rating: 4 stars: ★★★★☆ 1 review(s)
You could always reach me at my below links:
Enjoy Cooking and always remember that: "VahrehVah is all about inspiring others to cook"!