Every thing about STINKY DELIGHT ARBI & SHRIMP VADAI | Vahrehvah :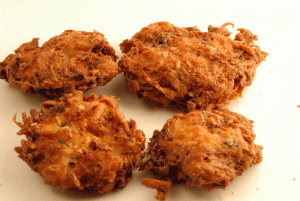 Stinky delight arbi (taro root)
&
shrimp vadai
is one of most delightful dishes served as an appetizer or
snack.
The dish is made of taro root and
dried shrimp
mixed together blended with few spices and deep fried. The name of the dish sounds a bit funny but its true that dried shrimp stinks but is actually one of the most sought after ingredients and is adored by
seafood
lovers.
Has a very earthly and natural salty taste. This dish is one of the popular seafood delicacies. In the state of
Kerala
, chemmeen vada (deep fried shrimps) are an excellent appetizer or snack and also an excellent side dish for
drinks
. Dried shrimps are very popular toward the coastal side of
India
and are used in many preparations.
Dried shrimp are used in many
Asian cuisines
, imparting a unique umami taste. A handful of
shrimp
are generally used for dishes. The flavors of this ingredient are released when allowed to simmer. Normally many people refrain from preparing this delightful dish at home because of its bad smell.Hence when you are preparing this dish just open all the doors and windows of your house and start frying. Dried
shrimp
with Taro root is an excellent combination.
Taro root is cultivated in many areas of the world including
West Africa
,
Asia
,
Central America
,
South America
and the
Caribbean
and
Polynesian islands.
A staple among many of the people who reside in these geographic regions, taro root is most well-known as the ingredient of the
Hawaiian dish
"poi", which is made from steaming or boiling the taro root then mashing it into a paste. Because of the taro root's popularity with the early civilizations that inhabited Hawaii, more than 350 varieties of taro root were previously grown on the islands.
However, today that number has dwindled down to seven to twelve varieties. Taro roots are normally used as an alternative to
potatoes
. They do, however, have somewhat of a nutty flavor when cooked. Taro roots can be either used by frying, baking, roasting, boiling, or steaming them as an accompaniment to meat dishes.
They are also often used in
soups
or stews.
Vegetarians
have found the cooked taro root to be a delicious addition to meals such as antipasto salads that include endives,
peppers
,
tomatoes
, chicory, and fresh herbs. Another reason that the taro root has gained in popularity for cooking purposes is because its starch is easily digestible.
Taro roots are extremely nutritious as they provide a good source of fiber, contain a high amount of protein, calcium, and phosphorus, and supply approximately 95 calories per adult serving. To determine whether a taro root is suitable for use, make sure that the root is firm to the touch, and has hairy roots.
Once you have selected your roots, you can store them in your home for up to one week provided that the roots are stored in a cool and dry location, preferably at approximately 50ºF. Interestingly during the
Chinese New year
, a dish which is truly unsurpassed that is prepared with taro root and richly flavored with scallops,
mushrooms
, dried shrimp and
Chinese bacon.
The creamy taros are pan-fried until golden brown and fragrant and popular known as the Taro root cake (Woo Tul Gow).
In Chinese cuisine
, dried shrimp are used quite frequently for their sweet and unique flavor that is very different from fresh shrimp. Dried shrimp are also used in
Chinese (mostly Cantonese)
soups and braised dishes.
Dried shrimp are also used in Korean cuisine, where they are soaked briefly to reconstitute them, and are then stir-fried with seasonings—typically
garlic
,
ginger
, scallions, soy sauce, sugar, and hot peppers—and served as a side dish. It is called "mareunsaeu bokkeum" (hangul in Korean).
Southeast Asia countries
, dried shrimps are extensively used in
Malaysia, Singapore, Indonesia and Japan.
In Thai cuisine, dried shrimp is used extensively with chilies and Thai herbs to produce chili paste and various types of curry paste. Dried shrimp is also used as is in Northeastern dishes such as somtam. In United States, dried shrimp are often added by Cajun cooks to gumbo to add an intense salty flavor.They can also be used as a snack by themselves, and can be commonly found in snack size portions in stores in south Louisiana.
To prepare this popular stinky delight vadai's,
Take the arbi and remove the skin. Grate the taro roots, grated onion, chopped curry leaves, red chillie paste. Take the baking powder and mix it with the maida or all purpose flour, Add it to the arbi, add salt and mix it. Add dry shrimp and mix well.
Take a pan add oil to fry, make a small dumplings for this mixture and deep fry them in a very slow flame. Do try this unique dish and am sure you will surely love this Stinky delight vada.
View the video on making of this dish at:
Stinky Delight Arbi and shrimp vadai

Author :
Published On : Feb 4, 2008
Preparation Time:

7 min

Recipe Type : Appetizers
Cooking Time :

25 min

Standing Time : 5-8 mins
Yield :

4 (4 servings)

Ingredient : Arbi

Description : this is another variation of taro root dumpling
Ingredient Name
Unit
Quantity
arbi -taro root

---

number

---

1

---

baking powder

---

tsp

---

1/2

---

curry leaves

---

number

---

7

---

Dry shrimp

---

grams

---

100

---

maida

---

tsp

---

1

---

Oil

---

---

to fry

---

Onion

---

number

---

1

---

red chilli paste

---

tsp

---

1

---

salt

---

---

as per taste

---

Take the arbi and remove the skin.grate the arbies, grated onion,chopped curry leaves,red chillie paste. take the baking powder and mix it with the maida or all purpose flour,add it to the arbi,add salt and mix it add dry shrimp and mix well. Take a pan add oil to fry, make a small dumplings for this mixture and deep fry them in a very slow flame.