Every thing about Popular Snake gourd Recipes | Vahrehvah :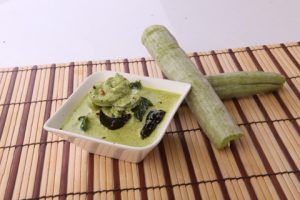 Snake gourd Recipes of India
Snake gourd is the fruit of a tropical vine that is used as a vegetable frequently in Indian cooking. Like all other veggies, this vegetable also has a lot of health benefits. Snake gourd is said to be good food for diabetics because of its low calorie content and high water content. In addition it is said to have anti inflammatory properties, cooling properties and is a good expectorant and detox food.
If all of the above qualities still do not make you want to grab and cook a snake gourd, here is one more, it tastes delicious. Whether you use it in stir fries or in curries, this vegetable always tastes delicious. This kootu with snake gourd is quick, simple, delicious and can easily be served with rice or with Indian flat breads like phulkas or chapathis. The plants are commonly grown in South India for their snake-like grayish white spongy fruits. They are also grown in North India but mostly in home gardens.
The snake gourd is a very nutritious vegetable and is a natural antibiotic, expectorant and laxative. As per the Indian fold medicine it is said that this vegetable is a tonic for the heart, helps stimulate the production of body fluids, relieving dryness. This vegetable creates a cooling effect in the body. In India, the snake gourd is used as curry vegetable and also cooked in milk with spices making an amazing stew.
They can also be pickled. The stem tips and leaves are edible, but boiling is essential to remove the unpleasant odor. Snake gourd is rich in fibre and helps prevent constipation.I love preparing kootu as it does not need much oil, except for seasoning. I am sure you will not regret preparing this as it tastes so good and is also very easy on the digestive system.
Snake gourd is not a very popular and liked vegetable by many. It is widely used in south Indian cuisine and have created recipes that are par excellence and mouth-watering. Some of the fantastic and delectable dishes made from this humble and fresh vegetable are: Snake gourd Kootu Itis an excellent mild and flavourful South Indian side dish made with snake gourd cooked with lentils, spices and coconut.
This is an easy comforting dish and appetizing to eat. The goodness of this exotic kootu preparation is that the snake gourd and garbanzo beans (boiled) are cooked in a mildly spiced paste made from cumin seeds, black pepper and fresh grated coconut (dry roasted and made into a paste) giving this dish its warmth, heat and a tickle of sweetness. Finally the cooked channa and tur dal is added into, that makes this dish more nourishing, healthy and extremely delectable.
The snake gourd yogurt curry is also popularly called as Potlakaya perugupachadi in Telugu, Podalangai thayir pachadi in Tamil, snake gourd raita, or snake gourd in yogurt gravy. This yogurt curry or pachadi is a very popular south Indian dish especially made in Andhra Pradesh, Tamil Nadu, Karnataka and Kerala. It is a effortless dish made with the humble snake gourd which belongs to the cucumber family and is low in calorie and fiber rich vegetable. The tempering with mustard & cumin seeds in mustard oil gives a pleasant warmth and flavour mixed into the yogurt. This dish is mildly spiced with just finely chopped green chillies and very few red chillies.
Snake gourd Masala Snake gourd masala is a simple south Indian side dish. A vegetarian dish cooked combined with Snake gourd or Podalangai or Potlakaya and channa dal (lentil) seasoned with aromatic Indian spices. It's a delicious side dish and a must in most of the vegetarian feasts. Snake gourd makes a perfect vegetarian curry.
Snake gourd Fritters – Padwal Pakoda Snake gourd fritters or Padwal pakoda is an innovative way of making the best out of a simple and not so popular snake gourd vegetable. This dish perfectly suits during rainy days or winters. A must try snack that is just yummy.
Padval Dalimbi Baaji Padaval Dalimbi baaji or Padwal Dalimbi is a very simple, protein rich typical Maharashtrian dish made with Snake gourd (Padwal in Marathi) cooked with dalimbi which means field beans in spicy tangy gravy.
Most of the above dishes are always tempting with its subtle seductive magic of flavours and sheer visual delight that allures our taste buds.
To try more snake gourd dishes, do click on: https://www.vahrehvah.com
You could always reach me at my below links:
My Cooking Videos Indian Recipes Indian Food Regional Indian Cuisines VahChef Sanjay Thumma
Enjoy Cooking! Keep Smiling…