Every thing about DOSA | Vahrehvah :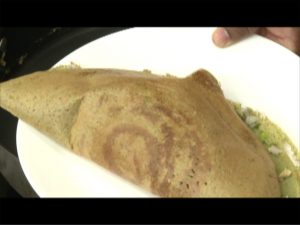 As per the individual's region
Dosa
can be called in various ways like
dhosha, dosay, dosai, tosai or dvashi
. In
South East Asia
countries like
Malaysia
and
Singapore
where they are dominated by Tamilian population,
dosa
is called as
Thosai
.
Dosa
is a fermented crepe or
pancake
made from
urad dal
(black lentil or white dal) and
rice.
It's a traditional
South Indian
dish usually eaten for
breakfast
or
dinner. Dosa
is rich in carbohydrates and proteins. It's a very common
breakfast
in the states like
Tamil Nadu, Karnataka, Andhra Pradesh
and
Kerala. Dosa
as such is a complete nutritious meal by itself.
One
masala dosa
can provide your body with most of the required
vitamins
and
nutrients.
For ex: The
masala dosa
is served with a yummy stuffed
potato curry, coconut chutney
and
sambar.
Hence if you are on a weight loss diet, you will be able to have a complete filling nutritious meal and would not feel the urge to eat anything between
meals.
Although the
dosa
is made from a batter of black lentil and rice, there are a variety of versions that can be prepared with this batter, for example Paper dosa, Set dosa,
Uttappam
,
Onion dosa
,
Butter dosa, Masala dosa, Mysore masala dosa, 70 MM dosa
and many more.
Characteristically the ingredients like the
urad dal, rice,
little
fenugreek seeds
are soaked over night or for at least 6 hours and then ground or blended to a paste. The batter should be ground to a very smooth paste and should be to the right consistency. The
Dosa batter
is thinner than the
Idli batter.
This consistency is required to make the crepe. There is less Amylopectin in
Dosa
than
Idli.
The
Dosa
crepe has to be crusty and crisp, while the
Idli
is soft and
fluffy.
You can also just add water and thin
Idli
batter to make
crispy Dosa.
The batter is then ladled in small amounts onto a hot greased tawa, where it is spread out into a thin circle and fried for a very short time with
oil
or
ghee
until golden brown. The
dosa
may then be folded in half and served or rolled as in a wrap, but in both cases it is cooked on a single side. Alternatively, it may be flipped to cook on the other side and then served.
Dosas
are typically served with a side dish that varies from each individual's preference and choice.
Some of the common items that are served along the
Dosa
are
sambar, chutney
(usually it's the coconut chutney),
Milaga podi,
any
chicken, mutton
or
fish curry.
Masala dosa
originated in
Udupi, Karnataka.
A
masala dosa
is made by stuffing a
dosa
with a lightly cooked filling of
potatoes, fried onions
and
spices.
It's nicely wrapped around the
sabji
or
potato curry.
Before it was invented,
plain dosa
was served with
potato curry
(
batata bhaji
)
without onions
in a separate cup. During a shortage of
potatoes,
method was created where
potato
was mashed and sauteed with
onions
together with other spices. This was then placed inside the dosa instead of a separate cup. This was done to hide the
onions
which are not eaten by orthodox
Hindus
and
Jains.
People enjoyed this new dosa. It came to be known as
"Masala Dosa",
from the sautéeing of spices
(masala)
during the preparation of the bhaji. In most
Indian food menus,
the food item has a pair of ingredients where one working to compensate the side effects of the other. For example, the dosa is made of
urad dal
or
black lentil
which is rich in protein and healthy.
White lentil is also good for improving the haemoglobin count. But eating a lot of
urad dal
can also produce flatulence hence this is compensated by adding
fenugreek seeds
that helps in proper digestion. In
India
few herbal doctors also advice one
dosa
per day for people suffering from anemia. To make the
dosa
batter, we first need to clean and wash the rice and black lentil or urad dal well and soak them separately. Add little
fenugreek
seeds along with
urad dal
and soak for about 4 to 5 hours. Wet grind the dal and fenugreek mixture little by little till the urad dal turns fluffy.
The batter should be soft and smooth batter. Remove in a bowl and keep aside, Add rice little by little and grind. Mix both the mixtures well. Cover it tight and leave to ferment. After 6 hours of fermentation the batter would rise up to at least one third of the level above where you left it. During winter season the batter will not ferment fast hence you will have to cover it up with a woollen
shawl
or keep it in the oven over night with just the light where you are sure that the
temperature
will be warm. Few important tips to remember while preparing the batter, do not add excess water by which the
Dosa
will become difficult to prepare and it will also become very thin and papery.
Urad Dal
can run in the grinder for a long time but not
rice. Rice
will become hot then, the
dosa
prepared will not be tasty. Always grind the dal first and then
rice
and let the
dal
get frothy while grinding. You can add more water when you mix the batter, if you do not get the correct consistency. While fermenting the batter
do not keep the batter out in the open for more than 8 hours
if you are in the tropical climate. The batter will become sour. It will be better for you to
ferment the batter overnight
and refrigerate in the morning.
Do not use yeast or baking powder
for this batter to ferment. You will lose the natural taste.
Do watch the making of a variety of dosas at:
dosa dosai
Author : Admin
Published On : Oct 22, 2008
Preparation Time: 7 min
Recipe Type : Breads
Cooking Time : 25 min
Standing Time : 5-8 mins
Yield : 4 (4 servings)
Ingredient : Rice
Description : Dosa made with rice, urad dal
Recipe of
Ingredient Name
Unit
Quantity
channa dal

---

cup

---

1/4

---

Fenugreek seeds

---

tbsp

---

1

---

Oil

---

0

---

as needed

---

Rice

---

cup

---

2

---

salt

---

0

---

as needed

---

ural dal

---

cup

---

1

---

water

---

0

---

as needed

---
Take a bowl add rice,ural dal, channa dal,fenugreek seeds, wash and soke for 6 hrs. After 6 hrs blend it into a fine paste and keep it for ferment over night. next day add salt and mix. Heat tava pour the batter and spread it applie oil remove once it is gloden brown colour.