Every thing about Famous Foods in Orissa (Odisha) | Vahrehvah :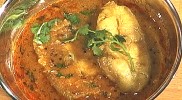 Odisha has a culinary tradition spanning centuries. Majority of the people from Odisha are non-vegetarians and fish forms an integral part of their traditional cuisine. Oriya dishes are rich and varied and rely on local ingredients. Rice, both sun dried and par-boiled is the staple food of the people in this state. However, the eating patterns have slightly changed in the urban areas but they do prepare traditional dishes from the Oriya cuisine during festive occasions.
The cuisine of Odisha has a distinctive cooking style and the same is followed in the preparation of the dishes. A typical main course consists of rice or chapatti, along with dal, bhaji, bharta (mixed vegetable curry), ambila/sakara (sweet and sour preparation) and dessert.
All these eatables are placed on a plate, made from bell metal. Typically breads (roti, paratta) are served as the main course for breakfast, whereas rice is eaten with lentils during lunch and dinner. The breakfast consists of chuda (poha, flattened rice), mudhi (muri, puffed rice), chuda can be eaten either as fried or with curd, banana and sugar (called as Chudaa Dahi).
Mudhi is a famous snack in north Odisha. Different pitha also form breakfast menu. The main course in lunch includes one or more curries like Crab Kalia, Maccha Ghanta, Bhendi Bhaja, vegetables and pickles. Given the fondness for sweet foods, the dessert course may include generous portions of more than a single item.
Oriya desserts are made from a variety of ingredients, with milk, Chhenna (a form of cottage cheese), coconut, rice, and wheat flour being the most common. People of Orissa are sweet tooth and sweet dishes form an indispensable part of their meal.
They are prominent and well known for their exceptionally mouth-melting and finger licking delicacies which include various milk preparations like Rasgulla, Rasmalai, Khirmohan, Rasabali, Kalakand. Other traditional sweets are Chhena poda Pitha, Enduri Pitha and Chittau Pitha. These are often prepare during festivities and are made in huge quantity during all the major festivals.
Some of the very famous and popular foods from the Oriya cuisine are:
Luchi is a deep- fried flatbread made of wheat flour. They are usually served with curries or gravies.
Khecede (Khichdi) Khichdiis a popular dish made with rice and lentils cooked together in ghee and offered as Prasad to Lord Jagannath at the Puri Temple, Odisha.
Chungdi Malai (Prawn Malai curry) is delicious, mild curry is so easy to make. The word 'malai' means cream, but this curry gets its creaminess from coconut milk. This is a recipe from Bengal & Odisha region, which is famous for its seafood. Serve it with steamed basmati rice.
Chicken in Silky Spinach Curry Murg Saagwala is a popular north Indian dish where chicken pieces are cooked in mildly spiced spinach gravy. A very healthy and nutritious dish!
Macher Kalia with Aloo is a traditional of Bengali fish recipe Aam Shol or Murrel fish with Green Mango.
Chhena Jalebi is a sweet dish originated from coastal Orissa, a state that is very popularly known for making various desserts of Chhena. This excellent sweet meat is made with fresh chhena which is thoroughly kneaded and rolled up into shapes similar to pretzels, before being deep fried. The fully fried chhena pretzels are then soaked in sugary syrup. Chhena jalebis are served either hot or chilled.
Rasmalai Rosh malai (Bengal sweet dessert originating in India). Is served after a meal. The name Ras Malai comes from two parts in Hindi: "Ras" meaning "juice/juicy" and "Malai", meaning "cream".Ras Malai consists of sugary white, cream or yellow coloured balls (or flattened balls) of paneer soaked in malai (clotted cream) flavoured with cardamom.
Malpua is a pancake served as a dessert or snack, which is also offered to Lord Jagannath in his Sakala Dhupa.
Do not miss trying some of these very authentic and traditional dishes from the state of Odisha.
If you are actually looking for some of your favourite Orissa recipes and not sure where to find, then jus t click on:
https://www.vahrehvah.com/orissa
You could always reach me at my below links:
My Cooking Videos Indian Recipes Indian Food Regional Indian Cuisines VahChef Sanjay Thumma
Enjoy Cooking! Keep Smiling…