Every thing about Popular Chicken Curry Recipes | Vahrehvah :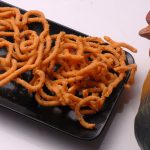 Famous Chicken Dishes
Vah! Writing on popular Chicken curry dishes just feels great and mouth-watering. Chicken curry is a popular delicacy all over South Asia and Southeast Asia. There are various variations in making a delectable chicken curry. Indian cuisine is diversities and has a large amount of regional variations; hence each region has its own speciality or signature Chicken curry to make with its local ingredients available.
Typically a South Asian Chicken curry consists of onions, fried in oil and flavoured with ginger, garlic, chillies sautéed well and added with a variety of spices such as turmeric, cumin, coriander, cinnamon, cardamom and tomato based sauce. Often, a pre-made spice mixture which is commonly known as curry powder is added to give that finale touch. Indian chicken curry typically starts with whole spices, heated in oil.
A sauce is then made with onions, ginger, garlic, and tomatoes, and powdered spices. Bone-in pieces of chicken are then added to the sauce, and simmered until cooked through. In South India, coconut and curry leaves are two popular ingredients added into the chicken curry. This curry is usually garnished with coriander leaves, and served with rice or roti.
Even within the country, there are variations among regions. In Northern India, the chicken curry is slightly spicier than in southern Indian because of a cultural existence of vegetarianism. Depending on the style of preparation, some versions may be sweeter while others will have a creamier taste to them due to the ample use of butter.
Chicken curry is a ubiquitous dish in most Indian restaurant, hotels menus. It is often simple, subtly spiced to suit the taste of the customers and is generally a crowd pleaser. Generally the chicken curry is highly flavourful, robust, warm and delectable to taste. Almost all chicken preparations goes well with rice, roti, naan, chapatti or pulaos too. Indian cuisine is popularly known for its spicy and tangy taste.
Indian curries and gravies are a treat and appealing to International palate. Chicken (White meat) recipes form a vital part of the Indian non vegetarian cuisine. Right from the North of India to the South, there are various ways of cooking chicken. Indian Chicken recipes are famous worldwide for their mouth watering Tandoori varieties, Curries, Tikkas, Gravies and Biryanis.
Indian Chicken recipes have a variety of exotic chicken recipes. Chicken tikkas, pakoras, kebabs are served as starters and the dishes like the Butter chicken, Chicken curry, Chicken Chettinad are served in the main course or as an accompaniment.
Tandoori chicken is one of the most popular and delicious dish from Mughlai cuisine. The best feature of Tandoori Chicken is it is easy to prepare and it is not as oily as other chicken recipes. Some of the kebabs are painstaking to prepare but the end result is they melt in your mouth and undoubtedly the best in the world. In North India, Lucknow, also known as the city of Nawabs, Murg Tandoori (Indian Barbequed Chicken),
Butter Chicken or Chicken Makhani, Chicken Biryani Awadhi dishes are very popular and rich in aroma and color. Down South, the Hyderabadi Biryani is savored and an integral part of the Indian cuisine. It is rich in spices and colorful. The Telangan cuisine and the Mughlai cuisine blended in the Nizams kitchen to form the Hyderabadi biryani.
Chicken Chettinad, is one of the best chicken dish in Tamil Nadu and Kerala. It is considered as a fiery recipe best served with Paratha. Below are some of the most lip smacking, appetizing and recipes with diverse flavour abilities. Do indulge yourself in making these easy to prepare Chicken curries and leave an everlasting impression on your taste buds.
Butter Chicken Butter Chicken is among the best known Indian foods all over the world. Its gravy can be made as hot or mild as you like so it suits most palates.
Chicken Korma Traditional mild Mughlai dish made of succulent chicken pieces cooked in coconut–cashew nut paste and yoghurt to give a nice silky rich creamy sauce or gravy. It is a popular Northern India – marked by silken curries, butter dishes and delicate flavours.
Dum ka Chicken Dum Ka Chicken in traditional method – A popular Hyderabadi dish known as Dum ka Murgh, is a very rich, aromatic and flavourful dish; chicken cooked in its own juices combined with lot of spices, almonds and cream in slow cooking method.
Chicken Rezala Mughlai Delicacies Rezala is confined itself within the periphery of Kolkata. A medium thin white gravy chicken recipe that is best served with roomali roti or biriyani. This dish is just magical with its aroma, texture and taste.
Sufyani Murg Dahi Aloo This is one of rich recipe which influenced by Mughlai cuisine. Sofyani murgh (Chicken and potatoes ala Blanc) is usually not available in normal restaurant menus but is made only in speciality restaurants or in five star hotels because it costs more. This flavoursome chicken dish is often served with roti, naan, and also hot rice.
Chicken In Silky Spinach Curry Murg Saagwala Murg Saagwala is a popular north Indian dish where chicken pieces are cooked in mildly spiced spinach gravy. It is a very healthy and nutritious dish.
Methi Chicken Methi Chicken is a fantastic chicken preparation where chicken is cooked with fresh fenugreek leaves, in Indian curry.
Chicken In White Rassa Pandhra Chicken in white rassa is a classic dish from the Maharashtrian cuisine where chicken in cooked in a popular Pandhra rassa.
Spicy Saoji Chicken Curry Nagpur Chicken Saoji chicken curry is a Maharastrian style of cooking. There are several different styles of cooking chicken according to their regions and their speciality ingredients. This Saoji chicken curry is spicy and includes all the aromatic spices in it. This chicken curry is served with chapati and rice.
Murg Dahi Dhania Korma Murg Dahi Dhania Korma is a Kashmiri speciality chicken curry made with chicken cooked in yogurt, coriander and few flavoursome spices along with the special essence from saffron, fennel powder and dry ginger powder which gives that extra zest to the dish.
Plum Stuffed in Chicken kofta Plum stuffed Chicken koftas are rich delicious dish where plum is stuffed into a mix of minced meat and cooked in spicy and yummy creamy gravy.
Chicken Tikka Masala Chicken tikka masala, a luscious red gravy based dish of roasted or grilled chicken pieces served in a rich aromatic, creamy and spiced delicious sauce.
Konkani Chicken Maharashtrian Kombdi Recipe Maharashtrian style chichen kombdi recipe is gravy made from of dry coconut grated and roasted gives a superb taste to the chicken.
Malvani Chicken Chicken Malvani is a traditional and popular Malvani style of cooking chicken curry cooked in spicy Malvani masala gravy and coconut milk. This dish is extremely flavourful and a delicious chicken dish that goes well with rice, roti, chapatti or naan.
Chicken Tariwala This is a classic Punjabi recipe, and I have seen many Punjabi ladies make this recipe to perfection. The key to this recipe is Coriander powder, which is used heavily and hence, its flavour.
Coriander Chicken This chicken curry is an wonderful dish having the aroma and taste of the fresh coriander leaves and spices added in the curry.
Grandma Chicken Curry This chicken curry is actually the age old grandma's style of chicken preparation. An amazing recipe to relish!
Chicken Shorva Traditionally, shorva is prepared by cooking meats or vegetables in a yogurt and onion base with spices such as garam masala, dry coconut powder and khus khus or poppy seed powder. You can also use vegetables or mutton in the shorva.
Country Chicken with Channa The unique and authentic taste of Country Chicken is what brings people to eat country chicken cooked with channa dal spiced to make an excellent side dish.
I am sure most of you must be delighted with this series of simple, easy to prepare and highly delicious Chicken curry dishes.
If you wish to watch more Chicken recipes then, do click on: https://www.vahrehvah.com/chicken-recipes
You could always reach me at my below links:
My Cooking Videos Indian Recipes Indian Food Regional Indian Cuisines VahChef Sanjay Thumma
Enjoy Cooking! Keep Smiling…