Every thing about Breakfast – An important meal of the day! | Vahrehvah :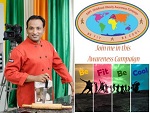 Breakfast is one of the most important meal of the day, but little do many of us know of this and avoid eating which in long run causes a lot of health related problems. Breakfast is an extremely important food especially when you are on a health regime or loss of weight program.
A good, balanced and nutritious breakfast will provide you the fuel and energy required to your body which will there after keep your body fit and going strong to perform any type of activity. After an 8 hours of sleep, every human body needs to refuel their body with good amount of proteins, nutrients and minerals etc.
Skipping the first meal of the day may leave you tired, hungry and irritable and fatigue, hence always look for some healthy and nutritious breakfast which is high in protein concentration. Research studies have shown that skipping breakfast may lead to one or more risk factors such as obesity, high blood pressure, high cholesterol and diabetes.
There is also an age old saying that" Break the fast like a king, have lunch like a prince and dine like a poor person", but this is hardly followed as today's life is too high-tech, stressed and hardly have time to give importance to this most important meal of the day.
Right from the kids, young and elders are running behind time hence hardly they sit down and have a healthy breakfast. It is normally they often grab the food and leave it half and run. But with little change and adjustments in our lifestyles, we can surely make up of this precious meal as breakfast is a great way to get your metabolism working well for the day.
When the food is eaten and the body receives it in the morning, your brain happily instructs other organs and they start working to digest it. But then if you don't eat breakfast in the morning, your body would think that it needs to conserve the energy it has because it isn't getting any more through nutrition, which actually slows down your metabolism resulting in a decrease in the amount of calories you burn all day long and the body would get exhausted.
Benefits of having a healthy breakfast:
Eating a healthy and nutritious breakfast is important for everyone especially for children and adolescents as:
It provides with nutritionally complete diet high in nutrients, vitamins and minerals.
It improves concentration and performance in school, college and thus will Be Fit. Be Cool!
Will get more strength and endurance to engage themselves in various physical activities.
You won't binge on unhealthy and junk foods.
And aids in lower cholesterol levels.
Healthy Breakfast Dishes:
There are a plenty of Indian Tiffin varieties that one can eat to delight your taste buds. Do try and enjoy this healthy and nutritious meal everyday to keep your body and mind fit and steady.
Listed below are some of the very popular Indian breakfast dishes:
You could always reach me at my website for amazing more breakfast recipes and healthy Fat free recipes: www.vahrehvah.com
Do try eating other great breakfast choices made with whole grain cereals, fruits, oatmeal, whole grain pancakes and omelette. All these are great sources of fuel for your body setting a good foundation to start your day when it comes to food. If you start the day with a healthy breakfast, it's easier to stay on track throughout the day.
The best type of breakfast is important: There are various delectable and tempting breakfast dishes that most of us would love to eat, but if you are on a weight loss regime then the right kind of diet can keep you satiated and energized for the whole morning than looking on for treats to delight your palate.
The wrong kind of diet will obviously leave you feel hungry sooner and thus rise in blood sugar or unnecessary fat to your diet. Do follow a healthy, low fat and low GI breakfast is the best option when it comes to losing weight instead of skipping the meal. Nutritionists states that the first meal of the day should have perfect combination of protein, fibre and carbohydrates.
Some of the dishes that come into these groups are:
Proteins: Egg white, Sprouts, Nuts like cashew, almonds, and peanuts, Dairy products such as milk, yoghurt, cream and cheese are important sources of protein.
Fat: All foods contain inherent or invisible fat.
Carbohydrates: Idli, Dosa, Poha, Upma, Bread, Paratha and Wheatflakes
Vitamins and minerals: Though required in very little quantities, these two are extremely important for a balanced breakfast. Fruits and vegetables are their best sources.
You could also follow this campaign to gain knowledge on some special features and advices from eminent doctors from AAPI (American Association of Physicians of Indian Origin) and also get to know of healthy recipes and diets from popular Chefs that you and your family can relish and enjoy staying fit and strong.
To follow, do click on: https://www.facebook.com/AAPIChildhoodObesity
Enjoy healthy eating and Be Fit. Be Cool!