Every thing about BHENDI JAIPURI | Vahrehvah :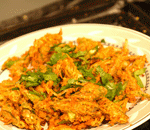 Bhendi Jaipuri is one among the popular vegetarian dishes from the Rajasthani cuisine. This dish has rubbles of crispy fried okra, onions and cashew nuts dusted with spices and mango powder (amchur) and besan flour which is extraordinary made delectable. This dish is a classic Rajasthani curry made from Okra.
Okra is often known as the ladies finger or Bhendi in Hindi in India or as Gumbo in countries like the United States or Carribbean. Okra is a magical vegetable whose texture varies dramatically depending on how it's cooked. If you like it gooey and glutinous, add it to an African-style stew; if you prefer it in whole chunks, try it in a classic American gumbo. Okra is also known as ladies' fingers because of its shape, and is widely used in Indian, Middle Eastern, Caribbean and southern US cookery.
Among the vegetable dishes bhendi Jaipuri, little shards of crisply fried okra and onions dusted with mango powder, was an extraordinary version of what is conventionally a pliable, viscous vegetable. Bhindi curry is classic Indian curry made from okra. Okra is often known as ladies finger in India.
Gram flour is the one of the ingredients used in making the Bhendi Jaipuri to give crispness and a nice texture to the dish. Gram flour is a main ingredient in most of the Rajasthani dishes that is used to stir up some lip smacking delicacies such as Gatte Ki Sabzi, Khata and Pakodi. Mangodi and Papad that are made from powdered lentils are also a treat for the taste buds. Bajra and corn are used at many places of Rajasthan to prepare dishes like Khichdi, Rabdi and Rotis.
Rajasthan being a dessert place you won't get ordinary vegetables like potatoes and cauliflowers, it requires imagination and wit to stir up dishes to satiate the palate. These desert people have also learnt to complement their diet by means of whatever the nature has to offer, be it from a bush, a tree, a creeper or a plant which includes the gawar, kachri, bhendi and many more. Fresh green chilies (that are rich in vitamin A and C) or dry red chilies are an integral part of the Cuisine of Rajasthan.
One of the most loved Rajasthani food is the blend of dalbati and churma. The culinary creativity in this princely state is closely associated with its nobility and royalty. In this mostly dessert state with sand dunes and wind storms, the local cuisine gravitates toward foods with a high nutritional value, long shelf life and minimal use of water. To give a tanginess and sourness to the dish they use dried mango powder. Okra is available all over the world. In different places this vegetable is called by different names.
Ladies fingers, gombo, okoro, ochro, bhendi, bhindi, etc. to name a few. Okra is a power house of enormous vitamins and nutrients. To prepare this amazing dish, cut the ends of the okra and slice them at an angle into thin slices. In a bowl, add the sliced okra, broken cashew nut pieces, cumin seeds, amchur powder, chilli powder, salt and sugar. Now sprinkle some vinegar on the okra mixture. Mix well. Adding salt and vinegar brings out the moisture from the okra and also reduces the sliminess of the okra.
Now add some sliced onions. Add some besan flour and mix. Don't over mix and let the mixture sit for sometime. Add few drops of water if the mixture is dry. Heat oil in a pan and deep fry okra mixture. Drop the mixture in hot oil just like onion bhajji. Fry till crisp. Garnish with cilantro.
Do not fry all the okra mixture at once, fry them in batches over a medium flame. Taste the famous Rajasthani food Bhendi Jaipuri, served hot, and you will never forget the sublime intricacy of taste that whirls around your tongue. So, hurry to savor this Popular Rajasthani Delicacy and watch the making of this dish at:
https://www.vahrehvah.com/bhendi-jaipuri
This dish can be served as appetizer or as crunchy accompaniment with other dishes. To have healthy Okra, you can always sauté it on low flame and add your favorite seasonings. Though, this vegetable is sticky but when it is accompanied with something that is sour, it can become separated nicely and lose its sticky texture. However, the stick texture of okra is great for making gumbo, which can be made with your favorite vegetables, seasoned with spices and added legumes and grains.
Okra can be made by sautéing it with canola oil, and seasoning with salt and herbs. There are many ways to cook okra, and it should be consumed regularly as the nutrients in it, provide good percentage of daily value required of essential nutrients like folate, vitamin C, A, calcium, and is a good source of iron and calcium etc. It also contains starch, fat, ash, thiamine and riboflavin. It is effective for the prevention of neural tube defects in developing fetuses mainly due to its high content of vitamin B6, calcium, fiber, and folic acid.