Every thing about Importance of Calcium in our daily diet | Vahrehvah :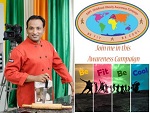 Calcium is an essential mineral found in many foods that is useful to the body to maintain strong bones and carry out various vital functions. Calcium is mainly stored in bones and teeth supporting their structure and hardness.
Our body needs calcium for muscles to move and for nerves to carry messages between the brain and every body part. This mineral is one of the 21 elements known to be the most essential to human body. Calcium also helps the blood vessels move blood throughout the body and releases hormones and enzymes that affect every function in the human body. About 99% of calcium is available in the bones.
Calcium in our diet: Since ages, dairy product have been the main source of calcium in our diet as it is very good source of calcium. Apart from dairy products, other foods rich in calcium include sardines, oysters, clams, tofu, molasses, almonds, green leafy vegetables like mustard green (sarson), broccoli, collards, kale, turnip greens and spinach etc.
It is said that a diet high in protein, fat or sugar affects calcium uptake. Consuming excess amounts of coffee, junk foods, excess salts, alcoholic beverages and white flour leads to the loss of calcium by the body. Hence a diet with foods choices that includes vegetables, fruits and whole grains contain significant amounts of calcium. Calcium lowers cholesterol levels and aids prevent cardiovascular disease.
Calcium deficiency: Often calcium deficiency leads to various health problems like eczema, elevated blood cholesterol, hypertension, insomnia, muscle cramps, numbness in the arms & legs, arthritis, rickets and tooth decay etc. The amount of calcium you need to take each day depends mainly on your age. Other various causes of calcium deficiency disease include malnutrition or mal-absorption (the body cannot absorb the vitamins and minerals it needs from the food you eat).
Recommended Daily Calcium intake: It is recommended that people from the ages 9 to 18 years old should take about 1,300 mg/ day, and 19 to 50 years old should have calcium intake of 1,000 mg/day while overo 50 year ld should take 1,200 mg/day.
Popular foods that provide calcium in our foods: Calcium is food in various foods especially Milk, yogurt (it is said to offer 400 mg of calcium in a single serving) and cheese are the main food sources that majority of the people acquire calcium from. Other varieties of vegetable sources of calcium are broccoli, Chinese cabbage; kale etc while animal sources of calcium are fish with soft bones, sardines and salmon.
Include leafy greens like spinach, turnip, kale, romaine lettuce, celery, broccoli, cabbage, asparagus and mushrooms together, tossed well with little lemon dressing and made into a fresh salad offers good amount of calcium. Fruits rich in calcium include dates, custard apple, banana, grapes, sapota, orange, amla, mango, pear, papaya, water melon and apple etc.
Do include one variety of fruit to your daily meal. Kidney beans, bakes beans and white beans are also rich sources of calcium. Include herbs and spices like basil, thyme, cinnamon, mint and spices that include garlic that provide calcium to the body and also give a fantastic flavour to the dish. Citrus fruits like oranges are not only rich in calcium but also contain vitamin D which is essential to absorb the calcium in the body. Do have a hearty and wholesome calcium rich food in your diet to maintain healthy bones and joints. Getting calcium through a balanced diet is preferable to supplementation because of a better absorption rate. Do keep a tab on your calcium consumption and make sure to keep your bones healthy and strong ever. Some calcium rich foods are:
Grilled Prawns with Tomato Almond Gravy
Do check out for some amazing, mouth-watering and nutritious recipes at: www.vahrehvah.com
You could also follow this campaign to gain knowledge on some special features and advices from eminent doctors from AAPI (American Association of Physicians of Indian Origin) and also get to know of healthy recipes and diets from popular Chefs that you and your family can relish and enjoy staying fit and strong.
To follow, do click on: https://www.facebook.com/AAPIChildhoodObesity
Enjoy healthy eating and Be Fit. Be Cool!