Every thing about CARAMEL CUSTARD | Vahrehvah :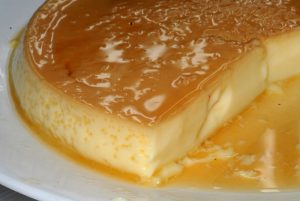 Caramel Custard
is a very popular rich custard dessert with a layer of soft caramel on top. Caramel custard is easy dish to prepare and doesn't take lot of time.
Caramel custard
is well known all over the world as crème custard or milk custard.
Caramel
custard
is an all time favorite dessert liked by one and all. Every country seems to have a
caramel
coated
custard
dessert that is popular.
Caramel custard
is called as
crème caramel
in
France
whereas in
Latin America, Spanish
speaking countries, and the
Philippines,
it is called
flan,
or
flan de leche (milk custard
). There are many who are a bit confused about Caramel custard and crème brulee.
Caramel custard
is made of milk and has a soft layer of caramel on top;
crème brulee
is prepared by cream which is custard with a hard caramel top.
Caramel custard
is prepared with just few ingredients like the milk, eggs, sugar, vanilla essence and caramel.
Caramel
custard well known over the countries like
Argentina, Brazil, Mexico
and
Uruguay
as
crème caramel
and is usually eaten with
'dulce de leche'. Dulce de leche
is a common name for
milk caramel
in
Spanish
made of thick jam and caramel candy prepared by heating both to derive its taste from
caramelized
sugar.
Dulce de leche is used for flavoring candies and other sweet dishes like the cakes, cookies or ice cream as well as crème caramel (flan in Spanish and Portuguese). In France and Britain, flan usually means a custard tart served with fruit topping quite different from the Spanish and North American flan. 'Copa Lolita', a typical dish of Cuba which is a small caramel flan served with one or two scoops of Vanilla ice-cream. Other variations of flan include coconut or rum raisin topping.
Caramel
is a confection that is beige to dark brown in color prepared by the caramelization of sugar.
Caramel
is used to flavor puddings, desserts and beverages, such as
Coca-Cola.
Caramel
is also used as a food colorant.
Caramel
is made by heating sugar slowly to around
170ºC
/
338ºF
. As the sugar melts and approaches this temperature, the molecules break down into volatile compounds with a characteristic
caramel
color and flavor.
Firstly to make the
caramel
, melt sugar in a sauce pan adding a very little water and boil well till it turn to a nice golden brown color. Most of the professional chefs' do not add water and melt the sugar till
caramelized
stage, but its needs practice or else the
caramel
would burn. Pour the
caramel
in the mould and swirl the mould to coat bottom of mould when the
caramel
is still hot. Set it aside.
To prepare the
custard
, in a mixing bowl lightly whisk eggs with sugar. When soft and creamy add
vanilla
essence and mix and then pour in milk and whisk rapidly until well blended.
Strain
the mixture to remove the egg white strands. Pour this mixture in the mould with caramel and bake in oven or baked in a double boiler. Do check the method of cooking in the video at:
You can also add grated nutmeg for enhancing the flavor of the
custard
. Refrigerate the caramel
custard
and serve chilled. To get smooth texture custard, the mixture should be strained to remove bubbles before pouring into the mould.
Caramel custard
is light soft luscious baked dessert chilled and turned out of the mould and serve well in a plate. Perfect Caramel
custard
should just melt down into mouth.
It's definitely not a hard task to make this
caramel custard.
Usually in the culinary school during the early days of learning the recipes, Caramel
custard
is one such dish which is taught first as its one of the easiest desserts to prepare. The same ways if you would like to teach your kids to learn cooking first teach them the
Caramel custard
and they would really enjoy making this dish.
Creme caramel is one of a species of French custard desserts known as cremes renversees, literally creams turned upside down.Creme caramel should not be confused with creme au caramel, which is a caramel-flavoured cream dessert. Another name for this dish is "Flan Caramel Custard".
It is served with hard caramel top and you can also serve it with whipped cream and fruits, of your own choice. In the later part of the 20th century crème caramel occupied an excessively large amount of territory in European restaurant dessert menus. This was probably due to the convenience, for restaurateurs, of being able to prepare a lot in advance and keep them until needed.
In India, Caramel custard is very similar to an Indian sweet called the Junnu in Telugu by taste and texture. It is a sweet made from the lactating cow's milk usually prepared by the first 3 to 5 days milk of the cow that gave birth to calves. It's prepared only few times in a year.
Caramel Custard
Author :
Published On : Jun 10, 2009
Recipe Type : Desserts/Sweets
Ingredient : Milk
Description : Very very simple and delicious, nutritious pudding.
Recipe of
Ingredient Name
Unit
Quantity
egg

---

number

---

3

---

Milk

---

ml

---

500

---

sugar

---

grams

---

50

---

sugar for caramel

---

grams

---

20

---

vanilla essence

---

drops

---

4

---
1. Beat egg and mix it with milk. 2. add vanilla essence and sugar to it. 3. For caramel - In a steel vessel , put sugar and heat it on medium flame. Once suger starts melting, spread it all over the vessel. wait till suger turns little brownish in color. Remove the vessel from stove. 4. Now in this vessel add your egg mixture. put in the oven 375F for 45 mins. 5. Let it cool down a little bit, then put it in fridge. 6. Serve chill. you can also add nutmeg grated for better flavor