Every thing about Palak Moong Dal | Vahrehvah :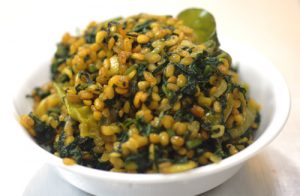 Palak Moong Dal fry
is a very simple and easy recipe to prepare. A combination dish prepared with
Palak
(also commonly called as Spinach) cooked with split lentils (called the
Moong dal
or
green gram)
is iron rich, nutritious and healthy. Spinach (Spinacia oleracea) is an edible flowering plant in the family of
Amaranthaceae.
It is native to
central
and
Southwestern Asia.
Spinach may survive over winter in temperate regions.
Spinach
is thought to have originated in ancient
Persia
(modern Iran).
Arab traders
carried spinach into
India,
and then the plant was introduced into ancient
China,
where it was known as
"Persian vegetable".
Summary: spinach cooked with split moong dal and fried
Cooking Time: 25 min
Diet type: Vegetarian
Diet (other): Low calorie
Number of servings (yield): 4
Meal type: lunch
Ingredients:
Ingredient Name
Unit
Quantity
Curry Leaves

---

springs

---

1

---

Garlic

---

number

---

6

---

Ginger garlic paste

---

tsp

---

1/2

---

Green chilli, sliced

---

number

---

4

---

Oil

---

tbsp

---

1

---

Onion

---

number

---

1

---

Salt

---

to taste

---

1

---

Spinach

---

bunch

---

3

---

Split Moong Dal

---

cup

---

1/2

---

Turmeric

---

pinch

---

1

---

urad dal

---

tbsp

---

1

---
Instructions:
Take a pan heat oil add urad dal, saute it then add garlic cloves, green chillies saute it now add sliced onions cook till onions are transparent, now add moong dal cook for few mins then add ginger garlic paste mix well then add turmeric saute it, add chopped palak and salt as per taste saute it and cook the palak with out closing it with a lid.palak will ouzee out water cook till all water is evaporated.
Spinach has a high nutritional value and is extremely rich in antioxidants, especially when fresh, steamed or quickly boiled. It is a rich source of vitamin A (especially high in lutein), vitamin C, vitamin E, vitamin K, magnesium, folate, iron, calcium, protein, folic acid and omega 3 fatty acids.
Spinach also has a high calcium content. The same with Moong dal, is commonly found in most Indian kitchens. It is high in protein and easy to store (usually lasting for 6-8 months in an airtight container). Like most of the Indian recipes, Palak Moong dal fry is very adaptable dish and can be cooked in different ways, with different lentils and different spices depending on the region where it is cooked.
Palak and moong dal makes a great combination and is good for digestion too. Palak Moong dal, the flavor of the dish comes from the spinach because the moong dal is added only to give the texture of a gravy/curry. Yellow mung dal/lentils are roasted till aromatic and then cooked with spinach and tempered with spices.
It is very popular to lightly dry roast the yellow mung dal before cooking. Roasting the lentils, brings out the beautiful aroma that will hang around your home for a long time. A really true comfort, light, low fat, protein rich and healthy food best accompanied with rotis, chapattis or hot rice. Vah! The Palak Moong dal fry is cooked perfectly without changing its natural green colour of the Spinach.