Every thing about MANGO DAL | Vahrehvah :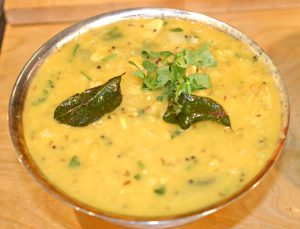 Mango dal
is a popular seasonal Andhra preparation from the variety of daal recipes. This is popularly called as
Mamidikaya pappu
in Andhra. This dish is one of the famous
lentil
speciality prepared in every house during the summer season. Mango dal is one of the best recipes made of
raw mangoes.
Raw mango
(green mango)
lend sourness to the dal which is very unique that even the
lime juice
,
tamarind cannot possibly enhance the flavor of dal.
The raw
mangoes
are available only during the March and April season when it's the important
Ugadi (New Year)
festival in
Andhra.
We traditionally celebrate the Ugadi festival with making of
chutney
with the green mango. The unripe mangoes are so beautiful to look with a natural shade of pure green appearance. Being the national fruit of India,
mangoes
hold a special place in most of the households as the raw mangoes are pickled and stored for months together.
Mango pickle
is one of the most popular accompaniment in Andhra cuisine and available in most of the hotels, restaurants and food stalls. As
mango
is a seasonal fruit, they are widely used in preparing a number of dishes like the mango dal,
raw mango rice
, mango panna,
mango juice
and many more. Mango dal cooked with raw mango and Tur dal (lentil) gives a bit tart, fruity taste and the nutty smoothness of
tur dal
is a taste that one will never forget.
There is a variety of
dal
(dhal)
that can be prepared across India. The basic dish contains lentils or other legumes flavored with aromatics and spices. Mango dal cooked in a traditionally
Southern
Indian
style
where
yellow lentils
and
raw mango
cooked together to form a nice delicious tangy soup.
To prepare the Mango dal, Heat oil in pan, add mustard seeds, when they crackle add broken red chilli and cumin seeds. Add 4 sliced garlic and chopped onion and saute for 2 min add salt, a little turmeric and then add green chillies, curry leaves and diced unripe mango.
Add sufficient water just to immerse all the cut mango pieces and cook for 10 min till the mangoes are tender but not fully cooked.
Add boiled dal and water. If needed check seasoning and finish it with 1 tbs of ghee (optional) and coriander leaves. Enjoy this festive dal with rice.
Mangoes
are widely used in Indian cuisine. Sour, unripe mangoes are used in chutneys, pickles, side dishes and are also eaten raw with salt and chilli powder. They are a variety of
mango salad
recipes. Raw mangoes are also used for making special summer cooling beverage called as
panna
or panha. It's a luscious sour sweet earthy flavor
beverage
that cools the body to beat the summer scorching heat.
Mango is rich in
Vitamin
C
and
Vitamin
A
.
Vitamin
C
content is more in raw mango as compared to that in ripe mango. It also has traces of
Vitamin
E
,
Vitamin
B
and
Vitamin
K
. It's rich in a variety of phytochemicals and nutrients. Mango contains essential vitamins and dietary minerals.
Mango
is the national fruit of India, Pakistan and the Philippines.
In Australia,
mangoes
are considered to be a symbol of summer, the first tray of
mangoes
of the season is traditionally sold at an auction for charity.
Mango
is popularly called the king of the fruits.
Do try this Mango dal recipe and enjoy the natural fruity flavor. Mango dal is a very nutritious dal.
View the making of Mango dal at:
Mango Dal
Author : Admin
Preparation Time: 15min
Cooking Time : 25 min
Yield : 4 (4 servings)
Published On : Oct 30, 2007
Recipe Type : Veg-Main
Standing Time : 25
Ingredient : Dall
Description : Unripe mango cooked with yellow lentil
Recipe of
Ingredient Name
Unit
Quantity
chopped onion

---

large

---

1

---

coriander leaves

---

springs

---

1

---

cumin

---

tsp

---

1/2

---

curry leaves

---

leaf

---

8

---

garlic

---

slice

---

4

---

gr chilli

---

piece

---

2

---

hing

---

pinch

---

1

---

mustard

---

tsp

---

1/4

---

oil

---

tbsp

---

2

---

red chilli

---

piece

---

2

---

salt

---

to taste

---

1

---

toor dal

---

cup

---

1

---

turmeric

---

pinch

---

1

---

unripe mango

---

large

---

1

---
heat oil in a panadd mustard seeds, broken red chilli ,and cumin add 4 sliced garlic and add chopped onion and saute for 2 min add salt ,turmeric-very little turmeric add gr chillies ,curry leaves and diced unripe mango add water just to imerse cut mango and cook for 10 min ,till mangoes are tender but not fully cooked add boiled dal and water if needed check seasoning and finish it with 1 tbs of ghee (optional ) and coriander leaves enjoy this festive dal with rice