Every thing about Biryani Festival | Vahrehvah :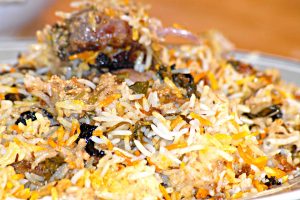 Biryani Festival is buffet type lunch menus in which above 10 types of biryanis which includes vegan, non-vegetarian, sides, salads, curd rice is going to be offered.
Biryani is among the most in-demand meals across the globe. It is probably the trademark dishes of Hyderabadi cuisine. It is really a traditional meal usually consists of mutton, chicken or lamb or veggies but mutton is among the preferred food. It's motivated from the Mughlai dishes, biryani has since years made its approach initially from Persia and travelled by its approach to the sub-continents via various routes by means of traders and immigrants.
Historians claim that the name 'Biryani' comes from the Persian word 'Birian' which basically means to fry as well as to roast. While in the Mughal rule in Lucknow and Hyderabad in 18th and 19th centuries, this meal was regarded as the royal food for the Nawabs. Both regions their very own traditional type of planning the Biryani.
Biryani is a royal recipe, extremely savory, delicious and appealing to enjoy. It is amongst the hottest and praised dishes in India also in the whole world. It's a full meal alone with inclusion of fragrantly rice, meat, veggie and various spices and herbs cooked collectively.
Predictably, a lot of the age-old biryani recipes are zealously secured top secret quality recipes and cooked only by those experts who've meticulously learned the nuances of creating this ideal aromatized biryani which had produced its way into the royal delicacies and after that trained to their next decades. The techniques of cooking biryani are extremely old in which they're cooked over fire wood and red hot coals are placed on the top, this kind of that there's heat from both sides.
Cooking biryani takes lots of training and talent to really make the perfect biryani. The most famous type of biryani in India definitely is the Hyderabadi Biryani. Biryani isn't just restricted to Hyderabad but additionally available to every single Indian surviving in India. They're other favorite types of biryani which includes Kashmir Mutton Biryani, Awadhi biryani, Iranian Biryani, Sindhi Mutton Biryani, Malabari Biryani and so on.
Biryani is usually made out of lamb, chicken, prawns, fish or eggs. To focus on the vegetarians, there's also various vegetarian biryanis.
Some of the Varieties of Biryani that can be serve at Biryani festival:
• Chicken Biryani Restaurant Style is a mixture of large pieces of chicken marinated in spices, fresh herbs and spiced with green chilies and red chili powder and soaked in yogurt overnight so the pieces get marinated amazingly to impress its tastes in to the chicken. This is then dum cooked. This process of cooking helps to make the recipe much tastier because the closing accomplishes maturing. Inside it the ingredients discharge highest possible flavor and fragrance which boosts the prosperity of the dish.
• Vegetable Biryani is a loaded and amazing rice dish with spicy veggies. It's a preferred Mughlai food that's been adjusted by the Indians. It is exclusive rice with unique greens coupled with dry fruits, spices, herbs and yoghurt so it will be a rich dish.
• Hyderabadi Mutton Biryani is among the hottest recipes in the world and one of many trademark dishes of Hyderabad
• Hyderabadi Chicken Biryani is in reality a classic traditional recipe and really happens properly when you have put the correct quantity of spices and also the cooking of the rice to the proper consistency.
• Chicken Biryani Arabic - Makloubeh Rice, which accurately means "upside down" is a well-liked classic Palestinian recipe made out of rice, spices, veggies and chicken cooked wonderfully to make a one-pot food. The name Makloubeh or upside down basically means the way the dish is dished up.
• Chicken Pakhi Biryani is pleasantly made out of basmati rice and it is a specialty dish as you have to modify the spices and condiments with meats or veggie perfectly.
• Prawn Shrimp Biryani is a classic Indian dish made by layering spices, shrimp/ prawn and fragrant rice. Prawn Biryani isn't a really richly flavorful dish but has all of the flavors of a traditional biryani. It is an amazing, magnificent plus an ideal dish for any seafood lovers!
• Egg Biryani is ideal distinctive flavored rice with impressive fragrance and packed with richness. This dish is among the finest dishes to treat people who don't eat meat but love eating eggs. Egg biryani is certainly one among the list of unique feel and flavor of the true Mughlai Khana.
• Qubooli Lentil Biryani is an amazing and unique recipe prepared gently with aromatic basmati rice and chana dal cooked with picked outstanding fragrant spices or herbs. This dish is actually cooked on dum style of cooking which will keep the fragrance and tastes of the dish undamaged.
• Khan Biryani is the one other sophisticated and amazing rice dish made of marinated spiced chicken and fragrant rice cooked collectively that invokes pictures of a fantastic feasts or royal celebration