Every thing about KHAN BIRYANI | Vahrehvah :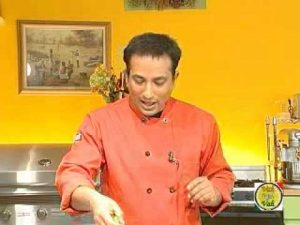 Here I shall tell you about the
Khan Biryani
. This
Biryani
is dedicated to the movie "
My Name is Khan
" as I liked the movie that has moved many hearts and inspired me too. That is because I sincerely believe in the core principle of the story and little more - there are still many good people. There are other
people
who sometimes do bad stuff which hurts many knowingly or unknowingly. What ever so, ultimately when there are people or human, there is
food
definitely and food is most vital component of human life and good and nutritious food is the ultimate to keep the person euphoric.
The
Khan biryani
is yet another elaborate and exotic rice delicacy made of marinated spiced
chicken
and aromatic
rice (basmati rice)
cooked together that conjures up images of a grand feasts or royal celebration. This dish is heavenly with the subtle sublime blend of flavors,
fragrances, textures
and
colors.
Biryani
!! Doesn't the word make you jump of joy and comfort? Yes, it is most popular
rice
delicacy that reigns supreme as the worlds best one pot meal for its aroma that makes the taste buds crave for. We shall know the quintessential of a well made home style
Chicken dum biryani
that require a lot of tender loving care to prepare. There are two versions of making the
biryani,
one is the
kaccha
(raw) and
pakki
(cooked) biryani. The city that once boasted of
India's best biryani
is the Awadh city of Lucknow but now has fallen on bad times. Just as old world nazakat (graces) has given way to a brash aggressive culture, its cuisine has lost its finesse and refinement.
Though you'll find huge pots of the stuff in
Aminabad
and
Chowk,
the
biryani
here is in fact nothing but
yakhni
palao cooked in
animal fat.
The city's skilled
bawarchi's
have all but disappeared and the few maestros who remain spend most of their days wallowing in nostalgic reverie. The
Lucknow
style
biryani
is a bit dry preparation and
Hyderabadi
style is juicy one.
The place that has now become synonymous with
biryani
is
Hyderabad (in Andhra Pradesh)
. It has become the most popular signature dishes of
Hyderabad
originating from the
moghul
and
Persian cuisines.
There are a whole range of eateries offering biryani over
Hyderabad
and
Secunderabad
areas and even the
biryani
comes in a mind
boggling
range of
26 variations,
the most popular among them being
kacchi biryani
where the meat is marinated in curd and then steamed in rice and
pakki biryani
where the meat is cooked with all the accompanying spices and the rice is allowed to simmer in the resulting gravy.
Khan biryani
is basically one of the styles of the
Hyderabadi kaccha biryani
where marinated raw
chicken
and partially cooked basmati rice are layered and cooked on dum over low heat. Once the biryani is cooked on dum and as you open the lid, the kitchen is filled with
fragrance
, rich with the reassuring aroma of
pure ghee
and saffron and the tender
chicken cooked
to melt in the mouth. If you really want to savour the brilliance of
biryani,
don't look at restaurants and hotels try creating it in your own
kitchen.
It is by no means an easy proportion and requires a fair amount of
skill
and
expertise
but the end result is worth it. So go ahead and start -
dum lagao!
So, let's start cooking this Khan Biryani. Take
chili powder,
add around one teaspoon of
chili powder,
3/4 teaspoon of salt, pinch of turmeric, garam masala powder, corriander powder, one full teaspoon full of
ginger garlic paste
, lemon juice or lime juice.
Add one tablespoon of oil. Just mix all this and take some good pieces of chicken. Take each piece of
chicken
and just marinate it real good. Do that with entire
chicken.
Add mint. Just rub in the mint also into this, so the nice flavor of mint rubs in with the
chicken.
I have not added the green chillies but if you love to use green chillies in Biryani, you can go ahead and add.
Pour whisked curd to the
chicken masala
but do not mix the curd. Refrigerate this mixture in the fridge over night. Boil and cook rice till half done. In a
muslin
cloth add all the whole garam masala spices and wrap it and keep aside. In a heavy bottomed pan, add oil then add finely sliced onions, salt and sauté till the onions are slightly
golden brown color.
Once they are done, remove the excess oil and half the quantity of the fried onions and keep aside. Now evenly spread the balance fried
onions
in the pan and add the marinated
chicken
and spread evenly. Add the wrapped (in muslin cloth) spices and place it in the center of the pan. Spread half of the
cooked
rice over the spiced chicken layer. Sprinkle fried onions, chopped mint and
coriander leaves.
Put another layer of the rice and spread evenly. Sprinkle the remaining fried onions, chopped mint and coriander leaves. Sprinkle saffron color on the top and tightly cover the pan with a lid. To keep the lid tight without letting the steam go out, take
chapatti
dough and make a thread and wrap it around the edges of the pan and place the lid over it. Put some weight on top of the lid to avoid the steam to go out and cook on a very low heat for 30 to 45 mins. The
Khan biryani
is ready to serve. Best served hot with with mirchi ka salan or raita. Do check this recipe out at:
A few things to keep in mind while preparing biryani, use best quality aged Basmati rice, good quality chicken and the best saffron available. Marinate chicken for at least 4-6 hrs and if running out of time then two hours will do. No short cut methods and all the ingredients listed below are a must, in other words, there are no substitutes for the mentioned ingredients. Cooking basmati rice nice and fluffy make your rice dishes look more beautiful. A little practice is all you need to cook this beautiful long grain rice. I sincerely suggest that to eat fresh and good food always try doing on your own. Good luck!
Khan Biryani
Author : Admin
Published On : Feb 17, 2010
Preparation Time: 7 min
Recipe Type : Rices
Cooking Time : 25 min
Standing Time : 5-8 mins
Yield : 4 (4 servings)
Ingredient : Rice
Description : Khan Biryani Recipe made easy, learn how to make Khan Biryani Recipes at home.
Recipe of
Ingredient Name
Unit
Quantity
atta dough

---

---

as needed

---

basamathi rice

---

grams

---

500

---

Basmathi rice

---

grams

---

500

---

bay leaf

---

number

---

2

---

chilli powder

---

tsp

---

1

---

coriander leaves

---

bunch

---

1

---

coriander powder

---

0

---

---

curd

---

cup

---

1

---

Dry garam masalas

---

number

---

5

---

food colour

---

---

pinch

---

garamasala powder

---

tsp

---

1/2

---

ginger garlic paste

---

tbsp

---

1

---

lemon

---

number

---

1

---

mint leaves chopped

---

bunch

---

2

---

oil

---

tbsp

---

3

---

onion chopped

---

big

---

3 big

---

salt

---

0

---

as needed

---

Turmeric powder

---

0

---

pinch

---
Take a Bowl, Add chilli powder,salt,turmuric,garamasala powder,coriander powder,ginger garlic paste,lemon jucie,oil, mix well and add chicken rub the chicken well with this masalas and pour curd do not mix the curd, keep in fridge for over night. Boil Rice In a muslin cloth add all the spices and wrap it and keep a side. Now in a pan add oil then add chopped onions, salt, cook till slight golden brown colour once it is done remove if any execess oil,and also half of the onion. Now spread the balance fried onions and pour the marinated chicked spread it equaly, and put the wraped masala dry,now spread half of the rice,onions,mint,chopped coriander, now spread left over rice,onions,min,coriander leaves. finely sprinkle colour close it with a lid but the steam should not come out for this take a chapati dough and make a thread put anout the dish and close it with the Lid and put some weight on top of the lid to avoide the steam. cook for 30 to 45 min.