Every thing about TOMATO SOUP | Vahrehvah :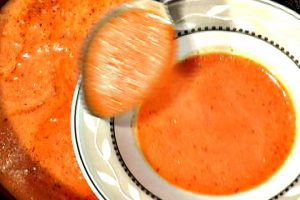 Tomato soup
is one soup that is universally liked by all. Be it from the
Indian
restaurants to the Indian railways, tomato soup is popularly available everywhere. It is one of the tastiest soups, juicy and tangy to taste with a nice aroma of ripe
tomatoes
and basil. Wait from July to September and you will get the best of most ripe and juicy
tomatoes.
Winters is the time that everybody would crave for a nice cup of hot steaming aromatic
soup
to keep oneself warm from the biting cold.
What else would anybody think of? Yes, a yummy aromatic juicy and luscious
soup
to jump on. This is one of the most simplest and easy dish and is also the comfort and versatile food. In United States,
Tomato soup
is considered one of the top comfort food and
Tomato
ranks among the top three flavors of soup whereas in India Tomato soup is the most popular dish among the large population of
vegetarians.
Tomato soup can be served either hot or cold and can be made in many styles.
Drinking a fresh
tomato
soup
is always nutritious and healthy then having a canned soup. By the end of the nineteenth century,
tomato
was canned more than any other fruit or
vegetable
for the main reason that
tomatoes
have high acidic content which is the prime factor for canning.
Tomatoes
are closely associated with
Italian cuisine
and originally native to the western side of South America, including the Galapagos Islands where the first type of
tomato
grown is thought to have more resembled the smaller-sized cherry tomato than the larger varieties.
The
tomato
was not cultivated in South America, but rather in Mexico, where the Mexican Indians were intrigued by this fruit since it resembled the
tomatillo
which was a staple in their
cuisine
. The Spanish conquistadors who came to Mexico shortly after Columbus's discovery of the New World "discovered"
tomatoes
and brought the seeds back to Spain, beginning the introduction of the
tomato
into Europe.
Although the use of
tomatoes
spread throughout Europe but was only grown as an ornamental garden plant for many centuries in several European countries because it was considered poisonous since it was a member of the deadly Nightshade family. Later
tomatoes
made their way to North America with the colonists who first settled in
Virginia,
yet did not readily gain popularity until the late 19th century.
Since new varieties have been developed and more efficient means of transportation established,
tomatoes
have become one of the top selling
vegetables
in this country. Today, the United States, Russia, Italy, Spain, China and Turkey are among the top selling commercial producers of
tomatoes.
To make a nice smooth creamy soup one should select the best of
tomatoes
which should have a deep rich color.
Tomatoes
should be well shaped and smooth skinned with no wrinkles, cracks, bruises or soft spots.
They should not have a puffy appearance since this indicates that they will be of inferior flavor and will cause excess waste during preparation. Ripe
tomatoes
will yield to slight pressure and will have a noticeably sweet fragrance.
Tomatoes
are a great addition to many
soups, salads,
dips and gazpachos etc.
Tomatoes
have a subtle sweetness that is complemented by a slightly bitter and acidic taste.
Cooking
tempers the acid and bitter qualities in tomatoes and brings out their warm, rich, sweetness.
The making of tomato soup may be available in many forms. Tomato soup is a very simple and fast to cook recipe and there is nothing like home made fresh
tomato soup
.
It can beat the canned or readymade powdered soup anytime. It's a very healthy and nutritious soup that can be given to babies and also to sick people.
To prepare the Tomato soup, melt the butter in a pan and add cumin seeds and garlic. Fry till garlic gives a nice aroma. Add the onions, leeks, celery and bell peppers (capsicum) and sauté all ingredients well for few mins.
Add tomatoes and cook till mashed adding little water. Add salt according to taste, little sugar, basil and pepper powder and mix. Puree the soup in a food processor or blender and strain the puree and keep aside.
Melt butter in the pan and add little flour (maida) and cook in a very slow flame till it is slightly brown, add the strained puree and add water. Season the soup. If required add cream (optional) to give additional richness and taste to the soup.
Serve hot topped with croutons that taste delicious.
If you do not have croutons then cut bread slices into cubes and deep fry them and add into the soup just before serving. Popular toppings for tomato soup may include sour cream, shredded cheese or crushed Saltine crackers. Tomato soup can be served before as an appetizer and can also be best taken as a diet food. Tomato soup is one of the best remedies to fight winter colds, cough and is nutritious. Do try and make the Tomato soup to keep your kids and family healthy and fit.
Watch the video at :
Tomatoes are an excellent source of vitamin C, vitamin A, and vitamin K. They are also a very good source of molybdenum, potassium, manganese, dietary fiber, chromium, and vitamin B1. In addition,
tomatoes
are a good source of vitamin B6, folate, copper, niacin, vitamin B2, magnesium, iron, pantothenic acid, phosphorus, vitamin E and protein.
There are health benefits to this tomato soup as it is high in Lycopene. Lycopene is an antioxidant that is not made in the body, so we need to eat vegetables that have good source of Lycopene in them. And tomatoes are one of those vegetables that are very high in natural Lycopene. Studies have shown that Lycopene can guard against cancer, especially prostate cancer in men, and cancer of the digestive tract, colon and lungs. Lycopene guards against aging of the skin and can be helpful with diabetes and cardiovascular problems.
Tomato Soup

Author :
Published On : Nov 15, 2007
Preparation Time:

30

min
Recipe Type : Soups/Salads
Cooking Time :

25 min

Standing Time : 5-8 mins
Yield :

4 (4 servings)

Ingredient : Tomatoes

Description : soup of tomato
Ingredient Name
Unit
Quantity
basil-tulsi

---

springs

---

2

---

butter

---

tbsp

---

2

---

cumin seeds

---

tsp

---

1

---

food color red

---

pinch

---

optional

---

garlic

---

piece

---

4

---

gr pepper, capsicum

---

slice

---

1

---

leeks/celery

---

piece

---

1

---

onion

---

small

---

1/2

---

pepper pdr

---

pinch

---

1

---

salt

---

to taste

---

1

---

sugar

---

tsp

---

1/2

---

tomato

---

number

---

4-5

---

Heat butter in pan add cumin seeds add garlic , chopped onions, leeks and celery ,bellpepper and saute for few min , Add tomatoes and cook till mashed with little water add salt ,sugar and basil, pepper pdr put in a blender and make a fine pure and strain add butter in a pan add 1 tsp of flour and cook in very slow flame till it is slightly brown add strained puree and add water ,season your soup ,check seasoning ,add cream if you desire serve hot enjoy cooking with vahrehvah
serve with bread crutons
serve steaming hot with a cracker or bread