Every thing about KUNG PAO CHICKEN | Vahrehvah :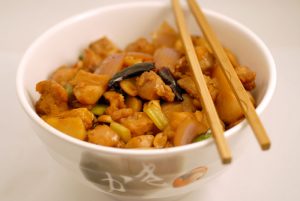 Kung Pao chicken
is a classical Szechuan (Sichuan) cuisine originating from the
Szechuan Province in China.
Kung Pao Chicken is a spicy dish made with diced
chicken
,
peanuts
and chili peppers. Kung Pao can either be prepared with
shrimp
, beef or even just
vegetables
; however the
traditional
dish is made with chicken.
Kung Pao chicken is frequently served during the
New Year season.
Szechuan cuisine or
Sichuan cuisine
is a style of Chinese cuisine famed for using bold flavor particularly the pungency, spiciness by liberally using of
garlic,
chili peppers and few unique flavor of the Sichuan peppercorn, peanuts (a symbol of longevity in Chinese culture),
ginger
which are the prominent ingredients in Szechwan cuisine. Sichuan cooking has a
long history
and has become famous for its special flavor.
Sichuan is known for its attention to color, smell, and presentation with an emphasis on taste. Sichuan is well known for the richness, broadness and thickness of its taste. It is mainly composed of "numbing, hot, salty, sweet, sour, bitter and fragrant".
The flexible combination of different flavors creates several compounded tastes such as numb and hot, sour and hot, red pepper oil and white pepper oil, among others. The richness and excellence of flavor helps rank Sichuan the top Chinese dish. It has won the praise of "one dish, one style, a hundred dishes, and a hundred tastes".
Sichuan absorbs the strength of
northern
and
southern
food to form a fusion between a northern dish with Sichuan style and a southern dish with Sichuan taste. It is complemented as "
Food in China,
taste in Sichuan." The taste of Sichuan is very delicate and flexible. Therefore, Sichuan is famous for its rich, thick and heavy flavor in addition to its lightness.
According to
historic
saying, Kung Pao chicken is also spelled Kung Po chicken or
Gung Po chicken
in English is a classic dish in Sichuan Cuisine (from central-western China). Allegedly, the dish is named after
Ding Baozhen
(1820–1886), a late Qing Dynasty official. Born in
Guizhou
, Ding served as head of Shandong province and later as governor of Sichuan province.
His title was Gōng Bǎo, or palatial guardian. The name "Kung Pao" chicken is derived from this title.During the Cultural Revolution the dish was labeled as politically incorrect because of its association with
Ding Baozhen.
The dish was renamed "
fast-fried chicken cubes
" (hong bao ji ding) or "chicken cubes with seared chiles" (hu la ji ding) until its political rehabilitation in the 1980s.
The dish exists in both traditional Sichuan and
Westernized versions
; the latter is more popular in the
United States and Canada
. Legend among the Chinese folk say that Ding Baozhen of the Qing Dynasty (1644 - 1911) loved eating dishes made of chili, pork and
chicken
. He was a jinshi (third-degree scholar) in the beginning and was assigned as the provincial governor of Shandong Province and later the governor-general of Sichuan Province later.
It's said that he often let his cook make diced chicken with soy sauce when he was in Shandong, but the dish was not popular then. After transferring to Sichuan, he often ordered his cook to make the dish with peanuts, chili and young chicken to treat his guests. Gradually, more and more people fell in love with the delicious dish.
Thereafter, he was created '
Tai Zi Shao Bao
' (junior guardian of the prince) and was also dubbed as
'Ding Gong Bao
' (palace guardian). Thus, the diced chicken his cook cooked was named kung pao
chicken
. Kung Pao Chicken is one of the tastiest and enjoyable chicken dishes that has a nice spicy and tangy flavor.
The chicken tastes tender and smooth, while the vegetables like the chestnuts,
bell peppers
,
mushrooms
,
carrots
, onion cubes and spring onions are crisp and refreshing. It can be made either spicy or mild according to your taste and liking. Kung pao chicken is not only a delicious dish, but it also has
medical and health
preserving properties, including nourishing the marrow and replenishing the essence, promoting mental health and prolonging the life and preventing hypertension and heart disease.
Chicken is the primary ingredient in the original Sichuan version. In this original version, diced chicken is typically mixed with a prepared marinade. The wok is seasoned and then chili peppers and Sichuan peppercorns are fried to add fragrance to the oil. Then the chicken is stir fried and vegetables, along with peanuts.
Shaoxing wine is used to enhance flavor in the marinade. Kung Pao Chicken starts off with fresh, moist, unroasted peanuts or
cashew
nut
s
. These are often used instead of their pre-roasted versions. The peanuts or cashew nuts are dropped into the hot oil on the bottom of the wok first, then deep fried until golden brown before the other ingredients are added or you can also use roasted peanuts in the last.
The most important component of the dish is handfuls of Sichuan peppercorns.These peppercorns give an authentic and distinctive numbing flavor.
The
westernized
version of Kung Pao chicken commonly consist of diced marinated chicken stir-fried with skinless unsalted roasted peanuts, chopped, sliced, or diced red bell peppers (as well as other vegetables such as green bell peppers,
celery,
Chinese
cabbage
, water chestnuts, and carrots), sherry or rice wine, hoisin sauce, oyster sauce, and chili peppers.
Although
chicken is traditionally
used,
seafood
items such as shrimp or scallops, or other meats such as
beef
or pork, are sometimes used in place of the chicken (although typically only a single meat or seafood is used). It can also be prepared with
tofu
instead of
meat
.
To prepare the Kung Pao, bits of diced raw chicken are marinated in soya sauce, half beaten egg, little salt and dusted with cornstarch.
Take a bowl add chicken stock, soya sauce, pepper powder, rice vinegar, ajinomoto, chillies, chilli sauce mix all together and keep aside. In a wok add a couple of teaspoons of sesame oil (to give a tangy taste) or corn oil, add the red chillies and fry well to bring out the spicy flavor. Add chopped garlic and ginger mix well then add all vegetables and then add chicken stock mix and add the fried chicken, roasted peanuts, spring onions and lastly add a cornflour mix in water for thickness. Cook for 5 mins and switch off the flame. In my quest towards inspiring to you to cook, I wish that, you all also explore the culinary skills of the
Indo Chinese cuisine
and prepare the delicious Kung Pao chicken at home.
Do view the making of this dish at:
Kung Pao Chicken

Reviews
Author :
Published On : Mar 13, 2008
Preparation Time:

7 min

Recipe Type : NonVeg-Main
Cooking Time :

25 min

Standing Time : 5-8 mins
Yield :

4 (4 servings)

Ingredient : Chicken

Description : simple way of making chicken Kung Pao ( Indo-Chinese Style) with nice sauce
Ingredient Name
Unit
Quantity
ajinamoto

---

---

pinch

---

all type of vegetables

---

cup

---

1

---

chicken

---

number

---

1

---

chicken stock

---

cup

---

2

---

chilles

---

number

---

2

---

chilli sauce

---

tsp

---

1

---

corn strach

---

tsp

---

1

---

egg

---

number

---

1

---

garlic ginger chopped

---

tbsp

---

1

---

peanuts roasted

---

tbsp

---

1

---

pepper powder

---

tsp

---

1/2

---

red chillis

---

number

---

4

---

rice venigar

---

tbsp

---

1

---

salt

---

---

as per taste

---

Soy Sauce

---

tbsp

---

2

---

spring onions

---

bunch

---

1

---

Take a bowl add Chicken stock, soya sauce, pepper powder, rice venigar,ajinmato, chillies, chilli sauce mix well and keep a side. Now take chicken, soya sauce, egg, salt mix all and add corn flour mix again. In a pan heat oil fry the marinated chicken and keep a side. In another pan add oil, red chilli, chopped garlic and ginger, mix well then add all vegetables and then add the chicken stock mix well then add the fried chicken, peanuts spring onion, lastly add cornflour mix in water for thinkness, cook for 5min and switch off the flame.