Every thing about TOMATO RICE | Vahrehvah :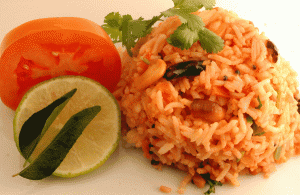 Tomato rice is a very simple, quick and easy rice variety to make with a blend of cooked rice, tomatoes and Indian spices.
Tomato rice a very popular dish, especially in the
south India
. The combination of ripe juicy tomatoes along with aromatic spices is a delicious and tasty treat.
There are many versions of this dish but this particular recipe happens to be a personal favorite.
Tomato
rice
is just perfect as a complete meal or light meal or brunch, served alongside with yogurt and papad.
Rice
is a staple in all Indian homes; rice can be made in numerous ways.
From
pilafs
and
biryanis
to
idlis
and
khichdi
, there's a lot you can do with this one simple ingredient. Tomato rice is mainly a comfort food for many and is prepared usually when one is in a hurry or feels lazy to make a course meal. Some times some simple classic dishes like tomato rice,
curd rice
and
lemon rice
are easy and delicious to make with leftover rice.
Any variety of rice you prefer works fine to prepare the tomato rice.
Tomato Rice
is one of those simplest rice dishes yet can be very fulfilling to your taste buds and one of the favorite lunch box meals for kids and easy to carry to office.
Tomato
rice
is a simple meal without much fuzz to carry as it can be eaten on its own. Tangy tomato rice makes a one dish great meal. Heat some oil in a pan or kadai, add dry red chillies and mustard seeds. When they crackle add cumin and little hing (asafetida powder),
channa dal
,
urad dal
, sliced ginger and broken cashew nuts and sauté till the
channas
turn into nice golden color.
Add finely chopped onions and salt, continue sautéing until they become translucent. Add chopped green chillies, curry leaves and tomatoes and mix well. Fry for about 5 minutes. Add spices like red chilli powder, a pinch of garam masala and fry until fragrant.
Add the cooked rice and mix well. Garnish with fresh coriander leaves. This dish is best when served with raita, pappad and pickle. This naturally is one of the best and simple flavorsome rice dishes that one and all should try it out.Preparing at home is always healthy and nutritious. I am sure that you all will also love the taste and check my video to know the making of this delicious recipe at:
Tomatoes
are
nutritious
to health and have got good medicinal values too. A single
tomato
carries higher percentage of
vitamin
c,
potassium
,
iron
,
vitamin
A,
and
lycopene
.Lycopene is an antioxidant which stops and prevents free radical cells from forming in our body thus possibly preventing cancer.
It is considered to be one of the healthiest
vegetables
. So consuming
tomato
every day is important as well as it help to maintain a healthy life style.
Tomato
though botanically a berry is a subset of fruit. The tomato is a vegetable and used for many culinary purposes because of its savory and sweetish flavor.
The
tomatoes
are widely grown and used in all types of International cuisine. It is used in diverse ways, including raw in salads, and processed into ketchup or tomato soup.Unripe green tomatoes can also be breaded and fried, used to make salsa, or
pickled
.
Tomato juice is sold as a drink, and is used in cocktails such as the Bloody Mary Tomatoes are acidic, making them especially easy to preserve in home canning whole, in pieces, as tomato sauce or paste. The fruit is also preserved by drying, often in the sun, and sold either in bags or in jars with oil.
Tomatoes
are used extensively in
Mediterranean
cuisine
, especially
Italian
and
Middle
Eastern
cuisines. They are a key ingredient in pizza, and is commonly used in pasta sauces. Consumption of
tomato
is associated with decreased risk of breast cancer, head and neck cancers and might be strongly protective against neurodegenerative diseases.
Ingredient Name
Unit
Quantity
broken cashewnuts

---

tbsp

---

1

---

channadal

---

tsp

---

1/2

---

chilli pdr

---

to taste

---

1

---

chopped coriander

---

0

---

---

chopped ginger

---

piece

---

1

---

chopped gr chilli

---

piece

---

2

---

cooked rice

---

cup

---

4

---

cumin

---

pinch

---

1

---

curry leaves

---

springs

---

1

---

fennel seeds (saunf)optional

---

0

---

---

garammasala pdr

---

pinch

---

1

---

ghee oil

---

tbsp

---

1

---

hing (optional)

---

pinch

---

1

---

mint (optional)

---

0

---

---

mustard

---

pinch

---

1

---

onion

---

number

---

1/2

---

red chilli

---

piece

---

3

---

salt

---

to taste

---

1

---

tomato

---

number

---

3

---

urad dal

---

tsp

---

1/2

---

Heat some oil and add the red chillies,mustard ,cumin.and hing, add channadal ,urad dal and broken cashew nuts and add hing When they turn color, add the chopped onions and fry them till they turn transperent add chopped gr chilli and curry leaves and tomatoes Fry for 5 minutes.Add any spices and keep frying for a minute. Add the boiled rice and adjust the seasoning