Every thing about PURNAM BURELU | Vahrehvah :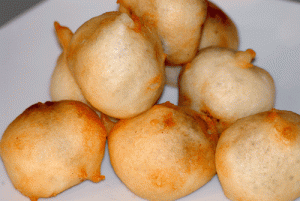 Purnam Burelu
also spelled like
Poornam Boorelu
is one of the main
sweet
which is offered to God in any pooja performed. Termed to be a heavenly delicacy of
Andhra
region or
cuisine,
this is made like sweet dumplings especially during
Sankranti, Vinayaka Chaturthi
and
Dusshera
festival in
Andhra
region.
Though it is a bit difficult to make them it is worth it as the result would be great.
Burelu,
one of the most popular sweets prepared in the homes of
Andhra,
symbolic of joy and festivity, completely embodies the idea of a traditional
Andhra
sweet
to the hilt.
Coming to the recipe, the stuffing of
Puram burelu
is made of
Chana dal
, jaggery,
cardamom powder being the flavor enhancer and the outer casing is the same as the dosa
batter
made of
urad dal
and rice but it should be less fermented. It is a high calorie dish and
kids
would love it a lot.
This perennial favorite is a deep-fried golden brown color
sweet ball shaped;
the sweetened filling in dipped in the
dosa
batter and deep fried. Here's how to make these delicious treats with a golden hue and redolent with cardamom flavor to indulge yourself this festive season.
As you can see from the ingredients it contains
high proteins.
The two versions of this dish are made either with
sugar
or
jaggery.
The
jaggery
version is very earthy and is everybody's favorite. It is usually served with little
ghee
in the poornam (filling).
Summary: Purnam Burelu Recipe made easy, learn how to make purnam burelu Recipes at home.
Ingredients
1 - pinch - cardamom pdr,
200 - grams - channa dal,
200 - grams - jagery,
1 - to fry - oil,
1 - cup - rice,
1 - tbsp - rice flour,
1 - pinch - salt,
1/2 - cup - urad dal
Instructions:
Boil channa dal and cook till it is well cooked and drain all water when hot, and let it dry on paper towel if needed powder it in food processor, add jagery to channa dal pdr and cook till thick flavor with cardamom pdr.
See video for puran poli /bobatlu for the directions, batter is same as dosa dough but less fermented make dumplings as shown put them in the batter and deepfry in fresh hot oil ( add rice flour in the batter if the batter is thin or not coating the sweet dough properly.
serve hot can also be served with vanilla icecream
Cooking time (duration): 25
Diet type: Vegetarian
Number of servings (yield): 4
My rating: 4 stars: ★★★★☆ 1 review(s)
Most of the Indian sweets are made of Jaggery because Jaggery or whole sugar is prepared from sugarcane juice which is pure, wholesome, traditional, unrefined, whole sugar. It has natural goodness of minerals and vitamins which is originally present in sugarcane juice itself. Thus it is regarded as one of the purest form of sugar. It has sucrose and glucose present in it along with other minerals and vitamins.
Jaggery is made in the natural way and no chemicals are used for its processing for which it does not loose its original properties. Hence it's very beneficial to health too.
Alternately, you can cook the jaggery or sugar till it melts and then add the mashed dal to the syrup and cook it till it forms a thick paste. Ensure that the rice-dal batter is thick so that it coats the balls evenly and holds shape. The batter should not be runny.
Just before eating, make a small hole on top and fill it with a little ghee or melted butter. It's purely optional though. You can use the left over batter to make savory balls by adding a little more salt, cumin seeds and green chilli paste. Deep fry these savory balls till golden brown.
To prepare this delicious sweet dish with less effort look at the recipe below.
Try for yourself and enjoy!