Every thing about Channa Cabbage | Vahrehvah :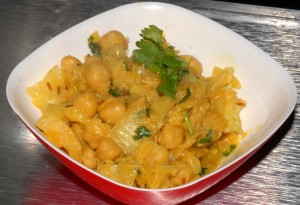 Channa Cabbage is a simple and mildly spiced dish tasty and nutritious.
This dish can be a very healthy as a side dish that goes well with roti or chapatti. This dish is amazing as it is a low cal dish with less oil and spices.
Cabbage is a vegetable that is mostly disliked by kids, though not every kid despises it. The mere mention of cabbage in lunch or dinner can make them conjure up the weirdest of excuses to escape the meal.
However, the vegetable has a high nutritional value and numerous medicinal properties too. Cabbage has established the immense health benefits that the vegetable possesses.
Even in the ancient times, Greeks used fresh white cabbage juice to treat soreness or infection in the eyes. As for the mode of eating, cabbage can be eaten either in cooked form or in raw form, as a part of salad. Cabbage is popular and used as a leafy green vegetable.
It is a herbaceous, biennial flowering plant distinguished by a short stem upon which is crowded with a mass of leaves usually green and some varieties are red or purple. Cabbage leaves often have a delicate, powdery, waxy coating called bloom. The cabbage can occasionally be sharp or bitter due to glucosinolate.
Cabbage is a good source of riboflavin. Cabbage is an excellent source of vitamin C. It also contains significant amounts of glutamine, an amino acid that has anti-inflammatory properties. Cabbage is included in dieting programs, as it is a low calorie food.
Cabbage is used in a variety of dishes for its naturally spicy flavor. It is the principal ingredient in coleslaw. Cabbage is used is making various salads and curries. It is one important vegetable used in Chinese dishes a lot.
Channa also known as garbanzo beans or full chickpeas combined with cabbage is an excellent combination. Full chickpeas or channa belongs to the class of food called legumes or pulses. They have a delicious nutlike taste and buttery texture. They make excellent tasty dishes like hummus, falafels (Middle Eastern cuisine) and Chole masala (Indian cuisine).
They contain good amount of Molybdenum, Manganese, Folate, Fiber, and Tryptophan and provide important nutrients like Protein, Copper, Phosphorous and Iron. This legume makes them important source of protein and fiber for vegetarian diets.
Combined with a whole grain such as whole-wheat protein, they provide amount of protein comparable to that of meat or dairy foods without the high calories or saturated fats.
To prepare this simple dish take a pan add very little oil, cumin seeds, green chillies, chopped onions and salt. Saute them and then add turmeric powder, ginger garlic paste and fry them till the raw flavors goes off.
Add cabbage and mix well and then add coriander leaves, red chilli powder, coconut powder (optional), boiled channa. Saute them and close it with a lid and cook till the cabbage is tender. If required add little water for cooking.
Once the cabbage is tender finally garnish with fresh chopped coriander leaves. Serve hot with roti or phulkas. Seeing the nutritional and health benefits of the cabbage and channa, do make this dish a must in your diet and enjoy the refreshing and lite flavors to keep your taste buds delectable. View the making of this wonderful healthy dish
at:https://www.vahrehvah.com/indianfood/httpwww-vahrehvah-comchannacabbage