Every thing about CUCUMBER DAL | Vahrehvah :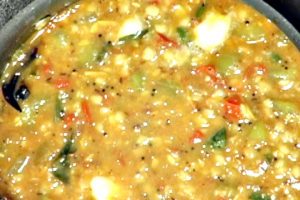 Any dal with rice is one of the best comfort food which is so simple yet a tasty meal to have. The
dosakaya
or cucumber mixed with dal is simply irresistible in its taste. The
dosakaya
when blended with dal and spices absorbs the flavors and gives a mild tarty, slightly pungent flavor with crunchiness taste.
Dosakaya
or
yellow cucumber,
a small, round or oval shaped light green to bright yellow colored vegetable, with a crisp crunchy skin and a mild sweetish and tarty taste. Few people from
Andhra
region also call it as
Budamkaya
. The
dosakaya
tastes mildly sweet with just a tiny hint of tanginess like
cucumber
with lemon juice sprinkled on.
This vegetable with tur dal and in combination of rice makes an easy lunch and one of the favorite meals. For vegetarians in
India
, dal is one of the main sources of protein. So, dal is made in many different ways on a daily basis in most of the Indian homes.
With yellow cucumber, this dal is not only easy; it makes one delicious and healthy meal. With very little, basic seasoning, this dish's taste comes mostly from the yellow
cucumber
. The
dosakaya
pappu
is a tangy lentil thick soup. The cucumber (Cucumis sativus) is a widely cultivated plant in the gourd family
Cucurbitaceae
, which includes squash, and in the same genus as the
muskmelon
.
A
yellow cucumber
available in many parts of India! They are commonly added in
Sambar
/
Soup
,
Daal
and also in
making
Dosa
-
Aavakaaya
(
Indian pickle)
and
chutney
. These gourd relatives are crisp, cool, and juicy, but get only so-so marks for flavor and nutritional content.
In south India, the dosakaya pappu is prepared almost every alternate day. It's best to eat this during peak summer months because it has some sort of cooling affect on the body. Dal or pulse has its own nutrition value. Here is the simple procedure for making this delicious dal.
Peel the skin of cucumber, scoop off the excess seeds and cut them into medium to big sized pieces (just taste a small piece to check if bitter). Pressure cooked the dal (lentil) and keep aside. In a sauce pan, heat little oil, add mustard and cumin seeds and when they crackle add dry red chilli, hing and garlic.
Saute well till the raw taste of garlic is gone then add choppe onions, curry leaves, chopped tomatoes, salt and chopped green chillies. Mix and cook all the ingredients well till the tomatoes are soft. Add the cucumber pieces adding a little water.
Cover and cook till
cucumbers
are soft then add the boiled and mashed dal and mix well. Add butter to enhance the taste. Cook till you get the right consistency, remove from fire and garnish with freshly chopped coriander leaves. This dish is one of most simple healthy and nutritious meal served with hot steamed rice.
If the
dosakai
is bitter discard them and select the ones that are not mature and soft enough. They become quite soggy when cooked. If you do not have the yellow
cucumber
you can also prepare this dish the ordinary cucumber normally used in salads.
To give little sourness and tangy zing to the dal you can add some
tamarind
juice. Dosakaya or the
Indian
yellow
cucumbers
are very beneficial to health. They are very low in
calories
, have minimal amounts of fats and no cholesterol. Have very high water content and are know to have diuretic properties, and thus help in improving the kidney and bladder diseases.
Eating
cucumbers
regularly in summer months prevents dehydration. They have moderate source of vitamin c, a natural water soluble antioxidant. It enhances the body's immune system, increases the elasticity of skin and blood vessels, and prevents bruising of the skin and moderate source of folic acid and vitamins A, which are essential for maintaining a healthy heart and eye sight.
Good source of other minerals like calcium, iron, phosphorus, magnesium, zinc and manganese, which play a very important role in maintaining proper metabolic activities of the body. Good source of potassium and very low in sodium. This helps in lowering the blood pressure.
cucumber dal
Author : Admin
Preparation Time: 7 min
Cooking Time : 25 min
Yield : 4 (4 servings)
Published On : Nov 27, 2007
Recipe Type : Veg-Main
Standing Time : 5-8 mins
Ingredient : Dall
Description : a traditional recipe with a variation
Recipe of
Ingredient Name
Unit
Quantity
butter

---

tbsp

---

1

---

cucumber

---

number

---

1

---

cumin seeds

---

pinch

---

1

---

curry leaves

---

leaf

---

6

---

dal

---

grams

---

100

---

garlic

---

piece

---

4

---

gr chilli

---

piece

---

2

---

hing optional

---

pinch

---

1

---

mustard seeds

---

pinch

---

1

---

oil

---

tbsp

---

1

---

onion

---

small

---

1

---

red chilli

---

piece

---

2

---

salt

---

pinch

---

1

---

turmeric

---

pinch

---

1

---
boil dal till it is cooked well . In a sauce-pan, heat 2 tsp oil and add red chilli to it the mustard seeds,and the cumin seeds. hing When the mustard seeds begin to splutter add garlic onion and the curry leaves, tomatoes and green chilly. add cucumber Cover and let it cook well till the tomatoes and cucumber are soft . Add the cooked dal and mix well. add butter Remove from fire and garnish with chopped fresh coriander leaves.