Every thing about BRINJAL AND CUCUMBER CHUTNEY | Vahrehvah,brinjal curry, brinjal recipe,brinjal curry recipe,brinjal tomato curry, stuffed brinjal recipe :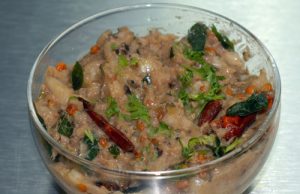 Brinjal and cucumber chutney
is one of the popular
chutney
prepared in Andhra region.
Brinjal
is popularly known as the
eggplant
and
cucumber
the
lemon
cucumber that gives a tangy taste and crispness to the fresh chutney. This chutney is commonly called as
Vankaaya
Dosakaya
pachadi
in telugu language in
Andhra Pradesh
.
This fresh chutney is best served with hot rice or even
rotis
. This chutney is so famous and found in every Andhra house hold. Its flavor comes from that nice purple
brinjals
and yellow cucumber. To choose the perfect
lemon
cucumber
take the ones that are firm and hard to touch and not soft.
Dosakaya / budamakaya in
telugu
and lemon cucumber or
lemon
cuke
in English is part of the cucumber family similar in taste except for being very firm and sour in taste. The
dosakaya
or
lemon
cucumber
could also be eaten raw after peeling off their skin and removing the seeds.
They look like small round or oval shaped yellow skin with green scales or vice versa and usually very firm to touch. A variety of dishes can be made out of
dosakaya
likes the
Dosakaya
talimpu
,
dosakaya
pachadi
,
dosakaya
ooragaaya
,
dosakaya
pappu
,
dosakaya
pulusu
,
dosakaya
sambar
and
dosakya
perugu
pachadi
. Lemon cucumber is a versatile vegetable that is sweet and sour, flavorful, and doesn't have much of the chemical that makes other cucumbers bitter and hard to digest. Though it's often served raw, it's also a good
pickling
cucumber.
Eggplant
has found its way into many cultural dishes and cuisines because of its versatility in cooking and ability to take on the flavor of whatever else it is cooked with. Although eggplant is not a rich source of any
vitamin
or
mineral
, it can be a colorful and flavorful low calorie addition to many dishes. One cup of cooked
eggplant
is only 38 calories.
Eggplants
are best cooked and can be stuffed, fried, sautéed, stir fried, roasted whole, baked or grilled to intensify the nutty eggplant flavor. Slice eggplant and bake or fry, then top with
tomatoes
,
cheese
,
spices
, and
mushrooms
. Add eggplant to meat, rice, or cheese dishes. Substitute eggplant for the pasta in lasagna. For drying, eggplant can be peeled, sliced, blanched four minutes and dehydrated until leathery to brittle. On reconstituting,
eggplant
may darken, and the flavor may be stronger than fresh, but still good tasting. Eggplant is not recommended for canning; it is better pickled.
The brinjal and cucumber chutney is an all time favorite in most of the houses in
Andhra
and is a very delicious combination. It tastes like
mango
pickle
! Sometimes cucumber can be bitter coz the cucumber seeds are bitter or it might be cucumber (it's muscle) itself is bitter. In the later case, we can't do this
chutney
.
This is usually done when cucumber seeds are bitter or cucumber is not at all bitter. The brinjal and
cucumber
chutney is simple and easy to prepare. To make this delicious lip smacking chutney, firstly clean and cut
brinjals
into small pieces. Cut the
lemon
cucumber too into small pieces and keep aside (check the taste of the flesh and it can taste bitter sometimes. If they are bitter than discard them immediately. Heat oil in pan and sauté green chillies, garlic, tamarind well then add the
brinjal
pieces and fry until brinjal changes its color and becomes soft In a blender add this mixture and grind them coarsely.
Add the cut
cucumber
pieces and just blend. The cucumber pieces should not get mashed and should be crisp while eating. In a mixing bowl, add the coarsely ground
chutney
. Now temper the
brinjal
and
cucumber
mixture. Add oil in the pan and mustard, cumin seeds, dried red chillies,
channa dal
, urad dal, fresh curry leaves and hing and mix it into the brinjal and cucumber chutney. Lastly add salt and freshly chopped coriander leaves and mix well. The chutney is ready. The chutney is an aromatic dish soft, crispy and tastes delicious. Do try this and spice your life with fresh
chutneys
every day. Hence do check the making of this
brinjal
and
cucumber
chutney at:
brinjal and cucumber chutney
Author : Admin
Published On : Apr 17, 2009
Preparation Time: 7 min
Recipe Type : Dipping/Pickles
Cooking Time : 25 min
Standing Time : 5-8 mins
Yield : 4 (4 servings)
Ingredient : Brinjals
Recipe of
Ingredient Name
Unit
Quantity
brinjal

---

number

---

4

---

Chana Dal

---

pinch

---

---

CORIANDER LEAVES

---

bunch

---

---

Cumin Seeds

---

pinch

---

---

Curry Leaves

---

bunch

---

---

dosakai(cucumber)

---

number

---

1/2

---

GARLIC

---

0

---

5 to 6

---

Green Chilles

---

big

---

5 to 6

---

Hing

---

pinch

---

---

Mustard Seeds

---

pinch

---

---

OIL FOR TEMPERING

---

0

---

1tbsp

---

Red Chilles dried

---

0

---

3 -4 inch

---

Salt

---

0

---

1 Tsp

---

Split Urad Dal

---

pinch

---

---

Tamarind

---

0

---

Little

---
1 Clean Brinjal and cut into small pieces. 2. Take a pan put oil into it add green chillies, garlic,tamarined and cut brinjal let it cook untill brinjal changes its colour. 3.when it is done remove from the pan and put it in a blender. 4. Blend very little 5. Cut Cucumber into small pieces add the blended brijal mixture into it. 6. Now temper the Cucumber and brinjal mixture, add oil in a pan put mustard seeds,cumin seeds, red hillies dried,chana dal, split urad dal, curry leaves, pinch hing once it is done mix it to Cucumber and brinjal mixture. 6. Lastly add salt and coriander leaves finely chopped.