Every thing about BADANEKAYI BAJJI (Roasted Eggplant Raita) | Vahrehvah :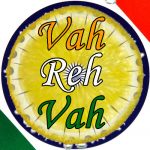 Badanekayi Bajji is an excellent dish generally prepared in the North Karnataka region which is made with roasted Eggplant in yoghurt sauce. Badanekayi in Kannada literally means eggplant or brinjal. This dish is commonly known as Badanekayi Mosaru Bajji in Kannada which means Eggplant in Yoghurt sauce. Badanekayi Bajji is exceptionally a unique dish, flavorful, smoky flavor and very easy to make since it has no masala to roast or grind.
Traditionally made by roasting the eggplant over fire and peeled off the burnt skin and the pulp mashed into yoghurt sauce and tempered with some delicious and spicy tadka. This dish goes very well with rice or roti or any Indian flat bread. This dish is a variation of raita and similar to the Baigan ka bharta which is popularly made in north India. There are many varieties of brinjal curries and one of them is this smoked brinjal with herbs blended in yoghurt.
Eggplant or Brinjal is a versatile vegetable that can be prepared in various ways or mixed with other vegetables or non-vegetarian dishes. Some of the very popular dishes include the Brinjal Eggplant Chutney, Stuffed Eggplant, Chicken Eggplant, Bengali Eggplant Fry, Eggplant Tomato Curry (Andhra preparation with brinjal), Kashmiri Chok Wangun (Spicy Sour Eggplant) (A kashmiri rich and tasty delicacy made with eggplant) and many more to include the list.
Raita is a well known yoghurt based sauce that is used as a sauce or dip that is made in India, Pakistan and Bangladeshi condiment. The yoghurt is seasoned with fresh coriander leaves, cumin seeds, fresh mint leaves, cayenne pepper and other herbs and spices. Raita is a delicious, refreshing, cooling savory dish. There are a variety of raitas that one can prepare at any Indian home easily such as Carrot Raita, Ladiesfinger Raita, Veg-Mint- Raita, Tomato And Onion Raita, Khajur Raita, Kerako Raita, Brinjal Raita and so on…..
Most of these raitas are served for cooling the palate when eating spicy Indian or Pakistani dishes. Raita is also eaten with kebabs. These popular raitas made with yoghurt are actually designed to be cooling and refreshing counterparts for spicy dishes. Raita can be made with a variety of vegetables, including cucumbers, potatoes, spinach and eggplant. Fruit raita – such as those made with ripe tomatoes or bananas are also popular.
For preparing this refreshing and cooling Badanekayi bajji, firstly wash the eggplant and pat them dry with a towel. Apply just a few drops of oil all over the eggplant and roast them on the gas flame directly until the skin is shrinked and the eggplant looks cooked. If you have an oven, then you can broil the eggplant on high until the outer skin looks slightly charred and cooked. Peel the skin of eggplant and mash up the pulp.
Beat the yoghurt very well with salt and add the mashed eggplant. For making the tadka, take some oil in a pan and when it gets hot, add mustard seeds and once it starts spluttering, add jeera, asafetida, dry red chilies and fresh curry leaves.
Mix this tadka mixture into the eggplant and yoghurt mixture and mix well. Serve this dish cold with jowar roti or any other roti or rice. Variation – If you use onion and garlic, then you can mince one big onion and mix it with the curd mixture and also you can crush 2 flakes of garlic and add it to the tadka.
Tip: Make sure that the eggplant is roasted well and gives a smoky flavor. This dish makes a perfect and ideal dish for summer days as it is chilled before eating. This dish is exceptionally a culinary bliss, refreshing and delicious to eat.
To try this recipe, do click on the below link for detailed recipe:
https://www.vahrehvah.com/badanekaye-bajji-roasted-eggplant-raita-recipe