Every thing about DAL MAKHANI | Vahrehvah :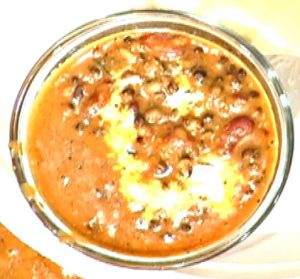 Dal Makhani
is a delicacy from Punjab in India. Traditionally this dal is cooked on a slow flame for hours on the
charcoal.
This is basically done to get a creamy texture and enhance the flavors of the dish.
Dal Makhani
is prepared with lentils and beans combined with cream (malai) or fresh butter.
Makhani
means
cream
or
butter.
Dal makhani
is a treasured staple food from the cuisine of Punjab, North India. Apart from
Punjab,
Dal Makhani
is popular all over the world because of its
richness in taste
and
nutrition
. It is type of
Dal
made of boiled lentils or other dried legume/ pulses eaten in the states of Punjab, Haryana, Delhi, Uttar Pradesh and the Bhojpuri area of Bihar and Pakistan.
Dal Makhani
goes well with
naan
,
roti
,
chapatti
or
rice
. Dal Makhani is one of the signature dishes of Punjabi cuisine, and is high in
protein
which is an important attribute in primarily
vegetarian cultures.
Normally when cooked at home these days, moderate amounts of cream or butter are used. When prepared in restaurants, it is cooked slowly on low heat and often has a large amount of cream and butter added.
To prepare the
Dal Makhani,
firstly wash and soak the black
urad dal
(black grams),
Bengal gram
and
Kidney beans
(rajma) overnight or for few hours. Pressure cook the soaked dal and rajma till till becomes mashable consistency. In a heavy
bottomed pan,
add oil. When the oil get heated add cumin seeds and let it crackle. Add whole garam masala (cardamom, cloves, cinnamon, bay leaves), ginger garlic paste, onions (is optional) and mix well. Add
turmeric powder,
add
tomato puree
and cook the puree on slow flame for 5 mins till it boils. Add chilli powder, coriander powder, salt and mix. Cover with lid and allow to cook. Add butter and mix well.
Add the dal water and cook for another few minutes. Once it gets boiled, add the mashed dals and mix well. Reduce the flame and cook on low heat. Add
crushed kasuri methi.
This gives a nice flavor and taste to the dish. Cook for
about 30 minutes.
Add cream and mix well. The dal would be soft and creamy. Cover and simmer it for another
5 minutes
.
Garnish
with
coriander leaves
.
The
Dal Makhani is ready.
Remember that soaking the beans overnight reduces cooking time. You can make it in cooker but make sure that you boil it briskly in a pan for the
last 10 minutes
, to neutralise the toxins in
kidney beans
/
Rajma.
Also remember to substitute garam masala with
cumin-coriander powder
and cream with sour cream or low fat yogurt if you are calorie conscious.
This dal is rich in starch and minerals, it is also considered heavy for digestion, however ginger solves this problem and makes it easy to digest. Use olive oil instead of
ghee
or
butter
and
omit cream.
As this dish is rich in proteins and fiber, it would also be the healthiest meal at your home too.
Rajma
and whole urad provide
protein
and
calcium
which are extremely important for maintenance of your body cells and healthy bones. Cooking the dal in
tomato purée
adds a little sharpness to this dish and also enriches it with folic
acid
and
vitamin
A
.
Summary: most famous Indian dal
Ingredients:
Black grams - 250 - grams
butter - 60 - grams
coriander pdr - 1 - tbsp
cream - 1 - cup
Cumin - 1 - tsp
garam masala whole or pdr - 1 - tsp
Ginger garlic paste - 2 - tbsp
Kidney beans - 50 - grams
oil - 1 - tbsp
Red chilli powder - 10 - grams
Salt - 1 - to taste
tomatoes pureed - 5 - number
turmeric optional - 1 - piece
Instructions:
Thoroughly wash black grams, bengal grams and kidney beans. Then soak it in water (2 glasses) for about few hours . and cook till dal is cooked to mashable consistency 2heat oil in a heavy bottom pan. 3. add cumin ,garam masala(optional) ,you can skip garam masala and add little garam masala pdr at last . 5. Add ginger-garlic paste ,turmeric and add tomato puree and cook well for 10 min in medium flame covered 6. Add chilli powder, and salt. Cook until the mixture thickens into pulpy sauce (about 3 mins). 7. Then add cooked grams and kidney beans to the mixture. Heat for 4-5 minutes. You can add a little water if you find it too thick. 8. Add the remaining butter and cream and cook for 10 minutes. Dal Makhni is ready to serve. you can increase the dal to tomato ratio if you want .
Cooking time (duration): 25
Diet type: Vegetarian
Number of servings (yield): 4
Meal type: breakfast
My rating: 5 stars: ★★★★★ 1 review(s)
Recipe by
Vahchef
.
Watch the video and prepare the dish fast :