Every thing about Top 10 Popular Maharashtrian Dishes | Vahrehvah :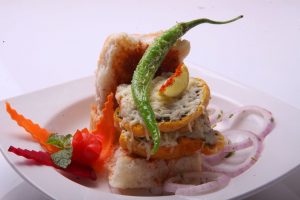 Maharashtrian dishes are one of the most tempting and lip smacking delicacies that are full of flavors and spices. Maharashtrian cuisine is well known for its food ranging from being mild to very spicy dishes. Ingredients like wheat, rice, jowar, bajra, lentils, vegetables and fruits form important components of a Maharastrian style meal.
By regions, the popular cities in Maharashtra are Mumbai, Konkan, Southern Maharashtra, Vidarbha, Pune, Kolhapur, Aurangabad, Nagpur and Solapur. This state is beautifully merged with the touch of coastal and central plateau tastes as it stretches from the rocky rain drenched Western ghats to the north central parts of Deccan plateau. Jowar ki roti, Bhakri, type of flat breads form the staple dishes along with lentils and a wide range of bhaajis (vegetarian and non-vegetarian curries) include a simple Maharashtrian diet.
There is a wide range of appetizing and yummy snacks prepared that includes Vada Pav, Misal Pav, Pohey, Kothimbir vadi, Thalipeeth etc. A traditional and scrumptious Maharashtrian meal is served on a plate called the 'Thali' where each food item served has a specific place in the thali. Generally the bhaaji or curries are served on the right side while the chutney, koshimbir are served at the left. The papad is placed below the koshimbir with the rice and poli served at the bottom of the circle close to the diner's hand. The amti, rassa is served in separate bowls placed on right hand side of the diner. Water is placed on the left hand side.
Maharashtrian food gets wonderfully strong aroma of spices from their freshly ground spice mix popularly known as Goda masala (black Maharashtrian masala) and the use of garlic and ginger in abundance. Here are the 10 most popular Maharashtrian dishes that I would like to share with you:
Pohey – is a very popular breakfast dish or snack served with tea. This is one dish that is most likely often offered by a Maharashtrian to his guest at any time of the day. There are number of variations of making this simple dish that are commonly known as Batata pohe (flattened rice mixed with dice potatoes, spices and fresh herbs), Kanda pohe (flattened rice prepared with onion, spices and fresh herbs) etc. Any variant of pohey is often garnished with different things like fresh coriander, grated coconut, crushed peanuts or Sev (fried potato shavings).
Pitla Bhakri is a popular dish from the North Karnataka and Maharashtra region popularly known as Pitla Bhakri or Pitla. Pitla is a quintessential rural Maharashtrian dish that can be made in less than 5 minutes for a quick fix as a main meal. It is made with Besan flour as the main ingredients and seasoned with cumin seeds, ajwain and other spices. Pitla is usually eaten with Bhakri, flat bread made from either jowar or bajra cereals.
Sabudana Khichdi is an excellent Maharashtrian breakfast dish made with sago pearls, spiced with green chillies and seasoned with roasted peanuts and fresh coconut. This dish is a popular breakfast dish and is also one of those food items that are allowed to be eaten when the Maharashtrian women undertake holy fast or upvaas during some religious rituals.
Sol Kadhi is a well popular traditional kokam in coconut milk dish from the western coastal region of India. It is a common dish prepared across Maharashtra, Konkan, and Goa regions. It is made with coconut milk, spiced with some green chillies, sweet and tanginess from kokum and flavoured with fresh cilantro. Looks very attractive in a very pleasant pink coloured drink that is served as an appetizer and is very good for digestion!
Bharli Vangi (Stuffed Eggplant) Traditional Maharashtrian curry popularly known as Bharli Vangi or "Stuffed Eggplant" is an exotic dish made with baby eggplants/ brinjals stuffed with spicy masala sweet and tangy gravy.
Amti (Tur Dal Spicy Dal) is a typical Maharashtrian spicy dal which is slightly hot, spicy and tangy to taste. This dish is the essence of daily menu in most Maharastrian homes. Amti, Bhaat & Bhaji is the essence of daily menu in the homes of Maharashtra. Amti is a little hot, a little sweet and a little tangy. It is a basic dal prepared differently in each region of Maharashtra and is the staple part of every meal.
Amti is generally eaten with rice, roti or any variety of bhakris (jowar ki bhakri, jowar bajre ki bhakri etc). Toor dal Amti is a traditional Maharashtrian spicy dal preparation that has a tangy and cooling touch made with tur dal seasoned with spices and sweetened with jaggery making the taste refreshing and irresistible to your taste buds.
Vada Pav This is one of the most popular fast food snacks that are eaten by most Maharashtrians. This snack is locally known as the common man's Indian Burger which consists of a spicy, deep fried potato based patty which is the vada that is sandwiched between a thick square of bred similar to a burger bun (Pav). This yummy and appetizing food is often served with sweet & sour sauces called chutney and fried salted green chillies.
Pandhra Rassa Chicken in white rassa is a classic dish from the Maharashtrian cuisine where chicken in cooked in a popular Pandhra rassa. Rassa is a popular juicy preparation more or less a watery curry (ras means juice, hence the name rassa) that originated from the Kolhapur region.
Kolhapur is well known for its spicy non-vegetarian curries which includes the Taambda Rassa, which literally means fiery red curry and Varhadi Rassa that comes from the Vidarbha region and is usually a chicken curry. Mutton Kolhapuri is another red hot mutton curry that is very well known in this region, robust flavours and usually served with bhakris or chapatti.
Puran Poli is a sweetened roti/ chapati stuffed with delicious sweet filling made of channa dal and jaggery. It is similar to the paratha but stuffed with a sweet filling. It is made from jaggery (molasses or gur), yellow gram (chana) dal, plain flour, cardamom powder and ghee (clarified butter) and often eaten after meals or as a snack and is present in almost all Maharashtrian festive occasions.
Shrikhand is a classic prime Indian sweet delicacy from Maharashtrian cuisine/ western India made of hung & strained yogurt flavoured with saffron and cardamom. Shrikhand is a popular, classic, thick and delectable Indian yoghurt sweet commonly known all over India especially in the states of Gujarat and Maharashtra. It is often eaten along with meals served with Puris (deep fried Indian breads). It is served chilled and provides a refreshing counterpoint to hot and spicy curries. Often garnished with toasted nuts and a pinch of saffron!
The cuisine of Maharashtra is not only explicit and memorable for its subtle variety and strong flavours but also because of the legendary hospitality of Maharashtrians. People are known for the aesthetic presentation of food which adds extra allure to the feasts. Do try them and enjoy new flavours and taste.
For preparing a Maharashtrian super meal, you don't need to go to Maharashtra, but just right here you'll get all the delicious, easy to prepare delicacies and offer your friends and guests which will keep them enthralled and finger licking.
Apart from the above mentioned top 10 popular Maharashtrian dishes, there is an array of exceptional and exotic dishes that you can get easily from here: www.vahrehvah.com .
You could always reach me at my below links:
My Cooking Videos Indian Recipes Indian Food Regional Indian Cuisines VahChef Sanjay Thumma
Enjoy Cooking! Keep Smiling…