Every thing about METHI PARATHA | Vahrehvah :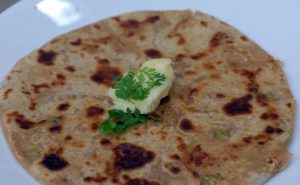 Methi paratha
is Indian flaky, flat bread made up of whole wheat flour and fenugreek greens or
methi leaves.
This is really a very
healthy
and
yummy
all in one neat little package dish.
Methi paratha
is a
North Indian dish
and popularly made during
breakfast
and can be eaten during
lunch
and
dinner.
Parathas
can be prepared in many variations but this is a
healthy
variation served with
curry, pickle
and a cup of yoghurt would make a complete balanced meal. This
paratha
is a very good way of eating your greens in a tasty dish. Children love it too. It can be eaten at
breakfast, lunch
or
dinner.
It is a perfect food to take for lunch or picnic as it is good to eat even after a few hours. You can make the dough and keep in the fridge for 2-3 days and quickly make
parathas
as and when you want. In making a
paratha,
you need first prepare the dough, roll out and then cooked over a flat pan/tava,
ghee
or
oil
is added during the cooking process. Sometimes
veggies
,
greens
like
fenugreek, spinach
are added to the dough making the
parathas healthy
and delicious.
For this recipe of
Methi Paratha
, you make a stuffing of
methi/fenugreek leaves, onions, chopped green chillies
and other spices and cook well. Make a small ball of the dough and roll it into a puri size and place a small ball of
methi leaves
stuffing seal all corners and roll it back to a shape of paratha.
Another way of making is add the
methi leaves
stuffing to the whole wheat flour and make smooth dough. Spinach paratha can be made in the similar way. The
frozen methi
variety does not have the same flavor, zest and aroma as the fresh ones and so do not yield good results.
The
paratha
does not need any elaborate side dish goes very well with
raitha
or
salad
or
simply plain curds.
This
paratha
is rich in
protein
and
gives
a very soft texture. This
Indian
flat
bread
is spicy and contains dried leaves of a herb called
"Methi"
(fenugreek). It is delicious especially when eaten hot and with some butter and Indian pickle.
Methi
is very good for diabetic people.
Summary: paratha made with fenugreek leaves stuffing
Cooking time (duration): 25
Diet type: Vegetarian
Number of servings (yield): 4
Meal type: breakfast
Methi leaves are rich in calcium, phosphorus and iron and its mineral and vitamin contents are also high and this is easily assimilated by our body. Fenugreek, commonly known as methi seeds, gives a tangy flavour to the dishes it is used in. Fenugreek is grown throughout South Asia. It has a distinct taste and smell. It is native to the Middle East. The name means "Greek hay", which presupposes its widespread use in Greek cooking.
It is a leguminous plant belonging to the pea family. It produces long, slender, curved pods, which contain oblong, flattened, brownish seeds. The seeds, which have a slightly bitter taste, are roasted and ground, then used to flavour curries.
The fresh leaves have a strong smell and they are used, either fresh or dried, in Arab countries, Turkey and India. The fenugreek plant grows to a height of two feet with light green leaves and white flowers. Each pod gives 10 to 20 seeds. Fenugreek grows best in well-drained soil with low rainfall. The seeds turn a brownish yellow and have a rhombic shape. In India, it mainly grows in Rajasthan, Gujarat, Uttar Pradesh and Tamil Nadu.
The fenugreek seeds help relieve sore throat, throat pain, tonsillitis, dyspnoea (breathlessness) and cough. They also relieve hyper acidity and burning sensation in the stomach. The action of fenugreek is significant because all cough medication causes irritation in the stomach, whereas fenugreek relieves cough without this undesirable side effect. Fenugreek powder is an established remedy for dandruff. It also tones the hair, making it silky and shiny.
It is a digestive aid and it is also used in diabetes in conjunction with insulin. It lowers blood sugar. Culinary use, Fenugreek is an ancient spice, mostly used in pickles. Dry roasting enhances its flavour and reduces its bitterness. In Indian cuisine, it is eaten as a vegetable prepared like spinach and sometimes used in the preparation of Indian breads. In western countries, it is used as one of the main ingredients in curry powder or to flavour spiced vinegar.
Fenugreek is used both as an herb (the leaves) and as a spice (the seed). It is cultivated worldwide as a semi-arid crop. It is frequently used in curry. Fenugreek is frequently used by lactating women to increase milk supply.
Fenugreek green is a very popular curry cooked in the major sub-continental region of India and Pakistan, usually together with potatoes and spinach, and eaten with Roti or Naan (flatbread) and/or rice. Fenugreek seeds are mixed with yogurt which is used as hair conditioner. It is also one of the ingredients of khakhra, a type of bread.