Every thing about FISH BIRYANI | Vahrehvah :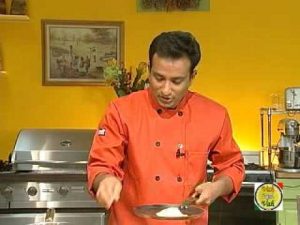 Fish biryani
is a very popular dish in the Middle East and also gaining its popularity in Pakistan also. This dish is very delicious and nutritious too.
Fish biryani
is made of fish of your choice marinated with spices, fresh herbs and
cooked
with rice into a luxurious biryani. Fish biryani is popularly known as the
Machli ki biryani
, a very traditional
Indian recipe
delicately cooked to infuse the flavors of the fish with spices blended into the rice.
An amazing and delectable recipe that lure all the palates of the
seafood lovers!
Biryani
as such is an all time favorite and cooked in many variations either using
vegetables
,
chicken, meat (mutton or beef), shrimps, egg
or
fish.
Traditionally
biryani
is known as a one pot
meal
and one of the heavenly dishes of all rice lovers.
Biryani
taste best when accompanied with
raita
,
mirchi ka salan
or
brinjal masala
etc.
Biryani
is a versatile dish that can also be eaten on its own. No celebrations or feasts are imagined without an aromatic and delectable
biryani
. A dish that tastes simply superb. For making the
fish biryani
it's always best to use little bigger chunks of
fish pieces
as they are delicate and
cook
very fast.
This dish is spicy and with a different flavor and taste as dill leaves are added in the masala to the fish along with fresh mint leaves and coriander leaves. The refreshing fragrance of the
dill leaves
enhances the flavor and makes the
fish biryani
truly aromatic to taste. Fresh dill leaves is a wonder herb most famous in many
cuisines
together with its medicinal values especially for children.
Dill
grows in Mediterranean region and south Russia.
Also found growing in
Spain, Portugal
and around the coast of
Italy
and rarely grows in few parts of northern Europe.
Dill leaves
are feathery and thread like in appearance and have yellow flowers. In terms of taste, they are very similar to that of caraway, but have a
tangy
,
grassy flavor
along with a hint of lemon, pine and fennel. This is a delicately flavored herb with lots of culinary and medicinal uses since ancient times.
Fresh
dill
herb is much more aromatic than the dried one. Its name is probably derived from the
Saxon
word
'dilla'
or
'dillan',
the translation being 'to lull'. This name could refer to the properties that
dill
possesses in terms of being able to pacify and calm babies with colic or flatulence. The dill leaves or seeds impart a wonderful aroma especially when fresh has a much sweeter fragrance than dried fruits.
The characteristic, sweet taste of
dill
is popular all over central and Eastern Europe, & western, central and southern Asia
,
Sweet
and aromatic, intermediate between
anise
and
caraway.
Dried and fresh leaves are used in
sauces
,
salads, soups, stews,
and
vinegars.
Dill
is an important flavouring agent in the
pickling
of
cucumbers
. The tastes of dill leaves resemble that of caraway, while the seeds are pungent and aromatic. Freshly cut, chopped leaves enhance the flavour of dips, herb butter, soups, salads, fish dishes, and salads.
The characteristically subtle flavor of Dill complements most fish dishes, particularly Salmon. Dill is also invaluable as a flavoring for salads, potato dishes, and sauces. Care must be taken to add Dill at the last moment in the cooking process. The flavor of Dill vanishes if it is over cooked. The leaves can also be added into cottage cheese to add a something special.
They can also be added to bean soups to add to the taste and prevent
flatulence
. For preparing the
Fish biryani,
you can use any fish but many prefer using the
fish
with a single bone or boneless. Here we are using the popularly known
Mahi fish.
Wash and remove the skin of the fish and cut them into medium size chunks. Marinate the
fish pieces
with chilli powder, turmeric powder, little oil, biryani masala, lime juice and salt. Mix all the
ingredients
thoroughly and keep it aside to rest for 30 mins.
In a pan, heat oil and shallow fry the
fish pieces
. Fry them in batched until they are
70
%
to
80%
cooked for about 3 to 4 mins. Drain oil and remove them into a plate and keep aside. In the same oil, add yoghurt,
biryani masala
, fresh mint leaves, coriander leaves and dill leaves, ginger garlic paste, slit green chillies, lime juice, fried onions and sauté them nicely. Take half of this mixture and spread it over the fried fish. In separate vessel boil water add whole garam masala. When the water comes to boil add the rice (washed and soaked for 30 mins) and cook till the rice is 80% done.
Drain the water and add this rice into the pan with yoghurt masala, sprinkle saffron color, fried onion and top it with the fish pieces and the masala. Spread evenly over the rice. Cover and cook on slow heat for another 10 mins. Once the rice is cooked the fish biryani is ready to serve. Fish biryani is rare and classic dish before all other varieties of biryanis.
The subtle flavour of dill leaves, mint and coriander leaves give a strong and fragrant flavour to this special dish. The fish biryani is tender juicy and spicy that simply tastes excellent.
Rice
should be ¾ th only cooked, the grain when soaked for 30 mins will help in making the rice longer than its usual size. If you donot like dill leaves, can use coriander leaves instead. If you think that the quantity of dill leaves is more, you can reduce it also. Add only a little dill leaves as they have a strong aroma. Dill leaves are Stimulant, aromatic, carminative and stomachic. Amongst its other properties, Dill is known for acting as an antibacterial and antispasmodic agent and as a diuretic. However, its main purpose is for calming the digestive system. It also stimulates lactation.
Fish Biryani
Author :
Ingredient Name
Unit
Quantity
biryani masala

---

tbsp

---

3

---

chilli powder

---

tbsp

---

1

---

coriader leaves

---

bunch

---

1

---

curd

---

cup

---

1

---

dill leaf

---

springs

---

1

---

Dry garam masalas

---

---

as needed

---

fish

---

lbs

---

2

---

fried onion

---

cup

---

1

---

ginger garlic paste

---

tbsp

---

1

---

green chillies

---

number

---

2

---

lime

---

number

---

1

---

mint leaves chopped

---

bunch

---

2

---

rice

---

grams

---

250

---

salt

---

---

as per taste

---

turmeric powder

---

---

pinch

---

water

---

---

as needed

---
first take fish pieces. Next maraniate the fish, add Chilli powder, turmuric,oil, lime juice, salt, biryani masala mix well and keep a side for 30min. In a pan add little oil and cook the maraniated fish and keep a side. In the same pan add curd, biryani masala 2t mint leaves, coriander leaves, dill leaf, ginger garlic paste, lime juice,green chillies, salt,fried onions half, mix well and add half of the mixture to the cooked fish. Now boil the Rice, half cooked rice. Now in the masala pan add the half cooked rice spread evenly add colour, onions, then spread the Fish pieces and masala. cook for 20 min by closing the lid in very slow flame.