Every thing about HYDERABADI CHICKEN BIRYANI | Vahrehvah :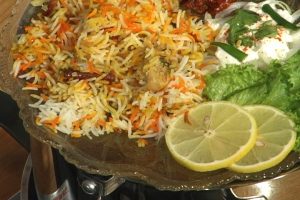 Hyderabadi Biryani
is the most popular variety of
Biryani
all over the globe. The name Biryani was derived from the Persian word Beryan which means 'fried' or 'roasted'. Biryani is a rice based food dish combined with rice (basmati)
, spices, meat, fish, eggs or vegetables.
Chicken Biryani is one of the iconic dishes of Hyderabad,
India.
Biryani
was originated from Iran (Persia) and it was brought to the
Indian Subcontinent
by
Iranian
travelers and
merchants.
Biryani is not only popular in India but also in
Arabia
and within various
South Asian
communities in Western countries.
Hyderabadi Biryani
is an integral part of
Indian cuisine
and is popularly served at all
marriages, feasts, occasions
etc.
There are about
49 varieties of Biryanis
which includes Biryani made o
f fish, quail, shrimp, deer and hare
. The most famous of all, Hyderabadi Biryani is called the
"Kachi Akhni"
Biryani as both the marinated meat and the rice are cooked together. Hyderabad Chicken Biryani is truly a classic authentic dish and really comes out well if you have put the right amount of spices and the cooking of the rice to the right consistency. Biryani is one dish which shows off the versatility of spices that are truly exploited in Indian cooking.
The three main ingredients for making the Biryani is really a good variety of
Basmati rice,
Javithri
(mace) and mint. Apart from these
cardamom, cloves, cinnamon, bay leaves, fresh coriander leaves, ginger garlic paste,
fried golden brown onions and saffron are added. A biryani is accompanied with
dahi chutney or Raita
(curd & onions), mirchi ka salan (big green chilli curry) or
bagara baingan
(roasted eggplant) and onion rings and lemon wedges.
For preparing the
Hyderabadi Chicken Biryani,
firstly marinate the chicken cut pieces. In a bowl take
chicken pieces,
add
ginger garlic paste,
fresh mint leaves,
coriander leaves, chopped green chillies, pepper corns
,
black cumin
or
cumin seeds, chilli powder, turmeric powder, coriander powder, salt, whole garam masala
(cardamom, clove, cinnamon, bay leaves, mace),
fried onions,
curd and oil and mix all the ingredients well.
In another pan add water, salt and rice and bring to boil to half cook the rice and once its half cooked drain the water and keep aside. Now in a heavy bottomed biryani bowl, add the marinated chicken and spread at the bottom of the bowl. Top that with the half cooked rice and add
mint leaves
, fried onions, saffron color
and close the lid tight and cook for
30 mins
over a slow flame.
Once done, you can get the bursting flavors of the spices gushing through the steam letting out the fragrance to explore all over. It's truly a gorgeous dish with the rich, creamy, golden sauce enveloping succulent perfectly browned chicken pieces, speckled with the contrasting tastes and textures of rice infused with saffron. Truly a feast for the Soul! The traditional practice of preparing the Biryani is cooking on Dum. The dish is popularly known as
Murgh Dum
Biryani or Dum Biryani
. Dum is an ancient style of slow cooking that was introduced in India by the Moghuls in the 16th century.
Dum
is derived from the Persian word
Dumpukht
which means
air-cooked
or
baked.
A Handi is a spherical clay pot with a narrow neck and flared rim. It doesn't have any handles and is the vessel of choice for "dum' cooking. To "dum" cook a biryani, the meat, rice and spices are layered in a handi. The mouth of the handi is covered with a
clay saucer/lid
and it is sealed using a thick paste made of flour and water. The handi is then placed on open fire or
hot charcoals
and the steam trapped inside cooks the meat to tender perfection.
When you cook at home, use a large heavy bottomed pan with a tight lid so that his helps in sealing the air or steam in and creates a pressure which cooks the ingredients to perfection, a modern style of
"dum".
Cooking of the
Biryani
at the first shot may not come exactly the right texture and taste you get at restaurants and do not let the long process and preparation time scare you.
If you make it enough number of times, you will get faster and better at it. On a quest to perfecting this authentic dish for the right taste you need to try it out a few times or else do watch the video and get to know the right method of cooking the Hyderabadi Chicken Biryani at:
https://www.vahrehvah.com/hyderabadi-chicken-biryani-recipe
Hyderabadi Chicken Biryani 4.2 ★★★★☆ Stars based on 148 Reviews
Author : Admin
Published On : Mar 25, 2009
Preparation Time: 7 min
Recipe Type : NonVeg-Main
Cooking Time : 25 min
Standing Time : 5-8 mins
Yield : 4 (4 servings)
Ingredient : Chicken Description : Hyderabadi Chicken Biryani Recipe made easy, learn how to make Hyderabadi Chicken Biryani Recipes at home.
Ingredient Name
Unit
Quantity
black cardamom

---

number

---

2

---

chicken medium pieces

---

grams

---

800

---

chopped coriander leaves

---

tbsp

---

2

---

cinnamon

---

stick

---

2

---

cloves and green cardamoms each

---

number

---

2

---

cumin and coriander pdr

---

tsp

---

1/2

---

each of chopped ginger and garlic

---

tbsp

---

2

---

flavored rice(basmati)

---

cup

---

2

---

green chilli

---

number

---

2

---

javeri mace

---

tbsp

---

1

---

lime juice

---

tbsp

---

1

---

medium sized onions sliced

---

number

---

4

---

oil or (ghee)

---

tbsp

---

2

---

onion fried

---

large

---

2

---

pepper corns

---

piece

---

6

---

saffron color

---

tsp

---

1/2

---

salt

---

to taste

---

---

turmeric

---

to taste

---

---

yoghurt

---

cup

---

2

---
In a bowl take chicken, gingergarlic paste, mint, curd, green chillies, coriander leaves, pepper corns, cumin, chilli powder turmuric, salt, cumin, coriander powder and whole garamasala dry, fried onion and add oil, mix all very nicely.In a bowl add water,salt and bring to boil to cook rice, once the rice is half cooked drain the wate. Now in a biryani bowl add marinated chicken spread at the bottom and then add half cooked rice, mint leaves, onion fried, saffron color and close it with the lid and cook for 30min.
Traditionally this recipe is cooked in an earthen pot for many hours on very low indirect flame.