Every thing about CORIANDER VADA | Vahrehvah :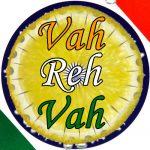 Coriander Vada is extremely a popular dish among the Maharashtrians and usually served as a starter/ snack. Coriander also commonly known as Kotmira, kotmir, kothimbir, kothamalli or Cilantro etc is one of most aromatic herbs and used as garnish in many vegetarian and non vegetarian dishes.
Fresh Coriander green is highly aromatic and used for its flavor and taste. Kothimbir vada or coriander vada is a very healthy snack and should be made of fresh coriander leaves. The taste is simply irresistible and kids too would love to eat them. Preparing the coriander vada is simple and fast to prepare.
Could be served for potluck parties, kitty parties or could also be eaten during tea time in the evenings. Vadas are traditional south Indian food known from antiquity. Although they are commonly prepared at home, vadas are as well a typical street food in the Indian subcontinent and Sri Lanka.
They are one of the most popular tiffin snack sold in many restaurants, railway stations and small tiffin centers etc. You can make a variety of vadas with different flavors of your own choice. They are crisp on the outer side and soft inside. Using fresh coriander leaves in vada in an excellent tasty option as coriander is very good of health and nutritious too. Coriander leaves have a vital place in most of the Indian cooking recipes and is an important ingredient in every Indian kitchen household using it in various dishes as garnish.
In spite of using them in all the dishes they still have unique taste in every individual dish and gives a refreshing and freshness feeling. Coriander leaves are highly aromatic, gives a nice earthy taste and a natural herb. Making the coriander vada is effortless. Firstly wash the coriander leaves thoroughly to clean off the mud in them.
Chop the coriander and green chillies to a very small size and mix well them with salt, ginger garlic paste and coursing ground moong dal with little bit water which is just enough to make a vada. Mix all the ingredients well and keep aside for an hour and then divide the mixture into small balls and press them into the shape of vada.
Heat oil in a pan for deep frying the vadas and when the oil is hot, fry the vadas in batches till they are crisp. Remove and keep aside on a tissue paper till it absorbs the excess oil. Serve this coriander vada with coconut chutney or can also be eaten with rice as a side dish.
But taste excellent as a snack with any fresh chutney like the coconut chutney or the mint chutney. The coriander vadas are awesome to taste and scrumptious. Although battered and deep-fried, the finished product should not be too oily if prepared correctly, since steam build-up within the vada pushes all oil away from within the vada.
For preparing the coriander vada, use fresh bright green, shiny leaves with strong aroma. The coriander leaves should be slender, delicately branched stems and thin pointed taproots with few branches. The scent and flavor of the leaves are particularly pungent and are often an acquired taste. This would make your coriander vadas extremely delicious.
Do try this by clicking the link for detailed recipe:
https://www.vahrehvah.com/corainder-vada-recipe
The coriander leaves are considered to be rich in many food elements. They are rich in protein, fat, minerals, fiber, carbohydrates and water. These leaves offer coolness and acts as stimulants and tonics. Using of these leaves strengthens the stomach and promotes digestion.