Every thing about CHICKEN KORMA | Vahrehvah :
Chicken Korma
is an admired traditional mild
Mughlai
dish made of coconut – cashew nut paste and yoghurt to give a nice silky rich creamy sauce or gravy. It's not a very spicy dish as we will not be using the red chilli powder and the chicken is cooked and nicely blended with green chilies, pepper powder and whole Indian spices.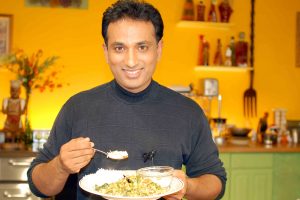 It is a very popular dish in
North
-
India
. Most of the
Indian
food lovers love the rich
creaminess
of the korma and if you would like to eat it slightly hotter or spicier, then you can add chilli powder. Korma spelled as Qorma in Urdu and Kurma in
Southern India
is a dish originating from Central Asia or Western Asia.
Korma
could be made in
vegetarian
and
non
-
vegetarian
version.
Chicken
Korma
is indicative of the Moghul cooking of
Northern India
– marked by silken curries, butter dishes and delicate flavors. In Iran,
ghorme
is a thick sauce of herbs and
vegetables
often used in stews.
Korma
has its roots in the
Mughlai
cuisine of modern India. It is a characteristic
Indian
dish which can be traced back to the 16th century and to the
Mughal
incursions
into present day Northern India, Pakistan and Bangladesh. Classically, a korma is defined as a dish where meat or vegetables are braised with water, stock, and yoghurt or cream.
The technique covers many different styles of korma. Chicken korma is one of the treasures of the Mughlai cuisine from all the variety of the chicken curry recipes. In Chicken korma, it's more of the nice rich creamy paste of the nuts (cashew nut) and coconut that really pulls out the fragrance of the spices within and enhances the taste and flavor of the dish.
To prepare the Chicken Korma, in big frying pan heat oil, add whole garam masala, mustard seeds, cumin seeds and when they crackle add onions and fry well until they turn golden brown. Now add the turmeric pd, garlic garlic paste and fry till the raw flavor of the ginger garlic goes. Add curry leaves, chopped green chilies.
After a few minutes add the coconut and cashew nut paste, cook over slow flame as cashew nut paste can get burnt fast. Cook till oil oozes and then add the whisked yogurt, cumin pdr, coriander powder and mix. Add the chicken pieces and mix well. Add pepper powder mix and cover the pan with a lid and cook over a slow flame till done. Add cream if you desire (optional) and serve hot with chopped coriander as garnish.
This is one of the most classic
Chicken curry
dishes and can be served with plain
rice
,
pulao
, biryani,
dosai
, appam,
uttappam
, and Malabar paratha or tandoori roti,
naan
.
Chicken
korma is one of the most luscious delicate mildly yellowish in color and a very tempting dish. Do try this and view the making of Chicken korma at:
https://www.vahrehvah.com/chicken-korma
The flavor of korma is based on the mixture of spices, including ground coriander and cumin, combined with beaten yoghurt kept below curdling temperature and poured in slowly and carefully with the meat juices. Traditionally, this dish would be cooked in a pot set over a very low fire, with charcoal on the lid to provide all-round heat.
A
korma
can be mildly spiced or fiery and may use
lamb, chicken, beef; some kormas
combine
meat
and
vegetables
such as spinach and turnip. Korma is usually referred to a thick, cream based sauce or gravy and is invariably popular for its mild spiciness from the nuts like almonds or cashews and coconut. This low cooking temperature is usually quite difficult to achieve, but if done correctly results in a memorable dish.
Chicken Korma
Author : Admin
Published On : Oct 19, 2007
Preparation Time: 25min
Recipe Type : NonVeg-Main
Cooking Time : 25 min
Standing Time : 5-8 mins
Yield : 4 (4 servings)
Ingredient : Chicken
Description : chicken in coconut sauce
Ingredient Name
Unit
Quantity
Chicken

---

grams

---

500

---

cashew or Poppy seeds

---

tbsp

---

2

---

chopped gr chillies

---

number

---

2

---

Coconut grated

---

cup

---

1

---

Cooking Oil

---

tbsp

---

2

---

coriander leaves

---

bunch

---

1

---

Coriander Powder

---

tbsp

---

1

---

Cumin Seed Powder

---

tsp

---

1

---

curd

---

cup

---

1

---

curry leaves

---

springs

---

1

---

finely chopped Onion

---

number

---

2

---

Garam Masala

---

piece

---

3

---

Ginger garlic paste

---

tsp

---

1

---

paste Garlic

---

tsp

---

1

---

pepper pdr

---

tsp

---

1.5

---

Salt

---

to taste

---

1

---

turmeric

---

pinch

---

1

---

Yogurt

---

cup

---

1.5

---
In a big frying pan heat oil, add garam masala,mustard ,cumin then fry the onions until they turn golden brown. Now add the garlic paste and ginger paste.curry leaves chopped chilli After a few minutes add the coconut and cashew or poppyseed paste , stir and then add the yogurt, ,cumin pdr, coriander powder. add the chicken pieces and cook in the gravy add pepper pdr add cream if you desire and serve hot with chopped coriander as garnish