Every thing about Brinjal Chutney,coconut chutney,pudina chutney recipe,tamarind chutney,onion chutney :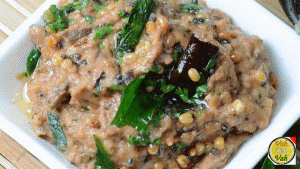 Brinjal Chutney without tomatoes is just another fantastic accompaniment made with Brinjals sautéed with red chillies, peanuts, tamarind, curry leaves, garlic, hing, cumin seeds and jaggery cooked together and made to a coarse paste; then tempered with mustard seeds, urad dal and curry leaves to give an excellent zest to the dish.
This chutney is a very popular south Indian style chutney that is often served with Idli, dosa, curd rice or you could also eat with roti. Chutneys are great side-dish which can also be made a day before and served with any tiffin or rice.
Chutney can be made with different vegetables but with the right spice combination to give a satisfying taste to the palate. The chutney is ground coarse hence has a pleasing texture and taste. The nutty taste from the peanut, heat from red chillies, tang/sourness from tamarind, sweetness from jaggery; combined together is an amalgamation of excellent flavour that satisfies your palate.
Brinjal or Eggplant Aubergine is commonly known as brinjal, eggplant, or guinea squash which is a nightshade plant closely related to the tomato and potato and is native to Nepal, India, Bangladesh, Pakistan and Sri Lanka. It is commonly used in cooking and a variety of dishes is prepared by this vegetable.
Commonly known as the eggplant, brinjal is one of the most easily available and affordable vegetables. In its unripe form, it is a large greenish-whitish vegetable and when ripe, it turns a deep violet. Brinjal can be cooked in many different ways and provides many essential nutrients that are needed for overall well-being of the body.
In fact, one can even take brinjal soup to attain maximum benefits from this vegetable. It is a very good source of potassium and contains a high content of water and fiber. The eggplant is native to India and has been cultivated in southern and eastern Asia since prehistory but appears to have become known to the Western world no earlier than ca. 1500.
The first known written record of the plant is found in Qí mín yào shù, an ancient Chinese agricultural treatise completed in 544. The name eggplant, used in the United States, Australia, New Zealand, and Canada refers to the fact that the fruits of some 18th century European cultivars were yellow or white and resembled goose or hen's eggs. Eggplants are very popular all over the world and often stewed as in French ratatouille, the Turkish musakka and Middle Eastern and South Asian dishes.
The word brinjal is derived directly from the Portuguese beringela. Aubergine is known as brinjal in Indian, South African, Malaysian and Singaporean English. It is a delicate perennial often cultivated as annual. The stem is often spiny.
The flowers are white to purple, with a five-lobed corolla and yellow stamens. The fruit is fleshy, has a meaty texture Other varieties of preparing eggplants are to coat with a mildly spices batter and deep-fry until done and crisp.
This is commonly known as bajjis and are served with a sauce made of tahini and tamarind. It may also be roasted in its skin until charred, so that the pulp can be removed and blended with other ingredients such as lemon, tahini, and garlic, in the Middle Eastern dish baba ghanoush or grilled, mashed and mixed with onions, tomatoes and spices make the Indian dish called the Baingan ka Bhartha or Gojju, similar to Salată de vinete in Romania, while a mix of roasted eggplant, roasted red peppers, chopped onions, tomatoes, mushrooms, carrots, celery and spices is called Zacuscă in Romania or Ajvar in Serbia and Balkans.
The eggplant can also be stuffed with meat, rice, or other fillings and then baked. As a native plant, eggplants are widely used in Indian cuisine, for example in sambhar, dalma (a dal preparation with vegetables, native to Orissa), chutney, curries, and achaar.
The eggplant is very versatile and can be used in both everyday and festive Indian food, it is often described (under the name brinjal) as the 'King of Vegetables'. In one dish, Brinjal is stuffed with ground coconut, peanuts, and masala and then cooked in oil popular known as the Gutti Vankai, a popular Andhra delicacy.
Chutney recipes Chutney is a very common dish during the main meal which can be prepared with any fruit or vegetable etc in Indian cooking. There are limitless varieties of chutney and various ways of making single chutney.
Traditionally made chutney is different from region to region or person to person also. They are generally grouped into two varieties, sweet and hot. The main ingredients are the chillies and tamarind but differ in the main flavour. Chillies offer their spiciness while tamarind gives a nice tangy zest and sweet taste to the dish.
They are usually made either wet or dry having a coarse or fine texture. There are innumerable varieties of chutneys that are valued in Indian cuisine which includes Tomato chutney, Garlic chutney, Brinjal chutney, Mint coriander chutney, Turai (Beerakaaya) chutney etc.
How to prepare Brinjal Chutney without Tomatoes:
Ingredients:
Brinjal - 250g
Red chillies - 6 n
Cumin seeds - ¼ ts
Peanuts - 20 g
Garlic - 4 cloves
Curry leaves - 3
springs Tamarind - 6 pieces
Salt - to taste
Oil - 3 tb
Jaggery - 10 g
Mustard seeds - ¼ ts
Urad daal - ½ ts
Hing - pinch
Directions:
Heat oil in a pan, add red chilli, cumin seeds, peanuts, garlic and roast the ingredients until the peanuts change colour. Add curry leaves, tamarind, egg plant pieces, salt, mix and cover the pan with a lid. Cook over slow flame till the egg plant is soft then add jaggery, mix and switch off the flame.
Put into the blender and make a coarse paste. For tempering: Heat oil in a pan add mustard seeds, red chilli, urad dal, hing, curry leaves, and switch off the flame. Pour the tempering into the chutney. Serve this with chapatti & rice. Generally any Indian meal is incomplete without a pickle or fresh chutney.
Do try these flavoursome, colourful, zesty and fiery pickles that will awaken up even the blandest of the dishes.
To try more favourite chutney recipes of mine, click on:
https://www.vahrehvah.com/chutney-and-pickles-recipes
You could always reach me at my below links:
My Cooking Videos Indian Recipes Indian Food Regional Indian Cuisines VahChef Sanjay Thumma
Enjoy Cooking! Keep Smiling…