Every thing about Popular Indian Spinach Recipes | Vahrehvah :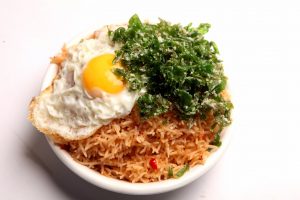 Spinach with Sesame Seeds
Spinach, reminds every kid or person of the famous cartoon 'Popeye', the sailor man known for his obsession for spinach. It's very popular as the cartoon is shown eating spinach and get strong. Infants are advised to be fed with spinach which is rich in protein, vitamins, minerals and phytonutrients.
These will result in proportionate development in their growing stages. Spinach is popularly known as palak (Hindi) in most parts of India. Spinach is available throughout the year, its season runs from March through May and from September through October when it is the freshest and has the best flavor.
Spinach belongs to the same family (Amaranthaceae-Chenopodiaceae) as Swiss chard and beets and has the scientific name, Spinacia oleracea. It shares a similar taste profile with these two other vegetables, having the bitterness of beet greens and the slightly salty flavor of Swiss chard.
Calorie for calorie, leafy green vegetables like spinach with its delicate texture and jade green color provide more nutrients than any other food. Popeye the sailor popularized spinach, but it's too bad he ate it out of a can. Fresh spinach retains the delicacy of texture and green color that is lost when spinach is processed. Raw spinach has a mild, slightly sweet taste that can be refreshing in salads, while its flavor becomes more acidic and robust when it is cooked.
There are three different types of spinach generally available. Savoy has crisp, creased curly leaves that have a springy texture. Smooth-leaf has flat, unwrinkled, spade-shaped leaves, while semi-savoy is similar in texture to savoy but is not as crinkled in appearance. Baby spinach is great for use in salads owing to its taste and delicate texture.
Spinach is said to have originated in ancient Persia (Iran). Spinach made its way to China in the 7th century when the king of Nepal sent it as a gift to this country. Spinach has a much more recent history in Europe than many other vegetables. It was only brought to that continent in the 11th century, when the Moors introduced it into Spain. In fact, for a while, spinach was known as "the Spanish vegetable" in England. Spinach was the favorite vegetable of Catherine de Medici, a historical figure in the 16th century.
When she left her home of Florence, Italy, to marry the king of France, she brought along her own cooks, who could prepare spinach the ways that she especially liked. Since this time, dishes prepared on a bed of spinach are referred to as "a la Florentine."
Bright, vibrant-looking spinach leaves are not only more appealing to the eye but more nourishing as well. Recent research has shown that spinach leaves that look fully alive and vital has greater concentrations of vitamin C than spinach leaves that are pale in color.
The study authors suggest that the greater supply of vitamin C helps protect all of the oxygen-sensitive phytonutrients in the spinach leaves and makes them looking vibrant and alive. Many people are concerned about the nutrient content of delicate vegetables (like baby spinach) when those vegetables are placed in clear plastic containers in grocery store display cases and continuously exposed to artificial lighting.
Popeye was not the only believer in the plentiful benefits of spinach. Nutritionists and dieticians, and increasingly the medical profession as a whole have come to understand that spinach truly is one of the healthiest foods you can eat. A daily spinach recipe in your diet is a vital part of your ongoing health and vitality. A variety of dishes can be prepared with this amazing green like the palak dal (spinach with lentils), Palak paneer (spinach with cottage cheese), Khatti palak chutney chukka koora and palak curry and many more.
Spinach is low in calories, yet extremely high in vitamins, minerals and other phytonutrients (natural plant chemicals with human nutritional value.). It is readily accessible to all, available almost everywhere in the world today as a whole food, rather than only as a processed supplement, and is a low priced vegetable that everyone can afford - or even grow spinach in your own back yard. Spinach is versatile and can be eaten cooked as a vegetable, raw in salads (a superior alternative to low nutrient iceberg lettuce) and in many other recipe forms.
Spinach is a versatile leafy vegetable that can be used in preparing vegetarian and non-vegetarian dishes. Below are some of my popular and favourite Indian spinach recipes:
Spinach and Corn Fritters are amazing snack that taste extremely tasty. Corn and spinach mixed with some garlicky and nutmeg flavours combined together with spices and deep fried until done.
Mushroom Spinach Parcels These golden puffed and flaky parcels with their belly of flavoursome mushrooms, creamily salty and mineral-esque spinach satisfy even the canine tooth of a carnivore. I practically inhaled two within minutes. Simple yet suitably satisfying.
Corn Spinach Cheese Toast , a toast using corn and spinach is an excellent snack.
Palak Puri Palak puri is made by mixing wheat flour with pureed spinach and other spices. It is best enjoyed hot with mango chutney and chili pickle.
Huzooro Wale Palak Paneer This combination of spinach and paneer is not only highly nutritious, but is a splendid blend of taste, texture and flavor. The paneer in this recipe has been fried to add some extra flavor.
Palak Paneer Spinach cooked with Indian cheese. Palak Paneer is a popular vegetarian delicacy made of spinach and paneer (a non melting Indian cheese) cooked in a saucy tomato and onion gravy with aromatic Indian spices. It is a special dish in
Aloo Palak Biryani is one of the Indian style biryani, definitely say that aloo palak is our all time favorite and this pulao was one of the best and better way to feeding children.
Palak Dal Lentils cooked with spinach. Palak dal tastes awesome with the warm spicy flavor of the creamy lentils and spinach.
Aloo Palak – Spinach Potato Curry Potato & Spinach curry, popularly known as Aloo Palak is a classic Punjabi dish prepared with potatoes and spinach, always the part of North Indian menu.
Crispy Spinach Fry palak Pakoda are a delicious and crispy fritters prepared with spinach leaves coated with spicy chick pea flour.
Oily Spinach Potatoes Aloo Palak is a very easy and simple recipe with a combination of cubed potatoes and chopped spinach cooked with masalas and red dry chillies. Serve this subzi hot with rotis or parathas.
Spinach Mustard Greens This is a extremely healthy and nutritious dish made with a combination of spinach and mustard greens cooked with flavourful spices. Tastes good with roti, chapatti, rice etc.
Palak Rajma Masala Palak rajma Masala is a popular north Indian curry prepared with red kidney beans and spinach. Palak rajma masala is aromatic and flavorful , healthy with thick delicious gravy.
Palak Moong Dal Fry Moong Dal with Spinach is a very nutritious and healthy recipe. It not only makes the dal interesting, but also increases it nutritional value. This is more like stir fry than a liquid dal and it is not fried too much, like the stir fried spinach mung dal, which is also a very common dish in many houses in south India.
Do try these delectable and appetizing health and nutritious recipes and encourage kids eating greens everyday.
You get hold of some of your favourite recipes, you could always reach me at my below links:
My Cooking Videos , Indian Recipes, Indian Food, Regional Indian Cuisines, VahChef Sanjay Thumma
Enjoy Cooking! Keep Smiling…