Every thing about Best Indian Fish Curry Recipes | Vahrehvah :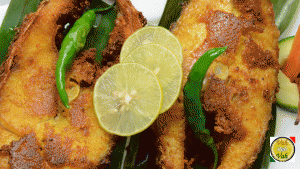 Fish Curries of India
Fish or Seafood dishes are easy and quick to cook, packed with good amount of protein and low in fat – What else would one ask for???
Fish curry is a very popular dish in the Malabar region of Kerala and is commonly known as Meen Kulambu. It is often served with Kerala porotta or ghee rice. This delicious dish can also be served with chapatti or plain rice.
Fish is an important and staple food in the coastal regions of India which is available in abundance and cooked in various ways. Every state has its own way of making a special fish curry using local ingredients. Fish curry or Chapala Pulusu in Andhra Pradesh is a signature seafood dish where fish is cooked in a spicy tamarind sauce with spices. Fish curry is generally known as Meen Kozhambu in the states of Tamil Nadu and Kerala.
There are a variety of fishes that is used for preparing the fish curry. For preparing a delicious Meen Kozhambu, generally they use the korameena or black sole which taste extremely good. Other fishes like the Mackerel or sardines varieties are also used. Mackerel and sardines are very common fishes around the world.
Most housewives hate to prepare the raw fishes. It is just because fried, toasted or roasted fishes are not that tasty and juicy at all. So the technique of cooking a wonderful fish curry recipe is to make the fish crispier by toasting or roasting and cooking in a exotic masala gravy (using fresh roasted and ground spices and coconut to give an exceptional aroma and taste to the fish curry).
Fish is a highly nutritious food. Being an excellent protein food with fewer calories, it is better than other meat sources. It is rich in omega 3 fatty acids proven to be good for the heart. Fish are an excellent source of high quality protein. The biological value of fish protein is 80. They are low in fat particularly cholesterol & saturated.
They are rich in calcium, particularly small fishes eaten with bones. Canned fishes are very rich in calcium since during processing they become soft to be eaten. Additionally marine fishes are good sources of iodine. Being low in sodium they are sufficiently rich in potassium. Fish liver oils are excellent sources of fat soluble vitamins. Rohu (Indian fish) contains Vitamin C.
They are also good sources of vitamin D and niacin. It should be interesting to know that the mackerel and sardines can make your blood fresh and thinner and prevent heart attacks and are also 1500 times better than medicines. Mackerel is said to be one of the most nutritional fish as it is rich in omega 3 oil which are also found in salmon, halibut and sardines varieties.
Ideally it is also said that we should be eating this kind of fish at least three times a week. Sardines are a great source of calcium when eaten with the bones intact, especially for those who want to avoid a dairy-rich diet. Our sardines are fished at their fattest, tastier and with guaranteed levels of Omega 3.
Mackerel contains selenium, vitamin B12 and niacin, and is also low in sodium. Mackerel is comparatively inexpensive to buy, but you must ensure it is fresh – it's best eaten on the day it is caught. The delicious rich taste is complemented by sharp flavours such as lemon, horseradish, and gooseberries when in season.
Watch out for some of the best Indian Fish Curry Recipes that are truly finger licking:
Fish Makhani is just what its name suggests - fish in a delicious, thick, creamy sauce! Serve it on a bed of plain boiled rice or better still, team it with Kaali Daal, Naan and a salad.
Fish Moilee Meen Moilee, a very popular Kerala fish stew that's cooked in coconut milk and spices. The flavour is light, yet spicy with a good bit of green chillies in the mix. Each household in Kerala will have their own version of course.
Fish with mild coconut curry sauce Fish coated with spices and grilled until done and served with a mildly spiced gravy made of coconut and spices cooked in little coconut milk.
Fish in tamarind curry Meen Kulambu Andhra style fish curry is well blended with tamarind juice and other spices. Fish in tamarind sauce is quiet a spicy and tangy fish curry and one of the best fish recipes. It is also called as Meen Kozhambu in the Tamil Nadu and Kerala states of India especially the coastal regions.
Fish Curry in tamarind sauce is a tangy & spicy recipe popularly known as Chapala pulusu in Andhra Pradesh state of India. Fish curry is well blended with tamarind juice and other spices. It is also called as Meen Kozhambu in the Tamil Nadu and Kerala states of India especially the coastal regions.
Fish Masala with poppy seeds Fish black sole cooked with poppy seeds and spices. Fish masala with poppy seeds is a delicious recipe of fish marinated in a paste of spices, condiments and pan fried to perfection. An exotic fish preparation made with poppy and sesame seeds. This dry fish dish is fit for any special occasions and had on Mrigashirsha day.
Fish in Mustard Oil Macher Kalia with Aloo This is an traditional of Bengali fish recipe Aam Shol or Murrel fish with Green Mango.
Fish with Green Mango This is an amazing and delectable fish curry preparation where fish is cooked in coconut milk, spices and added with raw mango to give and fantastic taste to the dish.
Garlic Butter Baked Fish A big fillet of sea bass fish just marinated with garlic and butter and seasoning and baked in oven its very tasty not like regular fish there will be some difference in look as well as in taste.
Fish and Chutney in Banana Leaves Patra Ni Machi Patra ni machhi is a dish in the Bengali & Parsi cuisine, which is made from steamed fish topped with chutney and wrapped in a banana leaf.
Talking from the health point of view the best ways are baking, shallow frying, grilling, poaching and steaming (Steamed Fish).
I am sure that these fish curry recipes will greed up your palates and vouch for more. Hence I wish to try these recipes and enjoy their fantastic taste and aroma.
To try more varieties of seafood, click on at: https://www.vahrehvah.com/indian-sea-food
You could always reach me at my below links: My Cooking Videos Indian Recipes Indian Food Regional Indian Cuisines VahChef Sanjay Thumma
Enjoy Cooking! Keep Smiling…