Every thing about Egg Dosa Breakfast | Vahrehvah :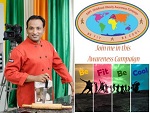 Egg Dosa is an brilliant and appetizing non-fermented, easy to prepare crepe or pancake made with a combination of adding urad dal (white dal), rice flour and all-purpose flour mixed to make a crispy dosa layered with egg and stuffed with few slices of onions, tomatoes, green chillies and sprinkled with gun powder to give a savor to the dosa.
Dosa is a very popular and traditional South Indian dish usually eaten for breakfast or dinner. It is rich in carbohydrates and proteins. Dosa is a very common breakfast food item in the states like Tamil Nadu, Karnataka, Andhra Pradesh and Kerala. As such it is a complete nutritious meal by itself when accompanied with chutney, a katora of sambar, and stuffed with little potato podimas.
One masala dosa can provide your body with most of the required vitamins and nutrients. As I have being telling through my videos and articles that breakfast is an important meal of the day thus having protein with breakfast can optimize your brain's ability to send messages to the rest of the body, helping you wake up.
Combining protein with carbohydrates, your body will gradually digest your breakfast, staving off hunger and keeping you energized until lunch. Eating more protein than your body can use is not helpful, as your body stores excess protein as fat, but if you maintain a diet with 10 to 35 percent of the calories you consume coming from protein, can benefit from it, particularly if you take in lots of protein in the morning.
It is said that a morning meal high in protein raises your brain's tyrosine levels thus helping your brain produce neurotransmitters called norepinephrine and dopamine, which give you energy and make you feel awake and alert.
Although the dosa is made from a batter of black lentil and rice, there are a variety of versions that can be prepared with this batter, for example Paper dosa, Set dosa, Uttappam,Onion dosa, Butter dosa, Masala dosa, Mysore masala dosa, 70 MM dosa and many more. Characteristically the ingredients like the urad dal, rice, little fenugreek seeds are soaked overnight or for at least 6 hours and then ground or blended to a paste.
The batter should be ground to a very smooth paste and should be to the right consistency. The Dosa batter is thinner than the Idli batter. This consistency is required to make the crepe. There is less Amylopectin in Dosa than Idli.The Dosa crepe has to be crusty and crisp, while the Idli is soft and fluffy. You can also just add water and thin Idli batter to make crispy Dosa.
The batter is then ladled in small amounts onto a hot greased tawa, where it is spread out into a thin circle and fried for a very short time with oil or ghee until golden brown. The dosa may then be folded in half and served or rolled as in a wrap, but in both cases it is cooked on a single side.
Alternatively, it may be flipped to cook on the other side and then served. Dosas are typically served with a side dish that varies from each individual's preference and choice. Some of the common items that are served along the Dosa are sambar, chutney (usually it's the coconut chutney), Milaga podi, any chicken, mutton or fish curry.
This Egg Dosa is a fantastic, delicious, protein rich dosa that is healthy and nutritious to eat for breakfast especially for the kids. Proteins are essential to our body to perform a variety of tasks that includes cellular maintenance, growth and functioning of human body and creation of every new cell.
A constant supply of proteins is required to avoid any deficiencies or the breakdown of body cells. Do make use of the key ingredients and consider integrating these protein rich staples in your everyday meal. Try being creative and prepare foods with a little variety in taste and flavour so that your family will want to eat more just to have something different and nutritious.
Egg Dosa recipe:
Ingredients:
Urad dal - 2 tbsp
All-purpose flour (maida) - 1 cup
Rice flour - ½ cup
Green chillies, finely chopped - 2-3 nos
Onion, sliced - 1 no
Tomato, sliced - 1 no
Coriander leaves, finely chopped- ½ bunch
Egg - 1 no
Oil - 1 tsp
Gunpowder - 1 tbsp
Salt - to taste
Baking powder or cooking soda - a pinch
Honey - ½ tsp
Directions:
Soak urad dal in water for some time and make into a paste.
In a bowl add in the urad dal paste, maida, and rice flour. Add salt to taste, pinch of baking powder or cooking soda.
Add little water and mix until it comes to the dosa batter consistency. Add ½ tsp honey and mix well.
Heat a griddle or pan and pour a ladle of batter and spread well to make a thin dosa.
Break one egg over the dosa and spread all over the dosa.
Put very little oil. Sprinkle some gun powder, sliced onions, green chillies, coriander leaves, tomato slices and add some delicious curry (potato podima, any stew).
Once the dosa is crisp, fold the dosa and remove onto a plate and serve hot.
Listed below are some of my favourite dosa recipes that I would wish you all to try.
Instant Butter Roast Dosa Wheat Flour
Do try this amazing and yummy south Indian tiffin – dosa recipes and enjoy its making new variations giving creative dimensions in making it healthier.
To try more favourite recipes, do click on: www.vahrehvah.com You could also follow this campaign to gain knowledge on some special features and advices from eminent doctors from AAPI (American Association of Physicians of Indian Origin) and also get to know of healthy recipes and diets from popular Chefs that you and your family can relish and enjoy staying fit and strong. To follow, do click on: https://www.facebook.com/AAPIChildhoodObesity
Enjoy healthy cooking, eating and Be Fit. Be Cool!