Every thing about Good Benefits of Flax Seeds | Vahrehvah :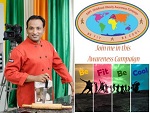 Flax seeds are considered to be the most powerful plant foods. Studies have shown that they help reduce the risk of heart disease, stroke, cancer and diabetes. It is said that as early as 3000 BC, flaxseeds was cultivated in Babylon when King Charlemagne believed strongly in the health benefits of flaxseeds.
Flaxseeds are also popularly known as linseeds. These small seeds are touted as super food and widely available in super markets. The flaxseeds have a nutty flavor which disappears when added in most sweet and savory foods. Today it's one of its kinds, unique and extensively used in various salads and soups giving an amazing nutty flavor and crunch to the dish. Flaxseeds are a rich source of micronutrients, dietary fiber, manganese, vitamin B1 and essential fatty acid – Omega 3.
It is not only a source of healthy fat, antioxidants and fiber but also have evidence that help in curing various health problems. Although flaxseeds contain various healthy components, primarily it offers its healthy status to the below three:
Fibre: Flaxseeds contain both soluble and insoluble types.
Omega 3 essential fatty acids: These are good fats and have heart healthy effects. Each tablespoon of ground flaxseed contains about 1.8 gms of plant Omega 3.
Lignans: Has both estrogen and antioxidant qualities and flaxseed contains 75 to 800 times more lignans than other plant foods.
Now days, flaxseeds are much talked about its nutritional benefits but still most of us are unaware of this and seldom use in our daily diet. Flaxseeds are an excellent source of complete protein which means they contain very much good amounts of all nine essential amino acids as most other sources of complete protein come from either dairy or meat products.
Flaxseed also contains about 3 gms of dietary fibre per tablespoon. They are easily available in any super market in whole or ground form. Research studies have shown that some of the other components in flaxseeds have antioxidant properties which may aid in protecting against cancer and heart disease.
Ways to include Flaxseeds in your daily diet: Flaxseeds have gained popularity as it is considered to be the highest plant source with omega 3 fatty acids and lignans and mucilages (soluble fibre). You could use flaxseeds in several foods. Ground flaxseeds mix well with batters and dough to make appetizing and healthy parathas, rotis, crackers, cookies and muffins. The seeds could also be added into your nutritious salads, soups and sandwiches giving an amazing crunch to the dish.
Generally the ground form of using the flaxseed is better and it gets easily digested. Add in some flaxseeds along with some healthy breakfast cereals or oatmeal which will give additional benefits to make a healthy meal. Flaxseeds in any form also be added into lassi, buttermilk, fruit smoothies, fresh fruit juices, chapatti dough, dosa idli batter or making a fresh vegetable chutney. Remember to have plenty of water when you consume flaxseeds because of its high fibre content.
If you are a vegetarian, you could at least consume about 2 tablespoons of flaxseeds per day and if you are a fish eating lover, then just one tablespoon of flaxseeds will do. Flax is an excellent source of both soluble and insoluble fiber, providing three grams of fiber per tablespoon.
You could always reach me at my website for more amazing nutritious and healthy recipes at: www.vahrehvah.com You could also follow this campaign to gain knowledge on some special features and advices from eminent doctors from AAPI (American Association of Physicians of Indian Origin) and also get to know of healthy recipes and diets from popular Chefs that you and your family can relish and enjoy staying fit and strong. To follow, do click on: https://www.facebook.com/AAPIChildhoodObesity
Enjoy healthy eating and Be Fit. Be Cool!