Every thing about Cashew Nut Pakoda | Vahrehvah :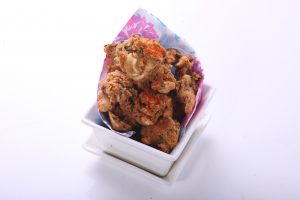 Simple to prepare and very tasty snack recipe, made with cashew nuts Cashew nut pakoda is a very simple to prepare savory snack made by combining besan flour, urad dal flour (Bengal gram) and rice flour, added with spices, fresh herbs and cashew nuts that are deep fried in hot oil until they are crisp and crunchy.
Mint and curry leaves gives a pleasing unique & earthy flavor to the snack, making it more flavorful and yummy to eat. The cashew nuts give a nice crunch and a pleasant sweet tinge to the snack. It balances the flavors and makes the dish absolutely tempting to eat. This is a popular tea time snack.
Pakoda is also known as Pakora or Pakodi where you often find the popular onion pakoda sold at every tiffin center, sweet shops and various restaurants. Generally during the monsoon season, pakoda are often made with a variety of ingredients added into the flours making a variety of pakodas like palak pakoda, cabbage pakoda etc. This is one of the most favourite snacks eaten with a cup of hot tea to enjoy a monsoon day.
Recipe: Cashew Nut Pakoda
Ingredients:
Cashew nuts - 250 gms
Coriander seeds - 1 tsp
Fennel seeds - ½ tsp
Ajwain seeds - ¼ tsp
Turmeric powder - 1 tsp
Chilli powder - ½ tsp
Salt - to taste
Soda - pinch
Besan flour - 1 cup
Urad dal powder - ¼ cup
Rice flour - ¼ cup
Coriander, chopped - ½ bunch
Mint leaves, chopped - ½ bunch
Curry leaves, chopped - 2 sprigs
Ginger garlic paste - ½ tsp
Directions:
Take some coriander seeds, fennel seeds, ajwain seeds, put them in a pestle and grind to coarse powder. Transfer this into a bowl.
In the bowl, add turmeric powder, chilli powder, pinch of soda, besan flour, urad dal powder, rice flour powder, salt, chopped coriander, mint and curry leaves, 2 tbsp oil and mix like short crust method.
In this add soaked cashew nuts, ginger garlic paste and mix well. Add required quantity of water and make into pakoda dough.
Heat oil in a pan and when it gets hot, drop little by little batter and fry the pakodas over medium flame.
Serve hot.
Do try this fantastic and awesome pakoda recipe and enjoy its taste with new variation in taste. To try more favourite Any type of Pakoda is very easy to prepare and can be made in a jiffy to satisfy your palate.
The pakoda can be eaten on its own or some pakodas are accompanied with refreshing sweet, tangy and spicy chutney such mint chutney, sweet tamarind chutney etc. Pakodas have a crispy crust, encased with any type of vegetable, green leafs or chunks of chicken or mushrooms.
Cashew nut pakoda is unique to taste and extremely delightful to eat. Addition of fennel and ajwain seeds is just refreshing and has a highly aromatic flavor. It is one of the most flavorful herbs used for various culinary and medicinal purposes. It is used in various dishes like the salad, pastas, vegetarian and non-vegetarian dishes. Fennel seed is considered best after meal that aids in digestion.
For more recipes, do click on: www.vahrehvah.com
My rating: 4 stars: ★★★★☆ 1 review(s)
You could always reach me at my below links:
Enjoy Cooking and always remember that: "VahrehVah is all about inspiring others to cook"!