Every thing about NAN KHATAI | Vahrehvah :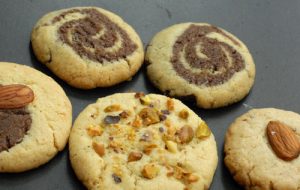 Nan khatai
is a shortbread
cookie
from
India.
It is also little similar to
'Pecan Sandies'
in
United States.
Nan Khatai is also a very popular
cookie
of
Pakistan.
Nankhatai are a type of
Indian
tea
biscuit
. They are most likely to be flavoured with some of the usual ingredients like -
green cardamom, saffron,
ground mac.
According to the
Hobson Jobson dictionary
of colloquial Anglo-Indian words
'Nuncaties'
mean rich cakes made by the Mahommedans in W.India chiefly imported into
Bombay
from Surat. Nuncatie is an
Anglo-Indian
corruption of the Hindi word
Nankhatai.
Nankhatai originated in Surat, a large port city in
Gujarat.
Near the end of
16th century,
Dutch explorers Van Houtman and Van Neck started to make trading posts in
India
for trade in spices. Surat was one of the occupied port city.
Dutch
set up a bakery in
Surat
to produce
bread
for their on consumption. When the Dutch left India, they handed over the bakery to one of their trusted employees named Dotivala. He was to continue baking
bread
for the Dutch being left behind.
The bakery became
'Dotivala Bakery'.
The demand for bread kept declining as more and more
Dutch
left
India.
Sura (sap from the Palm tree, or toddy) was used as yeast to ferment the dough.
Hindus
would not eat this
bread
because of Sura. The left over
bread
would become dry and crispy and sold to poor at discounted prices.
Local masses liked the taste of this inexpensive dried out crispy
bread,
and ate it by dunking in Chai (Hot tea). Enterprising Dotivala changed the shape of the bread, and dried the slices in the oven. This oven dried bread is called
'Irani Biscuit'.
Summary: Biscuits made with maida,butter,sugar.
Ingredients:
as - needed almonds
1/2 - tsp - baking powder
1/4 - tsp - baking soda
50 - grams - butter
3 - number - cardamom
1 - tsp - cocopowder
2 - tsp - curd
75 - gms - grams maida ( all purpose flour)
as needed - pista
pinch of salt
25grams - semolina
75 grams sugar
Instructions:
Take a bowl add maida,baking powder,soda,cardamon powder mix well.
In another bowl add butter sugar beat well till fluffy then add the maida mixture mix well.
now add curd and make a dough and divide into small rounds or shapes and place almonds on top.
Heat the oven at 150 dgr bake till light brown in colour.Another variation add maida, baking powder, semolina, soda, salt, mix well.
Beat butter sugar till fluffy then add vinella esance mix well now add maida mixture make a dough add curd.
Divide into 2 parts in one part add coco powder mix well and make into different shapes.
Cooking time (duration): 25
Diet type: Vegetarian
Number of servings (yield): 4
Meal type: snack
My rating: 4 stars: ★★★★☆ 1 review(s)
For financial survival Dotivala became a master of fusion cooking - Combined the features of 'Dutch Butter Biscuit' and local sweet called "Dal' to create 'Nankhatai'. Popularity of Mughalai Cuisine led Dotivala to wrap his products in a false cloak of Persian Cuisine by giving them Persian names. 'Irani Biscuit' is obvious example.
In Persian, Nankhatai means 'bread of Cathay' or Chinese bread. There is a very large Gujarati population in Bombay. The Nankhatai were transported to markets in Bombay where it became popular teatime item. It was eaten by dunking in the sweet hot tea latte (Garam Masala Chai). Nankhatai had six ingredients: Flour, Ghee, Sugar, Palm toddy, Eggs, and Almonds.
Some historians assert that the name Nankhatai reflects the recipe where Nan stands for bread, and Khat meaning six refers to the six ingredients. Hindu population did not care for either the eggs or the palm toddy. The North Indians started to produce their own version of Nankhatai without any leavening at all.
Without any leavening, the recipe started to resemble the European shortbread cookie. The British also imported their own shortbread cookies from England. Traditional Nankhatai recipe uses Ghee and granulated sugar. The granulated sugar is powdered with mortar and pestle.
The powdered sugar is beaten with Ghee to a cream In United States, unsalted butter is mixed with powdered sugar. It makes the cookie more flavorful and light. Broken pecans are added to the cookie dough to make Pecan Sandies. Dotivala used sliced almonds. In North India, the choice of nuts has varied over time.
Up to 1950s Chilgoza (Pine nuts) were popular till they became expensive and rare. Then came Chirongi. Chirongi is like a softer version of Pistachios. Most of the Indian stores in United States do not carry Chirongi. As an alternative crushed pistachios are used in the dough. Sliced Almonds are pressed on the top surface to decorate the cookie before baking. Some recipes use cashews.
Vanilla is a common flavoring to make Pecan Sandies. Ground cardamom with milk are used to make North Indian Nankhatai. North Indian Nankhatai or the European shortbreads do not use any leavening agents. Nowadays, in both cases a small amount of baking powder and salt is added to give cookies a lighter delicate touch.
Nan khatai is a style of cookies made in India that are available in most bakeries there. These are also sold by a vendor (whom we referred to as the khari wala) who arrives right at your doorstep at least once a fortnight bringing a lot of baked stuff like nan khatai and khari that make excellent tea time and anytime snacks. I have been wanting to make these at home for a long time now but have never gotten around to it.