Every thing about Is Juicing Healthy? | Vahrehvah :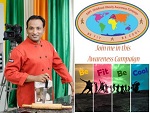 Juicing has majorly taken the health world by storm. A million of people, health freaks, and dieters are just guzzling down the so called glasses of healthy and nutritious vegetable and fruit juices. This is not exactly for quenching their thirst but is had to basically promote health.
There are a plenty of natural homemade juices that has an earthy blend from various greens like broccoli, spinach, collard greens, or kale. Some also prefer to have the juice of bitter melon or lauki to detoxify the body. It is also said that consuming green tea or coconut water aids in reducing weight.
Probably juicing may not be healthier than eating whole fruits and vegetable but juicing extracts the juice from fresh fruits or vegetable do contain most of the vitamins, minerals and phyto-nutrients found in the whole fruit. Some of the nutritionist says the juicing can be better as it can absorb the nutrients faster and gives your digestive system rest from working on fiber.
It is also said that juicing can reduce the risk of cancer, boost immune system, help remove toxins from the body and aids proper digestion and lose weight. If you love taking juices then you could be more innovative in making variety of juicing recipes by mixing your own combinations of fruits and vegetable to suit your taste.
Make just the right amount of fresh juice that you would drink as squeezed juices if kept for longer time can quickly develop harmful bacteria. A very important point to remember are most of the times, try to drink naturally fresh sweetened juice. Do not add extra sugar as these will add up extra calories and can lead to weight gain.
You could add a little bit of honey to give a little sweetness and glow to skin. The benefits from drinking juices is an easy way to shower your body with concentrated amounts of nutrient packed vitamins, minerals and antioxidants from vegetables and fruits.
Over that they are also fat-free, and come with natural sweetness. Juices benefit immune system, are rich in vitamins C, A and zinc. Listed below are some fantastic fruits and vegetables that use can use for making a variety of juice to stay fit and healthy.
Apples: Apples are packed with antioxidant and help reduce cholesterol. They also boost the immune system and cleanse the digestive system. It is said that for every cup of apple juice, we get at least 10 different types of vitamins and minerals into our body. Apple juice without adding any sugar provides a moderate amount of carbohydrate mostly through natural glucose and fructose.
Pineapple: A great tropical flavorful fruit. They are anti-inflammatory, antiviral and antibacterial. Pineapple juice has large amount of helpful nutrients and are good source of potassium, calcium, high levels of vitamins C and B6 and low glycemic carbohydrates.
Papaya: Often when it comes to digestion, papaya fruit tops the list as the best fruit. Papaya contains papain, an enzyme that helps to breakdown protein. Papaya also helps to replenish vitamin C in the body. It is generally blended to make luscious smoothies.
Orange: Do include real fresh orange juice in your diet as it provides you with vitamin C. Fresh orange juice also contains enough flavonoids that can help lowering blood pressure and bad cholesterol levels. Apart from these, fresh orange juice is high in antioxidants and contains large amount of dietary fibre, folate and thiamine.
You could also prepare fresh juices with either a fruit only or with a combo of fruits or fruit and vegetable together. Some vegetable juice like tomato juice, carrot juice, beetroot juice etc also taste extremely good and have good amount of nutritional benefits.
Citrus fruit juices are the most popular of all the other fruit juices. They contain carotenoids, bioflavonoids and loads of vitamin C which help to fight cancer. Citrus are antiviral, antibacterial and super luscious that burst with flavors. Do try some of these below listed super nutritive and healthy juices to stay healthy and strong.
You could always reach me at my website for more amazing nutritious and healthy recipes at: www.vahrehvah.com
You could also follow this campaign to gain knowledge on some special features and advices from eminent doctors from AAPI (American Association of Physicians of Indian Origin) and also get to know of healthy recipes and diets from popular Chefs that you and your family can relish and enjoy staying fit and strong.
To follow, do click on: https://www.facebook.com/AAPIChildhoodObesity
Enjoy healthy eating and Be Fit. Be Cool!