Every thing about FALAFEL | Vahrehvah :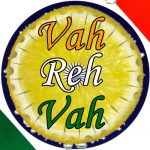 Falafel is a delicious patty made from ground chickpeas or fava beans and is usually served in a pita which acts as a pocket or wrapped in a flatbread known as lafa. The falafel balls are topped with salads, pickled vegetables, hot sauce and drizzled with tahini based sauces. Falafel balls may also be eaten alone as a yummy snack or appetizer.
Falafel is a traditional Middle Eastern dish. It is an excellent vegetarian filling dish perfect as a starter or main course. This Middle Eastern snack is also commonly known as ta'amia. It is a very well known food in the Arab East and also very common food in Isreal where it is also regarded as the national food. Although falafel is made from ground chickpeas in Isreal, in Lebanon it is usually made from dried fava beans with a handful of dried chickpeas sometimes thrown in.
Favas have a wonderful and unique flavor but if you can't find them then you can also use dried white beans (cannelloni or navy). Falafel is a favorite snack food available at most of the street vendors where you usually find them tucking the falafel into pita bread with chopped lettuce and tomato and plenty of tahini sauce.
Originally a well accepted food to have first been made in Egypt where the dish is widely known as ta'amiya in Egyptian Arabic, falafel has become a dish throughout the Middle East. It is also said that they where the first to make the dish as a replacement for meat during Lent days. The word Falafel can refer to the fritters themselves or to sandwiches filled with them.
The Arabic word (falāfil) is the plural of (filfil) which means "hot pepper" and is also an adjective denoting 'something fluffy'. Falafel grew to become a common form of street food or fast food in the Middle East. During Ramadan, falafel balls are sometimes eaten as part of the iftar, the meal that breaks the daily fast after sunset.
The custom of eating falafel in a pita stuffed with salads began in Israel. However the dish has become a common street food in many cities through out North America, and U.S. college students are as likely to enjoy a falafel wrap as they are other fast foods like pizza.
While traditionally thought of as being used to make veggie burgers, its use has expanded as more and more people have adopted it as a source of protein. A versatile ingredient, it has allowed for the reformulating of recipes for meat loaf, sloppy joes and spaghetti and meatballs into meatless, vegetarian dishes. Today, falafel is eaten all over the world.
For preparing the delicious and yummy Falafel, firstly grind all the ingredients (soaked chickpeas, chillies, garlic, coriander leaves, cumin seeds and salt to taste etc) to a coarse form without using water.
Note that the chickpeas are not cooked prior to use; instead they are soaked with baking soda and then ground together with other ingredients.
Heat oil in a kadai or pan for frying and once the oil gets heated enough for frying, make patties out of the coarse mixture and fry them just like vadas. Remove and drain from oil once they turn nice golden brown in color and crispy.
The Falafel is ready to be served as an appetizer or an evening snack accompanied with any sauce.
Do try this amazing Middle Eastern snack and enjoy the taste.
Click on the link for detailed recipe at:
https://www.vahrehvah.com/falafel-indian-recipe
Falafel is an excellent appetizer, high in protein, complex carbohydrates and fiber. Chickpeas are also low in fat and salt and contain no cholesterol. Key nutrients are calcium, iron, magnesium, phosphorus, potassium, zinc, copper, manganese, Vitamin C, thiamine, pantothenic acid, Vitamin B, and folate.
Phytochemicals include beta-carotene. Due to its nutrition profile, as well as being considered a hearty and satisfying dish, falafel is often recommended for use in weight control programs. It's also high in soluble fiber, which has been shown to be effective at lowering blood cholesterol.
Falafel can also be baked to reduce the high fat content associated with frying. Although baking alters the texture and flavor, it is often a recommended preparation technique for people suffering from health problems like diabetes.