Every thing about CRAB CAKE | Vahrehvah :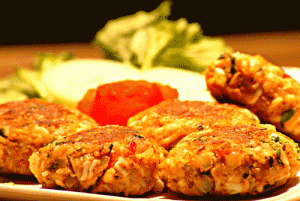 Crab cake
is a classic
American
dish prepared with
crab
meat
and various other ingredients, such as bread crumbs, milk, mayonnaise,
eggs
, yellow onions, and seasonings. Occasionally other ingredients such as red or
green peppers
or pink radishes are added, at which point the cake is then sautéed, baked, or grilled and then served.
Crab cakes are typically deep fried and breaded, and are often filled with stuffing of various sorts and served on a hamburger bun. Restaurant crab cakes, which are sometimes called gourmet crab cakes, are often prepared with no filler, and are composed of all-lump crab meat served on a platter or open-faced
sandwich.
Crab cakes vary in size from a small cookie to a large size of a
hamburger
. They are sometimes served with a sauce, such as tartar sauce, mustard, or ketchup.
Crab cakes
are a comfort food for some, the first thing they seek out at a breakfast buffet. Others love a crab cake appetizer, especially brilliant when served before a simple
seafood
entree. Crab cakes are generally prepared small in size, and set the stage for additional comfort food, or a full meal.
Crab cakes served with a light
salad
or
rice
dish make a wonderful meal or can also be a sumptuous starter. The most important step when preparing crab cakes is buying quality, and fresh ingredients, when possible. Bigger isn't always better. But
flavor
is especially when it comes to king crab cakes.
Just as succulent and delicious loaded with sweet king crab meat, buttery crackers and select seasonings. Crab cakes are prepared a variety of different ways including baking, broiling, deep-frying, sautéing, grilling, oven-steaming, and no cooking at all.
While most crab cake recipes are relatively easy to prepare, care should be taken at each step to insure consistency of flavor, texture, and aroma. Each crab cake recipe is unique.
The key to perfect crab cakes is having the right crab for the cakes. One of the tricks to achieving a consistent, light, flaky crab cake is using a minimum amount of filler and binder. The result is a crab cake with rich crab flavor.
Whether deep-fried, pan-fried or broiled, crab cakes are delicious served alone, but often are accompanied with special sauces or salsas to enhance the delicate flavors.For preparing the Alaskan king crab cake in
Indian style
, clean and remove the crab
meat
from the king crab legs. Chop them finely and put them in a mixing bowl. In a pan, add a very little oil, add cumin seeds, crushed
garlic,
chopped onions and little salt.
Fry the onions till they are translucent and soft. Do not over fry them. Mix all these ingredients with the crab meat. Add cooked rice, chilli powder (as per your taste), chopped coriander leaves and mix all the ingredients well. To this add the bread crumbs and mix nicely. The bread crumbs would absorb all the extra moisture and helps in binding to form dumplings from this mixture.
Beat an
egg
and mix it to this mixture and mix and form into big dumplings and slightly flatten them to a nice shape. Add little
butter
to the tawa or griddle and fry these crab cakes on a very low to medium flame till golden brown color. Crab cakes are a culinary treat. When prepared right they are crispy and buttery, with a perfect blend of spice and texture.
Your friends and family will surely love this preparing of crab cake in
Indian style.
Check the video and see the cleaning and removal of the great Alaskan king crab
meat.
It's truly amazing.
https://www.vahrehvah.com/indianfood/crab-cake
If you are planning for a very special treat or celebration look no further! Nothing is more impressive than the crab cakes. The Alaskan king crab has the very largest legs on the planet with lots of meat in it and is the most preferred for cooking. In Alaska there are three species of king crab namely the red king crab, blue king crab and the golden king crab.
The red king crab is the most prized of the three for its meat. The most popular crab-fishing months occur between October and January. Each leg weighs in excess of one full pound. Because of their size, these are the most flavorful of all King Crab. You will be enjoying a very rare Alaska treat, for less than 1% of the total King Crab harvest is crab of this size.
King Crab Legs are sought after for their flavor and the density of the wonderful meat found inside the huge legs.These are the huge legs harvested only from the very largest King Crab.
King crab
is sold in nearly all parts of
America
and is hard to get in places such as the
UK
and
Europe
.
It is mainly Frozen (legs) and sold pre-cooked meaning it is not necessary to cook them for long whenever it comes to you preparing your dish.You really don't need to over cook Alaskan King Crab Legs coz they have a unique texture which is a key factor in what makes it so interesting. The classic way to serve King Crab though has to be the simple way.
This dish would only consist of boiling the crab legs until cooked and serving with butter, lemon juice, salt and pepper as well as a shell cracker for breaking the claws open.This is simply the pure classic way to serve. A great way to start a diet which will always satisfy on taste would have to be a seafood diet that will undoubtedly consist of a multitude of health benefits.
Crab meat is very healthy, good protein, low fat, very tasty. Also rich in Omega-3 fatty acids, which are believed to be linked to good heart health (not enough studies yet to prove it).Be it from the legs, or the main body of the crab, it's all good. Crab meat on a calorie counter strikes top marks.
crab meat can be a filling food course by any ones standards due to its high
protein
content. With the low calorie and fat content, a single serving of
crab
can mount up to twenty - twenty five grams of protein.This is
beneficial
for the likes of
bodybuilders.
Crab meat is possibly one of the best sources of
Omega 3-fatt acids
which has the ability of lowering triglyceride's and blood pressure.
Crab lump meat is rich in vitamins and minerals such as Vitamin B-12. This vitamin is essential within any diet with important relations to nerve and motor function.Crabs provide a good source of vitamins including A, B, C, riboflavin, naicin, thiamin and pantothenic acid traces of folate.
Enjoy classic crab cake recipes from around the world, each recipe taking advantage of a crab species unique to local cuisine, and using local, fresh ingredients. You will also find a nice selection of gourmet and specialty crab cake recipes that take crab cakes to a whole new culinary level. Wherever you are in the world, local, fresh crab is the best choice for crab cakes.
Ingredient Name
Unit
Quantity
crab

---

piece

---

2

---

follow the video instructiom