Every thing about MEDU VADA | Vahrehvah :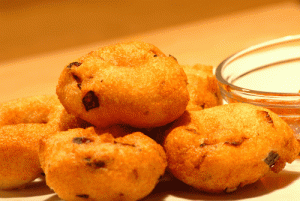 Medu vada
is a traditional and delicious South Indian tiffin item normally eaten for breakfast or any time.
Medu vada
is a
urad dal
based fried snack is one of the delights from the South Indian cuisine. The urad dal is soaked ground together with spices and deep fried. Medu vada is best served with
sambar
and
coconut chutney
as
breakfast, snack
or meal dish.
It's a complete balanced diet. Normally dishes like these have become delicacy from the regular kitchen dishes. As many people have become quite health conscious and do not prefer eating deep fried stuff. Hence quite a lot of people prepare this dish during the
festivals
. It takes a little time and practice to make a perfect
medu vada
but you won't regret it, I'm sure.
Black gram originated
in India where it has been in cultivation from ancient times and is one of the most highly prized pulses of India. It has also been introduced to other tropical areas mainly by
Indian immigrants.
The bean is boiled and eaten whole or, after
splitting,
made into
dal;
prepared like this it has an unusual mucilaginous texture.
Ground
into flour or paste, it is also extensively used in
South Indian culinary
preparation like
dosa, idli, vada,
and
papadum.
When used this way, the white lentils are usually used. It is very nutritious and is recommended for
diabetics,
as are other pulses. It is very popular in the
Punjabi cuisine
of
India
and
Pakistan
where it is known as "
sabit maash
" an ingredient of
dal makhani
.
The
medu vadas
are really delicious when the outer casings are crispy crackling and soft spongy inside with hardly any traces of oil smell or greasy taste. Eating the medu vada combined with
sambar
and
coconut chutney
is a match made in heaven and the taste is simply divine. You can also prepare delicious
Dahi
vadas which the
medu vadas.
For preparing the Medu vada you need the whole skinned black lentils (whole urad dal). Soak the
urad dal
in water for about 6 hours or overnight. Blend it to a coarse paste. Heat oil in a frying pan. Take a bowl add blended urad dal mixture,
chopped onion
,
cumin seeds,
crushes pepper, chopped coriander leaves,
hing and salt and mix all these ingredients well. Take a small dumpling of the
urad dal mixture,
form like a doughnut and deep fry till it turns golden color. Remember that the batter has to be buttery soft and fluffy. Normally, one can form the traditional
doughnut
shapes, with some skill and perhaps a plastic sheet to form the shape on.
The idea of the doughnut shape, of course, is to increase the proportion of crispy surface relative to the inside of the vada. Some important tips to have the
medu vadas crispy
: Add less water while making the batter. Grind until the batter become fluffy and you see some bubbles on the top. Keep the
urad dal batter
aside for some time and let it ferment a bit. Make sure to deep fry the oil in the right temperature. Take small amounts of batter while deep frying.
Summary: lentil savoury doughnuts ,a south indian breackfast
Ingredients:
Corainder leaves - 1 - bunch
cumin seed - 1 - tsp
Hing - -
oil - to fry
Onion - 1 - cup
pepper powder(for taste) - 1 - tsp
SALT - AS PER TASTE
urad dal - 200 - grams
Instructions:
1. Soak Urad dal for 6 hour or over night.2. Blend it into a course paste.3. Take a Frying pan add oil to it let it heat.4. Take a bowl add blended urad dal,add onion,cumin seeds,pepper,corainder leaves,hing,salt as per taste mix all these ingredients well.5. Make a donut and deep fry in the oil it turns to golden colour.
Cooking time (duration): 25
Diet type: Vegetarian
Number of servings (yield): 4
Meal type: breakfast
My rating: 5 stars: ★★★★★ 1 review(s)
For preparing the medu vadas in the right way, watch the video and enjoy cooking the medu vadas at home. Go ahead and click: