Every thing about Snake Gourd Curd Chutney | Vahrehvah :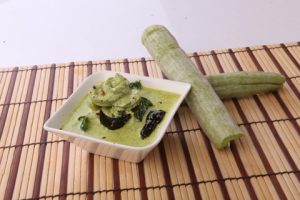 A simple South Indian nutritious Snake gourd Curd chutney. Snake gourd curd chutney is an awesome, refreshing and comforting fast to cook south Indian relish made with snake gourd pieces which are cooked with little salt and added to a fantastic blend of spices like green chillies, curry leaves, garlic, mustard seeds and coriander seeds ground into a smooth paste in mixed with yogurt.
The final touch is given with a sizzling tempering of dry red chillies, cumin seeds, urad dal, chana dal and lots of fresh curry leaves that truly enhance the aroma and savor of this chutney. This chutney is extremely easy to prepare, subtle flavors, power packed with nutrients, tastes good with plain rice, sambar rice or phulkas.
The mix of garlicky flavor, heat from green chillies, earthy flavors from fresh curry leaves and mustardy zest is the highlight of this chutney. They complement well with each other and addition of yogurt makes it absolutely refreshing and soothing to taste. The snake gourd pieces combined with the whole mixture is yummy to taste, soft and slightly crunchy on bite.
Recipe: Snake Gourd Curd Chutney
Ingredients:
Snake gourd - 2 nos
Mustard seeds - 1 tbsp
Curry leaves - 2 springs
Garlic - 5-6 cloves
Coriander leaves - 1 bunch
Green chillies - 6-7 nos
Salt - to taste
Dry Red Chillies - 2 nos
Cumin seeds - ½ tsp
Channa dal - 1 tsp
Urad dal - 1 tsp
Turmeric powder - pinch
Oil for tempering - 1 tbsp
Directions:
Cut snake gourd into roundels and cook in hot water adding little salt.
In a blender, add curry leaves, mustard seeds, garlic cloves, coriander leaves, green chillies and grind to a paste. Transfer the paste into a bowl.
In this mixture, add snake gourd pieces and mix well. Allow it to cool down.
Add beaten curd, salt and mix well.
For tempering, heat little oil in a pan, add dry red chillies, cumin seeds, chana dal, urad dal and sauté for a minute.
Add turmeric powder, curry leaves and pour the tempering over the chutney. Mix well.
Serve this chutney with plain rice or sambar rice.
Snake gourd is a very humble and easy to cook vegetable especially consumed in the southern region of India. This vegetable is commonly known as potlakaya in telugu or podalangai in tamil. It is also known as Chinese cucumber. Snake gourd is an integral part of South Indian meal generally added to Avial or in curd based curries.
You can also make snake gourd fry garnished with fresh grated coconut. This fatta fat Snake gourd curd chutney is widely prepared in the states of Andhra Pradesh, Tamil Nadu, Karnataka and Kerala. This chutney is an effortless dish made with the humble snake gourd which belongs to the cucumber family and is low in calorie and fiber rich vegetable.
The tempering with mustard & cumin seeds in mustard oil gives a pleasant warmth and flavour mixed into the yogurt. This dish is mildly spiced with just finely chopped green chillies and very few red chillies. This is one of the quickest vegetable dishes as snake gourd gets cooked fast and when added into the ultra creamy and luscious yogurt gives a super cooling effect and is absolute light in the stomach too.
Snake gourd is an extremely nutritious vegetable, low in fat, easy to digest and has natural antibiotic, expectorant and laxative properties. It creates a cooling effect in the body and is one of the best tonic for the heart. Snake gourd acts as an excellent anti-inflammatory.
The use of snake gourd in alternative medicine is increasing because of its curative properties. Curd or yogurt is esteemed for its smoothness, pleasant and refreshing taste. It is highly versatile and health-promoting and one of the most valuable therapeutic foods.
Curd is a very nourishing food. It is a valuable source of protein, essential vitamins and minerals. It is also a rich source of calcium and riboflavin. The proteins in curd are more readily digested than the protein in milk. This is an ideal food for all those with sensitive digestive systems, particularly young children and elderly persons.
Curd is also considered one of the best aids to natural good looks. It supplies the nerves and the skin with healthy ingredients and counteracts the ill-effects of exposure to the scorching sun. Curd is also considered valuable in conditioning the hair.
Curd brings relief to patients suffering from gastro-intestinal disorders such as chronic constipation and diarrhoea. This delicious and mouth-watering Snake Gourd Curd Chutney is an excellent curd salad made with a simple south Indian style tempering. Do try this dish and am sure you'll enjoy its flavour and taste.
To try more favourite anytime fatta fat chutney recipes of mine, click on: https://www.vahrehvah.com/chutney-and-pickles-recipes
My rating: 4 stars: ★★★★☆ 1 review(s)
You could always reach me at my below links:
Enjoy Cooking and always remember that: "VahrehVah is all about inspiring others to cook"!