Every thing about Popular Andhra Recipes | Vahrehvah :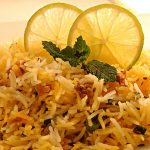 The cuisine of Andhra, obviously my wonderful state, Andhra Pradesh is very well known for its spicy food. Andhra food is generally based on regional variation, its rich cultural heritage and the influence of some very exotic Royal recipes originated from the Nawab's kitchen.
Though the taste changes from place to place, one can get a varied assortment of vegetarian as well as non-vegetarian food. Andhra food is a complete merger between the eating habits of the Hindus and Muslims style of preparation.
The cuisines of Andhra Pradesh are categorically classified based by its regions that include Andhra, Telangana, Rayaleseema, Kosta Andhra (coastal Andhra) and finally the irresistible Hyderabadi cuisine. Hence this brings umpteen numbers of popular dishes ranging from some of the exotic and scrumptious rich biryanis, pulaos, a variety of assorted flavoured rice, pickles, chutneys and desserts. Cuisine of coastal Andhra is influenced by varieties.
Andhra is well-known for its vast production of rice and is also the hub of red chillies which showcases in its cuisine. In spite of the food being very spicy or fiery, the traditional delicacies of Andhra are absolutely mouth-watering and finger licking.
Ghee is one of the main ingredients in preparing a variety of sweet delicacies. Apart from the main course like rice, dal (lentils) and curries, pickles and chutneys are an integral part of Andhra food. It is one of the prominent elements that are prepared in every Andhra house where the pickle can last for more than a year.
Some of the very popular spicy pickles are the Avakkai pickle (Mango pickle), Nimmakaaya pickle (Lime pickle), and other varieties made with chillies, ginger, mixed vegetables, amla etc. Some are made for instant use and some are preserved pickles.
They are served with all meals. Here I would like to categorize the popular foods regional wise. Firstly let's get into the insight of some of the popular Andhra and Kosta Andhra speciality foods, which includes:
Pulihora (Tamarind Rice) Tamarind rice, popularly known as Pulihora or Puliyodhara or Chitrannam is a flavoured rice preparation in South Indian cuisine. The tamarind rice or pulihora tastes sour, spicy hot and salty all at the same time.
Pesarattu Pesarattu is a very popular Andhra breakfast preparation made with green moong dal. Pesarattu literally means a crepe or dosa where 'pesara' an attu means crepe or dosa) made from pesara pappu (full moong dal or green moong dal or green gram). It is a lentil based pancake served as a best breakfast dish with coconut chutney.
Gutti Vankaya Koora This exceptional Stuffed eggplant/ brinjal curry is a speciality dish of Andhra and is popularly known as Gutti Vankaya Koora which literally means Stuffed Brinjal curry. The baby eggplants are stuffed with a special freshly roasted spice mix and cooked to perfection. Goes well with hot rice, roti, chapatti etc!
Gongura Pickle Ambadi Gongura Pickle or Gongura pachadi is one of the fieriest and tangy dishes made with
Chapa Pulusu Fish curry in tamarind sauce is a tangy & spicy recipe popularly known as Chapala pulusu in Andhra Pradesh state of India. Fish curry is well blended with tamarind juice and other spices. It is also called as Meen Kozhambu in the Tamil Nadu and Kerala states of India especially the coastal regions.
Gongura Mutton Popularly known as Gongura mamsam, it is a spicy lamb prepared having a distinctive spicy and tangy taste from its main ingredient gongura or sorrel leaves. The chunks of meat pieces are cooked along with fresh sorrel leaves and spices giving this dish an explicit taste. This dish is generally served with hot rice.
Andhra Chicken Pulao Andhra chicken pulao or Kodi pulao is a scrumptious one pot meal made with fresh spices, cooked meats or sautéed vegetables with rice (uncooked rice) combined together until done.It's a great one-pot meal, and a delicious weekday alternative to your old meat and potatoes standby. Spice it up in the kitchen and switch it up with this delicious Indian dish!Kodi pulao is prepared with adding chicken with fine meat, rice and seasonings. Kodi pulao is akin to biryani but is lighter and is not greasy. This dish is served hot at the lunch table and is a favoured Indian food.
Grandma Chicken Curry This is an authentic and traditional Grandma Chicken curry made with succulent pieces of chicken cooked in a mildly spiced tangy, nutty sauce.
Bobbatlu (Puran Poli) Bobbatlu or Puran poli is an awesome sweetened roti/ chapati stuffed with a delicious sweet filling made of channa dal and jaggery flavoured either with some cardamom or fennel powder.
Purnam Burelu Puram burelu a speciality deep fried sweet that is often made during religious functions or special occasions and is made with a mix of chana dal, jaggery, cardamom powder being the flavour enhancer and the outer casing is the same as the dosa batter made of urad dal and rice.
Chekkalu (Rice cracker) Chekkalu (in telugu) or Thattai (in Tamil) or rice cracker is an amazing festive snack. channa dal and rice flour and tastes really good. Made with rice, butter, and spiced with green chillies, ginger and curry leaves that add up flavour to the snack.
And many many more that might be your favourite which may not be mentioned here. So to try some of your favourite Andhra dishes, it just takes a click to hit on: https://www.vahrehvah.com/andhra-pradesh
And get hold of your favourite recipes. We shall continue our quest in bringing out the popular recipes of Telangana region and Hyderabad in my next food feature – "Popular Telangana & Hyderabadi Recipes".
You could always reach me at my below links: My Cooking Videos Indian Recipes Indian Food Regional Indian Cuisines VahChef Sanjay Thumma Enjoy Cooking! Keep Smiling…