Every thing about Nachos – Airfryer Recipe | Vahrehvah :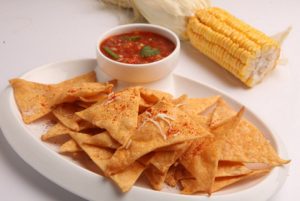 Nachos are a Tex Mex dish from northern Mexico. Nachos is a fantastic time pass snack especially we find many kids eating at Theatres, parks, snack time in schools etc. This is an awesome and yummy crispy savory snack made combining all-purpose flour spiced with chilli powder and butter mixed together to get a nice crumbling texture. Sweet corn paste is added and mixed well to make dough.
The dough is rolled into thin sheet, cut into triangles and air fried to perfection. Sweet corn is a special maize variety that has a pleasant sweet taste, is soft and juicy, tender and often the kernels are eaten as a vegetable. These sweet corn varieties are harvested when their corn-ear just reaches the milk stage and used before since its sugars tend to quickly convert into starch.
Recipe:
Nachos – Airfryer Recipe
Sweet corn - ½ cup
All-purpose flour - 1 cup
Salt - to taste
Chilli powder - ½ tsp
Butter - 1 tbsp
Water - as required
Add little water to the freshly sweet corn and grind to a fine paste.
In a bowl, add all-purpose flour, salt, chilli powder, butter and combine the ingredients well.
Add the sweet corn puree and mix well. Knead to make stiff dough.
Preheat the Airfryer at 180 degree C for 3 minutes.
Dust little flour, take the dough and with help of a rolling pin roll the dough to a thin sheet.
Cut them into desired shapes.
Pull out the basket, drop the nachos in the basket and air-fry for 6-7 minutes.
Remove and serve with fresh homemade salsa.
Sweet corn is gluten free, has high quality of nutritional profile such as dietary fiber, vitamins and antioxidants. These sweet milky corns can be enjoyed as it is or boiled or steamed. Boiled kernels are best accompaniment in salads, stews, pastas, risotto, rice pulaos etc. Sweet corn soup is one of the most favorite starters all over the world. Sweet corn paste enhances the flavor and taste of the Nachos.
These Nachos are special snacks especially because they are prepared in the air fryer which obviously is a guilt free snack that you can eat with joy. Easy and fast to cook, uses hardly any oil, are fresh homemade nachos that will make you kids delighted and grab for more.
Do try this recipe; it's just worth the taste and a refreshing snack. At Vahrehvah, we offer you with a wide range of air fried snacks and appetizers that are quick and easy to prepare using very little oil, mess free.
Do try these recipes and enjoy healthy cooking.
To try more easy, yummy and appetizing Air fried snack recipes, do click on:
My rating: 4 stars: ★★★★☆ 1 review(s)
You could always reach me at my below links:
Enjoy Cooking and always remember that:
"VahrehVah is all about inspiring others to cook"!