Every thing about Healthy Breakfast Patties | Vahrehvah :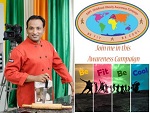 Eating a healthy breakfast is one of the most heavenly desires that we wish to have. But this generally doesn't happen and we skip breakfast coz various reasons…job stress…...no time to prepare…….. getting late to office……..need to catch the bus, train, local transport on time…..etc .
We must know that Breakfast is considered the most important meal of the day and mainly for very good reasons. Breakfast provides the body and brain with fuel after a pretty good overnight sleep – that's why it's said – breaking the fast. Without breakfast you would not have energy and would be running on empty stomach like starting your vehicle without petrol. Nutritionists advise that breakfast should be eaten within two hours of waking up and a healthy breakfast will provide you with all the necessary nutrients, vitamins, minerals, fiber etc.
Fresh fruits and vegetables are excellent sources of vitamins and minerals hence do include a portion of daily nutritious food at breakfast, whether it is a yummy apple or a glass of fresh fruit juice. If you are trying to achieve or maintain a healthy weight then consider eating healthy and nutritious breakfast each and every morning.
A lot of researches have shown how eating a nutritious breakfast can improve memory and concentration levels and it can also make us happier as it improves our moods and lower stress levels. This healthy breakfast patties are an amazing combination of vegetables and spices mixed together and pan fried until crisp.
This patty is popularly known by various names such as vegetable cutlet, vegetable burger, vegetable croquettes etc. This is a very popular and simple snack item that is very easy to make and can be had as an appetizer or evening snack with tea or tomato sauce. It is an ideal snack especially for kids that can be served for small parties or get-togethers.
This patty is a perfect breakfast food and a tea time snack having fantastic flavors to satisfy your appetite. Healthy Breakfast Patties is prepared from boiled vegetables and spices and served with hot and sweet chutney. This healthy nutritious patty is delicately spiced with green chillies, chilli powder, garam masala giving a zing to the taste.
Besides being very simple to make, it packs in quite a textured and delicious punch with the addition of boiled potato, grated carrots, and pressed rice or poha and the crunchiness of roasted peanuts. Make this healthy breakfast patties recipe as a tea time snack or make them into tiny bites for a party. Your family and guests will simply love it.
Recipe of Healthy Breakfast Patties:
Ingredients :
Potatoes, boiled & grated - 1 cup
Pressed Rice, soaked & squeezed - ½ cup
Peanuts, roasted & crushed - ½ cup
Green chillies, chopped - 2-3 nos
Chilli powder - ½ tsp
Garam masala - ½ tsp
Coriander, chopped - ½ bunch
Oil - 1 tsp
Directions:
In a bowl, add boiled & grated potatoes, pressed rice (poha/ atukulu), peanuts, green chillies, chilli powder, coriander leaves, garam masala powder, salt to taste and mix well.
Take little mixture and shape them into patties with the help of the cutter.
Heat a pan and when it gets hot, add very little oil and place the patties and roast them on both sides until they get slightly golden in color.
Serve hot with tomato sauce or ketchup.
Healthy Breakfast Patties are versatile, easy to prepare, and so much healthier than their meaty counterparts. Satisfy your appetite for a great-tasting veggie patty that's easy to make and more healthfully prepared when you use your own wholesome ingredients. However, when you make your own, you can customize the ingredients, and the combinations are only limited by your imagination.
Do click through my website (www.vahrehvah.com) to find more healthy and nutritious recipes which might be your all-time favourite dish too. You could always reach me at my below links:
My Cooking Videos Indian Recipes Indian Food Regional Indian Cuisines VahChef Sanjay Thumma
Enjoy Cooking! Keep Smiling…