Every thing about Vegetable Puff | Vahrehvah :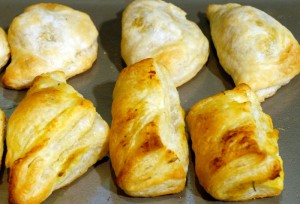 Vegetable puffs
are one of the popular and wonderful snacks liked by all. It can be eaten as
appetizer
or
snack
and children would love to eat it. Most of the students are found in the
bakeries
or
canteens
during their tea break time eating
Vegetable
puffs
.
Vegetable
puff
can be made simple with any type of filling you like.
Vegetable
puff
can be made as a healthy snack by adding
mixed vegetables
,
kheema
mixture
(
minced
meat
),
paneer
masala
(
cottage
cheese
). The mixture that you will be stuffing should be
dry
or else your
vegetable puff
will not get crispy. You can use any mixture for
stuffing
like the
stuffing
used for
samosa
mix
,
kachori
mix
,
cutlet
mix
etc
. The stuffing could also be a
savory
filling
or a
sweet
filling
according to your taste.
Summary: Vegetable Puff Recipe made easy, learn how to make vegetable puff Recipes at home.
Ingredients:
All Vegetables - 10 - number
Chaat Masala - 1 - tsp
coriander freshly chopped - 1 -bunch
coriander powder - 1 - tsp
cumin seed - 1 - tsp
Ginger Garic Paste - 1 - tsp
lemon - 1 - small
Oil - 1 -tsp
puff sheets - 1 - number
red chill powder - 1 - tsp
salt - as per taste
Turmeric Powder - 1 - pinch
Instructions:
Take all type of vegetables cut into small pieces boil till bit and keep it a side.
Take a Pan add oil to it then add cumin seeds,turmeric,ginger garlic paste,salt,red chillie powder,saute them then add all vegetables,corainder powder,coriander leaves mix them then add chaat masala,lastly add lemon juice mix well once it is done transfer it to a plate let it cool down.
Take Puff Sheets make it into different shapes add stuffing into it, add little water to the edges and close the puff keep it in the fridge for 5 min.
Pre heat the oven at 450fand keep it for 10 min.
Cooking time (duration): 25
Diet type: Vegetarian
Number of servings (yield): 4
Meal type: snack
My rating: 4 stars: ★★★★☆ 1 review(s)
Recipe by
Vahchef
.
For making the Vegetable puff, take all types of vegetables cut them into small cubes and boil and keep aside. Take a pan, add a little oil, cumin seeds, turmeric, ginger garlic, salt, red chilli powder, dhania powder, mixed vegetable, chopped coriander and sauté them. Add chaat masala and lemon juice and mix. Cool this mixture. This would be used as the stuffing for the vegetable puff.
Take puff pastry sheets and place the stuffing and seal the edges adding litter water. The vegetable puffs can be made of any shape you like. Bake in oven at 450 F for 10 mins. The vegetable puff will give a nice golden color and become crispy. Your mouth-watering delicious vegetable puffs are ready.
Serve hot with tomato sauce. It's the best way of giving nutritious vegetable and preparing it in a healthy way. Do prepare it for your kids. To view the making of Vegetable puff, follow the link: