Every thing about Ras Malai | Vahrehvah :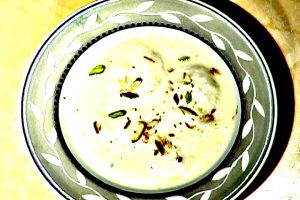 Ras Malai
, also pronounced as "Roshomalai" is one of the most popular Indian desserts. Originating from the traditional sweet kitchen of West Bengal, you will find a whole range of delicately balanced flavors waiting to surprise and delight you. Apart from India, Ras malai is popular with the people in
Orissa
,
Bihar
, Pakistan and Bangladesh.
Ras Malai
comprises of sweet, cream to yellow-colored rounded dumplings of cottage cheese or ricotta cheese (called '
paneer
' in India) soaked well in clotted cream called 'Malai' in Hindi). This clotted cream is nothing but sweetened, thickened milk delicately flavored with cardamom, pistachios, rosewater, and saffron. Ras malai is a Light, refreshing and truly delicious Indian dessert. It is often categorized as
Milk
sweet
and a bit high on calorie side. It's a very sumptuous dessert for the kids.
Summary: Ras Malai Recipe made easy, learn how to make Ras Malai Recipes at home.
Ingredients:
Ingredient Name
Unit
Quantity
Milk for making ? rabri?

---

ml

---

1000

---

blanched almond slices

---

number

---

5-6

---

Illaichi

---

small

---

1

---

Kevera Essence

---

tsp

---

1/2

---

Vinegar

---

tsp

---

1

---

Milk to make paneer

---

ml

---

1000

---

pista

---

tsp

---

1

---

sugar

---

tbsp

---

1

---
Instructions
Make paneer as instructed, hang in muslin for 1 hour, but do not press it. Boil water and 1 cup of sugar and 6 cups of water in a deep vessel until it boils vigorusly Knead paneer until very smoothwith in the cloth . Make into walnut sized balls, flattening them a little, like a 'peda' or a small burger. add to boiling warter/sugar water.and boil at high flame and the rasgullas will be ready in 10 min remove and let it sit in some of same syrup till it cools down sqeeze out the water and soak in rabadi. serve garnished with flakes of almonds.

Cooking Time: 25 min

Number of servings (yield): 4

Meal type: snack

Culinary tradition: Indian (Northern)

My rating: 4 stars: ★★★★☆ 1 review(s)
Like Rasgullas, Rasmalai is also made with homemade cheese known as "paneer" or "chenna". Instead of being soaked in sugar syrup like Rasgullas, Rasmalai is soaked in sweet, flavored milk. At Indian weddings and other special occasions, Ras Malai is commonly served. Though rich in texture and flavor, it can be made easily at home. Indian sweets and desserts are well known world wide and are very tempting and mouth-watering.
Be it the scorching summer heat or chilling winter, Indian desserts are too difficult to resist and are certainly not to be missed. Ras malai is best when it is served chilled. For people who are calorie conscious, watch out! They can have just one serving as it takes 347 calories in 1 serving, 14% fat, 81% carbs and 5% protein. Just to be eaten occasionally.