Every thing about LEMONADE INDIAN STYLE | Vahrehvah :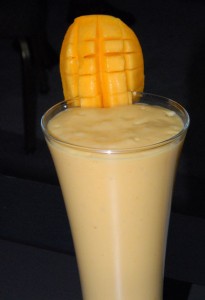 Lemonade Indian Style
is popularly called as the
Nimbu
Ka Sharbat
in hindi. This is a very popular summer
drink
in
India.
It is very quick to make, an excellent drink for BBQ's and outdoor
meals.
It's Lemonade with an Indian twist spiced and blended with natural ingredients that packs a real flavor kick! When there is no better way to beat the heat of the
summer, Lemonade
is one of the most natural cool refreshing economical traditional Indian beverage to overcome the sweltering summers.
Lemonade Indian style
is simple refreshment, adding natural cooling properties of their
ingredients designed
to keep your body cool.
Lemon trees are believed to be native to the Indian sub-continent.
Europeans
were introduced to the
lemon
only in the
2nd century
AD; the
lemon
is by now a major cultivated fruit tree in all Mediterranean and subtropical climates around the world. Plants grow optimally on well drained soils with good exposure to incumbent sunlight.
The
vitamin
C
content in the fruit is the highest in the winter, and it is best harvested at this time to get good
quality fruits.
To make a delicious
Lemonade Indian Style,
take
lemon
and squeeze out the juice in a bowl, add sugar, salt, pepper, chat masala. Mix all this till the sugar dissolves and then take a glass pour the mixture as required and then add soda to it. You can also add plain cold water instead of soda.
Be it summer or be it winter, a glass of lemonade is the most refreshing Indian beverage.
Lime
is one of the most common
fruits
that are used across of the world.
Limes
and
lemons
are mostly used interchangeably but they are 2 distinct species. Limes are usually smaller than lemons with
lime juice
having a strong flavor and more acidic than lemon juice. But essentially they have the same nutrients.
Do add
lime
to your diet to gain all the health benefits and to get that tangy, zesty flavor in your food. Instead of just drinking plain water with your meals, add a slice of
lemon
to your glass or squeeze some on your food instead. A lime has denser flesh than a
lemon
which makes it heaver. But nutritionally speaking, lemons do not differ very much from
limes.
Both are excellent sources of vitamin C, B6, potassium and flavonoids.
Lemons
have more
vitamin
C
than limes (around one-third more) but less
vitamin
A
and
iron.
Daily consumption of lemon water provides a number of
health benefits
like: Good for stomach, Excellent for skin care, Aids in Dental care, Cures Throat infections, Good for weight loss,
Controls High blood pressure
and many many more. Another method of preparing the
Lemonade
with mint flavor is squeeze out juice in a bowl, take a ding chik add fresh mint leaves, salt, sugar and crush it.
Add this mixture to lemon juice add cumin powder and mix well. Pour this in a glass as required and add soda or water. Mint is known to have originated in Asia and the Mediterranean region. In many cultures, mint symbolised hospitality and was offered as a sign of welcome and friendship to guests as they arrived.
In the Middle East mint tea is still served to guests on their arrival, whilst in ancient Greece, the leaves of mint were rubbed onto the dining table, which was a sign of their warm greeting. Mint was also often used as an air freshener and was placed in the rooms of houses, synagogues and temples to clear and freshen the air, get rid of unpleasant odors from the room.
The Greeks and the Romans used mint as a perfume and a bath scent, as well as using it in medicine and in cooking. Mint has always been used medicinally to aid digestion and relieve indigestion. If you suffer from frequent indigestion, drinking a glass of
lemonade mint
after your meal may help.
Do treat yourself with a huge glass of homemade lemonade and stay fresh.
View the making of Lemonade Indian style at:
Lemonade Indian Style
Author :
Ingredient Name
Unit
Quantity
chat masala

---

tsp

---

pinch

---

cumin powder

---

0

---

pinch

---

Lemon

---

number

---

4

---

Mint

---

springs

---

1

---

pepper powder

---

tsp

---

pich

---

Salt

---

0

---

as needed

---

soda

---

bottle

---

1

---

sugar

---

0

---

as needed

---
Take lemon squees out the juice in a bowl add sugar, salt, pepper, chat masala mix all this till sugar disolves.

Take a class pour this mixture as needed then add soda to it or water.

Another method.

Squees out juice in a bowl, take ding chik add mint leaves, salt, sugar, crush it add this mixture to lemon juice add cumin powder mix well. pour this in a glass as needed add soda or water.