Every thing about BHAJJI FOR PAV BHAJI | Vahrehvah :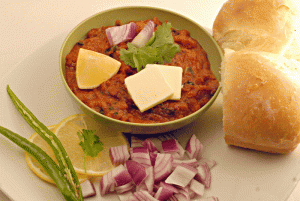 Be it the
streets of Bombay,
Gujarat,
Hyderabad
or
any metropolis
, when it comes to the Chaat foods,
Pav Bhaji
is the king of the chaats. One of the most awesome, lip
smacking, luscious Chaat
that everybody craves for. A
Chaat
that is incomparable with other
Chaats.
Even at mid night you can find hordes of people at the beaches of
Bombay
to tuck their taste buds into the spicy chaat and some nice creamy kulfis.
Pav Bhajji
, what is this which makes most of us run for? It's just after all a small piece of soft pillowy bread served with a bhajji (mixed vegetables). Wow! it's actually the
Bhajji
that makes the
Pav Bhajji
very special. It's like a whole plate of meal or a heaven on a plate.
Bhajji
is a spicy vegetable stew that you sop up with the soft small breads. Now to first get the feel of a
Pav bhajji
stall, you would find a huge cast iron pan in front of the chef or cook at the entrance of the stall or restaurant surrounded with bowls of chopped veggies and an alarming
number of butter packets.
He would then start sautéing the veggies together with mashed boiled
potatoes, chopped tomatoes,
various spices and enormous
dollops
of butter and thoroughly mash the whole mixture into a
sizzling vegetable dish.
This would be served with the rolls of soft bread (pav) lightly fried in butter.
Finally would top with raw onion slices and lemon wedges. Oops! Mouth's watering. It's a true dish that can make you jump with joy with the aromas of the
spices
and
butter
flowing out. Making the
pav bhajji
is bringing out your culinary skills to get out the exact taste of the chaat walas.
To prepare the
Bhajji,
heat
butter
in a
pan,
add
cumin seeds
, chopped onion
and
ginger
and
garlic.
Fry until garlic turns slightly brown. Add finely
chopped tomatoes, green chillies
and cook with all spices till well mashed. Add all the boiled
vegetables, salt
and some water (if you want the
bhajji
to be thin than you can add little more water).
Bring to boil. Remove from flame and add butter and top it with chopped onion, fresh coriander leaves and butter. Slit the pav (bread) in the center and fry lightly. Serve hot with bhajji and a piece of lemon wedge and chopped onions. For the detailed steps of making of Pav Bhajji you can watch the video at:
The pav-
bhajji
is served with real
Bombay laadi pav
(slabs of bread
),
because the rolls are sold as entire slabs and you break the rolls off as required. This bread is so yeasty and terrific. You can serve it with any crusty bread that is chewy on the inside. Would not recommend the burger buns because they are too soft and pastry. Or else it's always best to make the Pavs at home.
You can view the video for making of
Pavs
and treat your family with a healthy and nutritious balanced snack or meal.
Summary: the curry to go with pav the bread , a famous snack from India
Ingredients:
amchoor pdr - 0
any other vegetables - 1/2 - cup
butter - 1- piece
carrot - 1/2 - number
cauliflower - 2 - piece
chopped coriander - 1 - bunch
coriander pdr - 1 - tbsp
eggplant small -1 - number
ginger garlic paste - 1 - tsp
gr chilli - 0
jeera - 1 - pinch
kasoorimethi - 0
lemon - 0
onion - 2 - number
pav - 0
peas - 1/2 - cup
potatoes - 2 - number
salt - 0
saunf pdr - 1/2 -tsp
tomato -3 - number
turmeric - 1 - pinch
Instructions:
for curryHeat butter in pan and add cumin,chopped onion and garlic and ginger. Fry until garlic turns slightly brown. Add the tomates and gr chillies and cook with all spices till mashed and well done . Add all the vegetables. Salt and some water (add more water if u like the bhaji thin). Bring to Boil. Remove from flame and add butter top it with chopped onion, and Butter.slit the pav the bread and slightlyServe hot with bhaji and a piece of lemon and chopped onion
Cooking time (duration): 25
Diet type: Vegetarian
Number of servings (yield): 4
Meal type: snack
My rating: 5 stars: ★★★★★ 1 review(s)
To give some variation and spiciness to your pav, you can make masala pav...melt some butter in a skillet. Sprinkle pav bhaji masala in it, then fry the bread in this spicy butter until sizzling and golden. If you like to make a cheesy pav than you can add some shredded cheese.
Its always best to have healthy and nutritious food at home than having the street food as you would never know which sort of oil or water is been used to prepare the dish. A healthy dish for growing children as it has lots of vegetable combined with butter. Hence do prepare this at home and keep you family fit and healthy. Happy cooking!