Every thing about DAHI VADA | Vahrehvah, dahi vada recipe, recipe for dahi vada, south indian dahi vada recipe, best dahi vada recipe :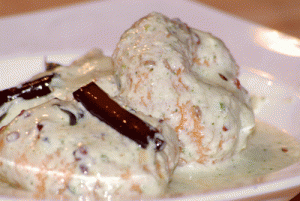 Dahi Vada,
the popular cold appetizer made in South India. South Indians are famous for preparing the
vadas
and the
dahi
(
yoghurt
) at home. One of the well known dishes of the
vada
is the
vada sambar
or
vada rasam.
As dahi or yoghurt is available in every household, it is very easy to prepare the dahi vada at home. When prepared at home the dish is more nutritious and done in a hygienic way.
Basically,
dahi vadas
are
lentil
(black gram/urad dal) savory balls which are smothered with
frothy fresh curds
and sprinkled with spices like
chilli powder, cumin powder, chaat masala
or
black salt
and liberally doused with a tangy-sweet tamarind chutney. It is also called as
Thayir vada
in Tamil and
Perugu garellu
in Telugu and prepared on the same line of soaking the black gram lentil
vadas
in well beaten yoghurt and a
seasoning of mustard seeds, black gram dal, curry leaves, dry red chillies, asafoetida
(hing) is spread over the curd.
Dahi Vada
is absolutely lip smacking snack and as you take a bite, the softness of the
vada
with yoghurt melt-in-the-mouth, luscious
vada
, it leaves you will a myriad of contrasting flavors that tickle your taste buds, whetting your appetite for more.
Dahi Bhallas
are prepared in North India and is slightly different from the
South Indian Dahi Vada.
Dahi Bhallas
are also a great starter or cold appetizer, is a popular North Indian street food fare. To keep the deep fried
vadas
soft you can first put them in water and then squeeze off the water and transfer it to thick beaten yogurt. For best results, the
vadas
have to soak for at least a couple of hours before serving.
Sweeter dahi
is preferred in some places of India, especially in
Maharashtra
and
Gujarat,
although the garnishing remains the same.
In Gujarat a combination of
coriander
and
tamarind
chutneys
are often used as garnishments in addition to those mentioned above. You can also blend
cumin seeds, chopped green chillies
and
coriander leaves.
Blend them and mix it to the beaten yoghurt.
This would give a nice spicy flavor to the yoghurt. Remember to make soft and fluffy
vadas,
take care to use good quality dal and when you grind the dal use very little water to make a fine paste. Beat the ground lentil batter well to incorporate air and the
vadas
should be fried in medium hot oil. It goes without saying that the lentils ground in a stone grinder give the best batter for good
vadas
People have been making and eating
yogurt
for at least 5,400 years. Today, it is a common food item throughout the world.
A nutritious food with unique health benefits, it is rich in
protein, calcium, riboflavin, vitamin
B6
and
vitamin
B12
. It has nutritional benefits beyond those of milk.
Yoghurt
is believed to promote good gum health, possibly because of the effect of lactic acid present in
yoghurt.
A study published in the
International Journal of Obesity
(11 January 2005) also found that the consumption of low-fat
yoghurt
can promote weight loss, especially due to the calcium in the yoghurt.
Summary: DAHI VADA Recipe made easy, learn how to make DAHI VADA Recipes at home.
Ingredients:
Urad daal - 1 - cup
cumin - 1 - tbsp
curry leaves - 5 - leaf
Dahi (yogurt) - 500 - ml
Finely chopped coriander leaves - 1- bunch
green chilies chopped - 1 to 2 - number
hing - to taste
Oil - to fry
Red chili - 2 - piece
Salt -1 - to taste
Instructions:
For vada - Clean, wash and soak the daal overnight. # Grind it into smooth paste. # Add salt to taste. # Heat oil in a pan and drop a spoonfuls of batter and fry till golden brown as shown. # Take the hot vadas and put in cold water for 2-3 minutes. # Now Take them out of water and squeeze the water and keep aside. # For Dahi -add cumin , gr chilli,coriander leaves # blend and add to yougurt and season # Serving - In a deep dish arrange wada and pour dahi over them. # Garnish with tempering as shown # Serve the dahi vadas chilled.
Cooking time (duration): 25
Diet type: Vegetarian
Number of servings (yield): 4
Meal type: breakfast
My rating: 5 stars: ★★★★★ 1 review(s)
Recipe by
Vahchef
.
Dahi Vada is a savory snack from South India. It can vary in shape and size and are made of lentils, gram flour or potato. Dahi Vada is nothing but medu vada dipped in yogurt mixture and served chill. You can serve it as a snack or alongside a meal. Usually, we eat it at the end of the meal. Here you go at…