Every thing about masala bhindi recipe,recipe for bhindi masala,punjabi bhindi masala recipe. :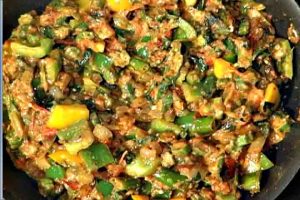 Kadai Bhindi
is an awesome dish. Bhindi means the
Okra
. Kadai Bhindi is a mix of fried bhindi with onions, chopped
tomatoes
, capsicum and spices together cooked. The taste is really enticing. This dish is a rare combination of Bhindi with
bell peppers
. Okra in most of the places is known as
lady's finger
or
gumbo
. It is valued for its edible green seed pods.
Originating in Africa, the plant is cultivated in tropical, subtropical and warm temperate regions around the world. The name "Okra" is most often used in United States, Philippines and West Africa. In India, Pakistan and United Kingdom it is often called as Bhindi or
Bhendi
in Hindi. It is popular in Indian and Pakistan, where chopped pieces are stir fried with
spices, pickled, salted
or added to gravy-based preparations like
Bhindi Ghosht or sambar
. In western parts of India (Gujarat, Maharashtra), okra is often stir-fried with some
sugar
. Okra is also used in Kadi (Kadhi). Okra is one of the sought after
vegetables
like by all.
Preparing the
Kadai Bhindi
is very simple to cook and delicious. To make the dish, wash, clean the ladies fingers and pat dry and cut them into bite size pieces. Deep fry them in a
kadai
without changing its natural green color of the
vegetable
and
fry
till the stickiness of the
vegetable
is gone
. Heat a broad pan with oil, add the tempering like
mustard, cumin
, followed by the crushed coriander seeds. Immediately add the onions and salt fry till just transparent. Add turmeric and mix. Add ginger
garlic paste and fry
till raw flavor goes off.
Add curry leaves
and
green chillies
and mix. Add the chopped tomatoes mix and cook till soft. Add
cumin powder, coriander powder, chilli powder
and mix well and
fry till tomatoes
get mashed up. Add the
capsicum
(bell peppers) and toss them nicely and sprinkle some
coriander leaves
and fry in medium flame for a minute.
Add the deep
fried ladies fingers
and mix. Cover and leave it for 4 to 5 mins. Sprinkle little
garam masala powder
and mix well.
Garnish
with coriander. Serve hot to taste and is best served with
roti
or rice or pulao
of your choice!! Okra is a healthy vegetable and has got many nutritional values.
According to history, it is said that the World's most beautiful women,
Cleopatra of Egypt
and
Yang Guifei
of China loved to eat okra.
Okra
has a long history, with its beginnings in
Egypt
where it is cultivated before the
time of Cleopatra.
The okra plant spread to many parts of the world during the Atlantic slave trade. During World War II, the shortage of coffee beans made them use okra seeds as a substitute for coffee. This incident made the word "okra fever". Since then, okra's popularity never disappeared from local markets to convenience stores throughout the world and throughout the year.
Okra
contains
vitamins
A
and
C
and is a good source of iron and calcium. It also contains
starch, fat, ash, thiamine and riboflavin
. No wonder, Cleopatra and Yang Guifei maintained their beauties. It's important to
eat vegetables
in our diet each day.
Okra
is one such
vegetable
which is highly nutritious and delicious to taste.
People usually cook normally the common
vegetables
like the
green beans, carrots, potatoes, cauliflower
etc. They usually avoid cooking Okra because of its sticky nature. But if
Okra
is cooked in the right way you will not have the stickiness and
Okra
health benefits include aspects such as being low in
calories,
a
great vegetable
for people trying to lose weight, and good for the digestive system.
Okra
contains
no cholesterol
or
saturated fat,
which are two components that should be avoided when losing weight. The fiber content in okra is high. You can get nine percent of the daily recommended amount of
fiber
in one half cup of okra. Fiber helps to maintain the digestive system by allowing food to pass through the intestines easier. As you can see that Okra is so beneficial to our health, do give a try and take the
nutritional benefits of Okra.
View the making of Kadai Bhindi.
Ingredient Name
Unit
Quantity
bell pepper yellow and green

---

cup

---

1

---

coriander leaves

---

bunch

---

1

---

coriander powder

---

tsp

---

2

---

coriander seeds powder

---

tsp

---

1

---

cumin powder

---

tsp

---

2

---

curry leaves optional

---

number

---

7

---

garama masala powder

---

tsp

---

3/4

---

ginger garlic paste

---

tsp

---

1

---

green chillies

---

number

---

4

---

oil

---

---

as need

---

okra

---

grams

---

400

---

onion

---

cup

---

1

---

red chilli powder

---

tsp

---

1

---

salt

---

---

as per taste

---

tomato

---

cup

---

1

---

turmuric

---

pinch

---

pinch

---
Cut bhendi into small pieces and deep fry them little bit to avoide stick ness.

Cut tomatoes and bell pepper into small cubes.

crush coriander seeds in dingchick and keep it a side.

Take a pan add oil,cumin seeds,corinader seeds crushed,chopped onion,salt mix well and then add turmuric, ginger garlic paste,cook it for 2 mins and then add curry leaves,green chillies saute them.

Now add tomatoes cook it for 1 min, then add coriander powder, cumin powder,chilli powder mix well and cook for 4min till tomatoes are cooked now add bell pepper,and sprinkle chopped coriander leaves , and finely add the fried bhendi, mix little bit and close it a lid for 4 min in very slow flame.

onces bhendi is cooked add garama masala powder and mix well serve hot with roti or rice.